Policajny Zbor virus. How to remove? (Uninstall guide)
removal by Jake Doevan
-
- Also known as
Policajny Zbor Slovenskej Republiky virus, Ukash virus, Police virus
| Type:
Ransomware
Policajny Zbor virus (also known as Policajny Zbor Slovenskej Republiky virus) is a serious cyber infection, which blocks computers down and displays a bogus notification on their desktops. It may look like an official warning from your country's governmental authority, but in reality it's just a fake alert that seeks to swindle the money. It is done by accusing PC users for the distribution of pornographic material, SPAM, copyrighted content and other e-crimes that are invented. In addition, virus asks to pay the fine for avoiding more serious consequences. Please, never follow misleading alert that belongs to Policajny Zbor virus because you will lose your money! We recommend eliminating this program from the system ASAP.
HOW CAN I GET INFECTED WITH Policajny Zbor virus?
Policajny Zbor virus is spread by trojan horse, which is known as Trojan.LockScreen. This virus not only helps for the ransomware to enter the system. It also locks it down and prevents users from connecting to the Internet and launching security software. Once it does that, Policajny Zbor virus starts displaying its huge warning message, which shows up every time victim reboots his/hers computer. It says:
Pozor! Váš počitač je zablokovaný kvótli aspon jedného z clótvodov uvedených nižšie.
Boli ste pordenie «autorského práva a súvisiacich práv- (Video, Hudba, Software) a nedovolené použitie alebo distribúciu obsah chránený autorskými právami, a týrn pordil článoki28 trestného zákonnika Slovenskej Republiky.
(…)
Akonáhle 72 hodin uplynuti, možnost zaplatit pokutu vyprší, a trestné konanie je začaté proti Vas automaticky počas najbližšich 72 hodin!
Výéka pokuty je SKK 2000 atebo €100. Mátžete zaptatit pokutu pomocou PaySafeCard alebo Ukash. Ked platíte pokutu, bude váš počitač si odomknút v 1 až 72 hodin az peniaze budú vložené do štátneho.
Please, do NOT believe it because this warning is misleading and has nothing in common with Slovenian Police or other governmental authority. You must remove this ransomware from your computer without any delay.
HOW TO REMOVE POLICAJNY ZBOR VIRUS?
If your PC is blocked, there is a huge chance that your PC is infected with ransomware virus. When trying to unblock it, try to reboot your PC to Safe Mode with Networking or Safe Mode with Command Prompt and follow these steps:
* Flash drive method:
1. Take another machine and use it to download Reimage, Malwarebytes Malwarebytes or Plumbytes Anti-MalwareNorton Internet Security.
2. Update the program and put into the USB drive or simple CD.
3. In the meanwhile, reboot your infected machine to Safe Mode with command prompt and stick USB drive in it.
4. Reboot computer infected with Policajny Zbor virus once more and run a full system scan.
* Manual Policajny Zbor virus removal:
Reboot you infected PC to 'Safe mode with command prompt' to disable Ukash virus (this should be working with all versions of this threat)
Run Regedit
Search for WinLogon Entries and write down all the files that are not explorer.exe or blank. Replace them with explorer.exe.
Search the registry for these files you have written down and delete the registry keys referencing the files.
Reboot and run a full system scan with updated Reimage to remove remaining virus files. You can also use Malwarebytes Malwarebytes or Plumbytes Anti-MalwareNorton Internet Security.
If you can't reboot to Safe Mode with Networking, try these options:
* Users infected with Policajny Zbor virus are allowed to access other accounts on their Windows systems. If one of such accounts has administrator rights, you should be capable to launch anti-malware program.
* Try to deny the Flash to make your ransomware stop function as intended. In order to disable the Flash, go to Macromedia support and select 'Deny': http://www.macromedia.com/support/documentation/en/flashplayer/help/help09.html. After doing that, run a full system scan with anti-malware program.
Alternate Software
We have tested Plumbytes Anti-Malware's efficiency in removing Policajny Zbor virus (2013-09-24)
We have tested Malwarebytes's efficiency in removing Policajny Zbor virus (2013-09-24)
We have tested Hitman Pro's efficiency in removing Policajny Zbor virus (2013-09-24)
We have tested Malwarebytes's efficiency in removing Policajny Zbor virus (2013-09-24)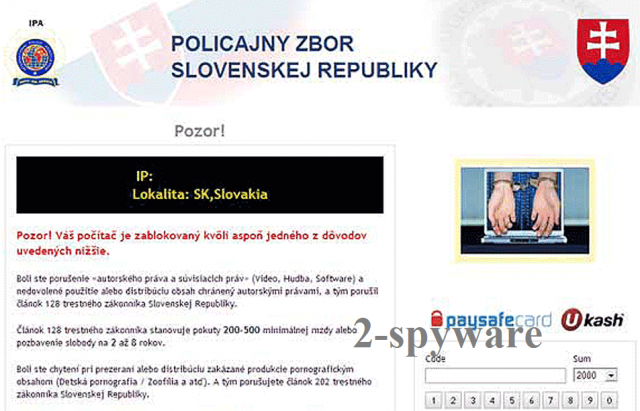 Policajny Zbor virus manual removal:
Kill processes:
[random].exe
Delete files:
[random].exe
About the author
Removal guides in other languages