Police Grand-Ducale Luxembourg virus. How to remove? (Uninstall guide)
Police Grand-Ducale Luxembourg virus is another ransomware, which belongs to Police virus and Ukash virus groups. It tries to look like a real warning from Luxembourg's Police and seeks to make users pay the invented fine. However, if you see a warning, which is in the end of this post, you can be sure that you have a deal with scammers that try to scare you about various law violations and then make you pay the invented fine for that. Typically, they report about the distribution of copyrighted content, adult related content or malware, show user's IP address, location and include various officially-looking logos on their fake alerts. Please, ignore this notification and remove Police Grand-Ducale Luxembourg virus from the system.
HOW CAN I GET INFECTED WITH Police Grand-Ducale Luxembourg virus?
Police Grand-Ducale Luxembourg virus is distributed via trojan horse. It's the one that blocks the whole system and downloads ransomware's files onto the PC. Additionally, victim starts seeing a fake warning that pretends to belong to the police. It replaces the desktop and blocks the whole system, programs and Internet connection. However, though it looks real, the one and only owner of this alert is a group of scammers who really want to earn some easy money and become rich. Surely, you must ignore this warning that typically claims:
Police Grand-Ducale Luxembourg
ATTENTION! Votre ordinateur est bloqué à cause d'un ou de plusieurs motifs, indiqués ci-dessous.
Vous avez violé la loi «Sur le droit d'auteur et les droits contigus» (Vidéo, Musique, Logiciel) et vous avez illégalement servi et/ou diffusé le contenu protégé par le droit d'auteur, de ce fait vous avez violé l'article 128 du Code pénal de la Luxembourg.L'article 128 du Code pénal prévoit l'amende d'un montant de 200 jusqu'à 500 rémunérations du travail minimales ou la privation de liberté pour de 2 à 8 ans.
(…)
La somme de l'amende fait 100 euros. Utilisez Ukash ou PaySafeCard.
(…)
Yes, the contents of this message may look really scary. However, you must ignore it because it seeks only to rip you off. Be sure that it has nothing to do with the Police Grand-Ducale Luxembourg and it's simply forged, so remove Police Grand-Ducale Luxembourg virus ASAP. Be aware that such ransomwares can also bring essential damage for your PC and may even lead it to damage.
HOW CAN I REMOVE Police Grand-Ducale Luxembourg virus?
When trying to remove Police Grand-Ducale Luxembourg virus, you may find that you are blocked from getting on the Internet. If you are, follow these options:
* Flash drive method:
1. Take another machine and use it to download Malwarebytes, Reimage or other reputable anti-malware program.
2. Update the program and put into the USB drive or simple CD.
3. In the meanwhile, reboot your infected machine to Safe Mode with command prompt and stick USB drive in it.
4. Reboot computer infected with Ukash virus once more and run a full system scan.
* Users infected with Ukash viruses are allowed to access other accounts on their Windows systems. If one of such accounts has administrator rights, you should be capable to launch anti-malware program.
* Try to deny the Flash to make your ransomware stop function as intended. In order to disable the Flash, go to Macromedia support and select 'Deny': http://www.macromedia.com/support/documentation/en/flashplayer/help/help09.html. After doing that, run a full system scan with anti-malware program.
* Manual Ukash virus removal:
Reboot you infected PC to 'Safe mode with command prompt' to disable Ukash virus (this should be working with all versions of this threat)
Run Regedit
Search for WinLogon Entries and write down all the files that are not explorer.exe or blank. Replace them with explorer.exe.
Search the registry for these files you have written down and delete the registry keys referencing the files.
Reboot and run a full system scan with updated Reimage, Malwarebytes or Plumbytes Anti-MalwareNorton Internet Security.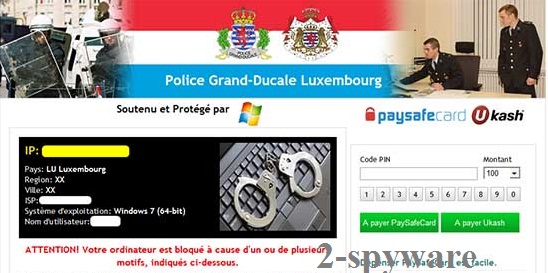 Police Grand-Ducale Luxembourg virus manual removal:
Kill processes:
[random].exe
Delete files:
[random].exe
About the author
Removal guides in other languages