Policia Federal virus. How to remove? (Uninstall guide)
Policia Federal virus is a huge scam, so its alert on your desktop doesn't mean that Spanish or Mexican Police has blocked your computer. In reality, your machine is infected with ransomware virus, which has already been known as Cuerpo Nacional de Policia virus and La policia ESPAÑOLA virus. We have already announced about the lock down of its owners, but it seems that there are tens of their viruses that are still spreading around. In order to mislead their victims, Policia Federal virus shows a huge alert, which simply takes over the desktop and blocks other programs and connections. For trying to scare its victim, this Spanish parasite states that user is included to illegal activities, such as distribution of pornographic material, SPAM and copyrighted content. Of course, he is also asked to pay the fine using Ukash or Paysafecard. Please, never do that because you will support scammers! You must remove Policia Federal virus instead.In reality,
HOW CAN I GET INFECTED WITH Policia Federal virus?
Policia Federal virus is not the one that locks computers down. This job is done by trojan horse, which is called as Reveton or Lock.Screen. This virus gets inside the system via fake updates, spam or simply after downloading infected freeware or shareware. Then, it prepares the whole PC for Policia Federal virus and blocks it down with a huge screen reporting about invented law violations. If you see an alert, which asks you to pay the fine of 1000 MXN, you must ignore it, because it reports untrue. Here's what it typically says:
Policia Federal
Su ordenador se ha bloqueado!
El funcionamiento de su ordenador fue interrumpido a causa de indices de ciberactividad desautorizada.
Los delitos posibles cometidos por Lid se indican abajo.
(…)
A la vista de Resolución del Gobierno de 22 de agosto se puede considerar todos estos delitos como condicionales con la multa pagada.
La suma de multa es 1000 MXN.El pago debe ser realizado durante 48 horas a partir de revelación de delito.
The Mexican version claims:
Policia Federal
Estados Unidos Mexicanos¡
ATENCIÓN! Su OP (ordeandor) está bloqueado debido a al menos una de las razones especificadas siguientes.
Usted ha estado violando "Derecho de Autor y Derechos Conexos Ley o (vídeo, música, software) y utilización ilegal o distribución de contenido con derechos de autor, infringiendo así el artículo 128 del Criminal Code de los Estados Unidos Mexicanos.
El artículo 128 del Criminal Code prevé una multa de 200 a 500 salarios mínimos o la privación de libertad de 2 a 8 años.Se le ha prohibido ver o distribuir contenido pornográfico (Child Porno zoofilia, y etc). Violando así el artículo 202 del Criminal Code de los Estados Unidos Mexicanos.
El artículo 202 del Criminal Code prevé la privación de libertad de cuatro a 12 años. Acceso ilegal a los datos informáticos se ha iniciado desde el PC, o si han sido …El artículo 208 del Criminal Code prevé una multa de hasta MXN $100,000 y / o privación de libertad de 4 a 9 años.
Please, ignore these messages and all requirements of Policia Federal alerts because this is only a huge scam that has nothing to do with any governmental authority. Besides, paying the money doesn't help for users to remove the lock from their computers. For that, you should use only those methods that are given below.
HOW TO REMOVE Policia Federal virus?
First of all, unlock the system to recover your Internet connection. Additionally, run a full system scan with anti-spyware and remove Policia Federal's malicious files. In order to remove the lock, follow these steps:
Take another machine and use it to download Reimage or other reputable anti-malware program.
Update the program and put into the USB drive or simple CD.
In the meanwhile, reboot your infected machine to Safe Mode with command prompt and stick USB drive in it.
Reboot computer infected with Policia Federal virus once more and run a full system scan.
* Users infected withPolicia Federal virus are allowed to access other accounts on their Windows systems. If one of such accounts has administrator rights, you should be capable to launch anti-malware program.
* Try to deny the Flash to make your ransomware stop function as intended. In order to disable the Flash, go to Macromedia support and select 'Deny': http://www.macromedia.com/support/documentation/en/flashplayer/help/help09.html. After doing that, run a full system scan with anti-malware program.
* Manual Policia Federal virus removal (special skills needed!):
Reboot you infected PC to 'Safe mode with command prompt' to disable Policia Federal (this should be working with all versions of this threat)
Run Regedit
Search for WinLogon Entries and write down all the files that are not explorer.exe or blank. Replace them with explorer.exe.
Search the registry for these files you have written down and delete the registry keys referencing the files.
Reboot and run a full system scan with updated Reimage to remove remaining virus files.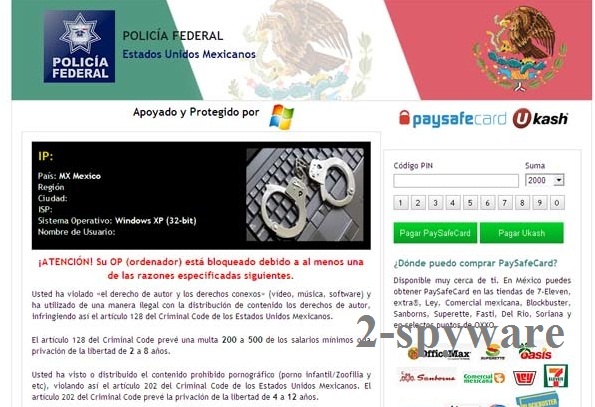 Policia Federal virus manual removal:
Kill processes:
[random].exe
Delete files:
[random].exe
About the author
Removal guides in other languages