Policia Nacional De Uruguay virus. How to remove? (Uninstall guide)
Policia Nacional De Uruguay virus is a sneaky ransomware, which belongs to Ukash group of viruses. This threat can easily come inside the system through its backdoors and additionally initiate havoc there. In fact, it gets on its target PC with a help of Trojan horse, which immediately blocks computer down and downloads malicious files that belong to Policia Nacional De Uruguay virus. Once it's done, this scamware starts showing a huge notification, which may seem to belong to the police of Uruguay. It lshows computer's IP address, lists various crimes there and finally asks to pay a fine. However, we haven't seen such governmental authority, which would block computers in order to punish its criminals. Please, stay away from Policia Nacional De Uruguay virus and never follow its recommendations that will lead you only to the loss of your money.
HOW CAN I GET INFECTED WITH

Policia Nacional De Uruguay virus?
As we have said, Policia Nacional De Uruguay virus is distributed by trojan horse, which is called Trojan.LockScreen. This trojan usually hides in such places as freeware and shareware, illegal/gambling websites and spam. Once it gets inside the PC, victim receives a fake message that seems to be sent by Policia Nacional De Uruguay:
Policía Nacional de Uruguay
¡ATENCIÓN! Su OP (ordenador) está bloqueado debido a al menos una de las razones especificadas siguientes.
Usted ha violado "el derecho de autor y los derechos conexos" (video, música, software) y ha utilizado de una manera illegal con la distribución de contenido los derechos de autor, infringiendo así el artículo 128 del Criminal Code de la República Oriental del Uruguay.
El articulo 128 del Criminal Code prevé una multa 200 a 500 de los salarios mínimos o la privación de la libertad de 208 años.
(…)
El importe de la multa es de UYU $2,000 (Peso) o USD $100 (US Dólar). Usted puede pagar esta multa por Ukash.
(…)
. However, in reality this notification belongs to scammers who actively seek to make users fall for it and pay an invented fine of UYU $2,000 (Peso) or $100. Of course, you should never fall for this alert and pay the fine. If you don't want to lose your money, ignore this misleading notification filled with various details, like PC's IP address, location, webcam and a long list of 'crimes'. In order to unlock your PC, you must follow the guide given below and finally remove Policia Nacional De Uruguay virus.
HOW TO REMOVE

Policia Nacional De Uruguay virus?
Fir of all, you should unblock your computer. For that, you can easily follow this step-vby-step guide:
* Set the date to the previous time when you haven't this threat on your computer.
* Flash drive method:
1. Take another machine and use it to download Malwarebytes, Reimage or other reputable anti-malware program.
2. Update the program and put into the USB drive or simple CD.
3. In the meanwhile, reboot your infected machine to Safe Mode with command prompt and stick USB drive in it.
4. Reboot computer infected with this ransomware once more and run a full system scan.
* Users infected with any of Policia Nacional De Uruguay virus are allowed to access other accounts on their Windows systems. If one of such accounts has administrator rights, you should be capable to launch anti-malware program.
* Try to deny the Flash to make your ransomware stop function as intended. In order to disable the Flash, go to Macromedia support and select 'Deny': http://www.macromedia.com/support/documentation/en/flashplayer/help/help09.html. After doing that, run a full system scan with anti-malware program.
* Manual Policia Nacional De Uruguay virus removal (special skills needed!):
Reboot you infected PC to 'Safe mode with command prompt' to disable your virus (this should be working with all versions of this threat)
Run Regedit
Search for WinLogon Entries and write down all the files that are not explorer.exe or blank. Replace them with explorer.exe.
Search the registry for these files you have written down and delete the registry keys referencing the files.
Reboot and run a full system scan with updated Malwarebytes or Reimage to remove remaining files.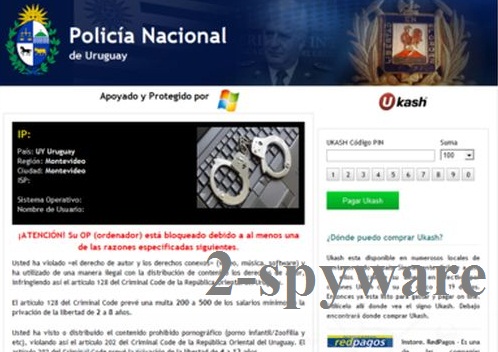 Policia Nacional De Uruguay virus manual removal:
Kill processes:
[random].exe
Delete files:
[random].exe
About the author
Removal guides in other languages