Poliisi virus. How to remove? (Uninstall guide)
Poliisi virus is a Finnish cyber threat that seeks to mislead users into thinking that they have some serious problems with Finland's Police. As soon as this virus gets inside the system, it locks computer's desktop, displays victim's IP address and lists a long list of the crimes that have been 'done' on this machine. Typically, it mentions the use of copyrighted content, pornographic videos or accuses user for the distribution of malware. In reality, all these statements are fake and are used to scare computer users into paying the fines through Ukash, Moneypak or other prepayment systems. Before you fall for this misleading notification, be sure that there is nothing legitimate about it. just like Polisen virus or Politie Virus, Poliisi virus relies on a trojan.ransomlock and seeks only to deceive its victims into thinking, that they must pay this fine. However, in order to unlock the system, you must remove Poliisi virus from your PC.
HOW CAN I GET INFECTED WITH Poliisi virus?
According to security experts, Poliisi virus is spread just like any other Ukash infection. It relies on a trojan horse, which gets inside the system together with infected downloads. So, if you download unofficial software updates, shareware or various email attachment that are sent by the people you simply don't know, you are in a huge risk of getting this ransomware. Once inside and active, Poliisi virus blocks the entire system and makes you incapable to get online or use the programs installed on it. Instead of that, you will see only a fake alert seeking to get you into paying the fake fine of 100 euro:
Poliisi
Osasto Tietoverkkorikollisuuden
Kaikki tietokoneessasi suoritettavat toimet tallennetaan. Jos käytät web-kameraa, videoita ja valokuvia tallennetaan tunnistamista varten.
Tietokoneen on lukittu!
Tietokoneesi toiminta on keskeytetty luvattoman aktiivisuuden vuoksi. Edellä on mainittu tekemäsi mandolliset rikkomukset:
Artikla 274- Tekijänoikeus Sakko tai vankeusrangaistus enintään 4 vuotta (Tekijänoikeuden suojaaman tiedoston — elokuvien ja ohjelmien – käyttö tai jakelu) Artikla 183- Pornografia Sakko tai vankeusrangaistus enintään 2 vuotta (Pornografiaa s.sältävän hedoston käyttö tai jakelu) Artikla 184 pornografia, johon osallistuu lapsia (alle 28-vuotiaat) Vankeusrangaistus jopa 15 vuotta (Pornografiaa sisältävän hedoston käynö tai jakelu)
Artikla 104- terrorismin edistäminen Vankeusrangaistus jopa 25 vuotta (Terroristijärjestöjen sivuston katse .u: Artikla 297 — Välinpitämätön tietokoneen käyttö, joka johti vakaviin seurauksiin Sakko tai vankeusrangaistus enAtaan 2 vuotta (Tietokoneessasi on virus, joka puolestaan tartuttaa muita tietokoneita) Artikla 108 – Rahapelit Sakko tai vankeusrangaistus enintään 2 vuotta (Olet pelannut rahapeliä. mutta valtiosi rikoslain mukaan rahapelien markkinointi on kielletty)
Hallituksen 22. elokuuta tekemän asetuksen mukaan kaikki rikkomukset voitaisiin katsoa ehdollisina, jos on maksettu sakko. Sakon suuruus on :CO euroa. Maksu on suoritettava 48 tunnissa rikkomuksen havaitsemisen jälkeen. Ellei sakko maksettu, rikosasia pannaan vireille automaattisesti. Sakon maksamisen jälkeen tierokoneesi on auki.
We highly recommend to ignore this misleading notification. If you see one on your desktop, remove Poliisi virus from your PC.
HOW CAN I REMOVE Poliisi virus?
When trying to remove Poliisi virus, you may find that you are blocked from getting on the Internet and that's the most important thing because you won't be capapble to download anti-malware program and remove infected files from the system. However, if you have the Internet connection on your computer, download Reimage that will remove infected files from your computer.If you are blocked, follow these options:
* Flash drive method:
1. Take another machine and use it to download Malwarebytes MalwarebytesCombo Cleaner, Reimage or other reputable anti-malware program.
2. Update the program and put into the USB drive or simple CD.
3. In the meanwhile, reboot your infected machine to Safe Mode with command prompt and stick USB drive in it.
4. Reboot computer infected with Ukash virus once more and run a full system scan.
* Users infected with Ukash viruses are allowed to access other accounts on their Windows systems. If one of such accounts has administrator rights, you should be capable to launch anti-malware program.
* Try to deny the Flash to make your ransomware stop function as intended. In order to disable the Flash, go to Macromedia support and select 'Deny': http://www.macromedia.com/support/documentation/en/flashplayer/help/help09.html. After doing that, run a full system scan with anti-malware program.
* Manual Ukash virus removal (special skills needed!):
Reboot you infected PC to 'Safe mode with command prompt' to disable Ukash virus (this should be working with all versions of this threat)
Run Regedit
Search for WinLogon Entries and write down all the files that are not explorer.exe or blank. Replace them with explorer.exe.
Search the registry for these files you have written down and delete the registry keys referencing the files.
Reboot and run a full system scan with updated Reimage, Malwarebytes MalwarebytesCombo Cleaner or Plumbytes Anti-MalwareMalwarebytes Malwarebytes to remove remaining virus files.
Alternative Software
Different security software includes different virus database. If you didn't succeed in finding malware with Reimage, try running alternative scan with Malwarebytes.
Alternative Software
Different security software includes different virus database. If you didn't succeed in finding malware with Reimage, try running alternative scan with Combo Cleaner.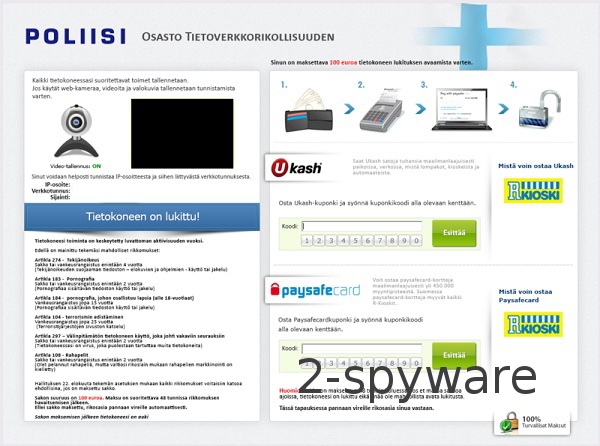 About the author
Removal guides in other languages