Politiet Norge Ukash Virus. How to remove? (Uninstall guide)
Politiet Norge Ukash Virus is a dangerous ransomware that must be ignored because it has nothing to do with the Norway's Police department. No matter that it looks legitimate and seems to be involved into typical activity of Police representatives of Norway, in reality it is a pure scam that seeks to get you out of your money. Besides, Politiet Norge Ukash Virus tends to lock computers down and displays a huge alert, which reports about 'illegal' activity found on victim's PC. Typically, user is accused for visiting illegal websites, watching child pornography, using copyrighted content and doing other things that 'have violated' the law. Besides, this ransomware shows the IP address of the victim while trying to mislead him/her and steal the money. If you see Politiet Norge Ukash Virus on your computer, be sure that official institutions like this do NOT collect the fines by locking computers down. Besides, paying this 'fine' doesn't help to unlock computer, so the only thing, which could help you if you are infected with this scamware, is to remove Politiet Norge Ukash Virus.
HOW PEOPLE GET INFECTED WITH Politiet Norge Ukash Virus?
Just like all other scams from Ukash group of viruses, Politiet Norge Ukash Virus is mostly spread by malicious attachments sent through spam emails. Of course, you can also get infected by downloading freeware or shareware on your computer. Once there, this scamware dislays its fake alert and blocks computer down so that you can't do anything on it, like browse the web or run antivirus. Instead of that, you see only a forged message, which tries to make you believe that you are under official investigation of Norway's Police:
OBS! PC-en din er blokkert pa grunn an minst en av felgende grunner
(…)
Botbelopet er NOK 1000 eller 100 euros.
Boten kan betales via Ukash/Paysafecard.Nar boten er betalt, vil PC-en din lases opp I lopet av 1 opptil 72 timer etter at pengene er satt inn I statens konto.
The real purpose of this ransomware is to get the money from the user, so we highly recommend NOT to pay for the penalty through Ukash or Paysafecard prepayment systems. In addition, you should never think that if you live in other country, you are safe from this dagerous threat – there are tens of similar ransomwares that are spread in Europe and USA. So, no matter which of Ukahs threats got on your computer, you must remove this virus as soon as possible. Otherwise you will see only Politiet Norge Ukash Virus alert seeking to make you go and pay the money. Instead of that, we highly recommend following the tips that are given below to remove this virus from your computer.
HOW CAN I REMOVE Politiet Norge Ukash Virus?
If you are capable to get on the Internet, you should immediately download reputable anti-spyware program and run a full system scan with it. We recommend using Reimage, Malwarebytes or Plumbytes Anti-MalwareNorton Internet Security after updating.
If you can't get on the Internet, try these things:
* Users infected with Politiet Norge Ukash Virus are allowed to access other accounts on their Windows systems. If one of such accounts has administrator rights, you should be capable to launch anti-malware program.
* Try to deny the Flash to make your ransomware stop function as intended. In order to disable the Flash, go to Macromedia support and select 'Deny': http://www.macromedia.com/support/documentation/en/flashplayer/help/help09.html. After doing that, run a full system scan with anti-malware program.
* Use Flash Drive method:
Take another machine and use it to download Reimage or other reputable anti-malware program.
Update the program and put into the USB drive or simple CD.
In the meanwhile, reboot your infected machine to Safe Mode with command prompt and stick USB drive in it.
Reboot computer infected with Politiet Norge Ukash virus once more and run a full system scan with anti-malware again.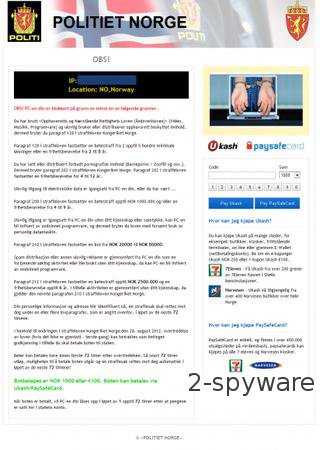 About the author
Removal guides in other languages