Polizia Penitenziaria virus. How to remove? (Uninstall guide)
Polizia Penitenziaria virus is one of these cyber infections that lock computer's screen and then show a fake notification, which is written in Italian. This warning looks really officially and includes various Police logos, victim's IP address, a wide list of existing laws and similar details. It claims that user's computer is blocked because of the distribution of pornographic material, SPAM and the use of copyrighted content, and then asks to pay the fine for that. Of course, these activities are really illegal but Polizia Penitenziaria or other governmental institution has never been using such methods when collecting their fines. You must ignore Polizia Penitenziaria virus and remove it from the system. Note that sometimes this virus blocks the PC even when you are in Safe Mode or Safe Mode with networking. However, you can remove Polizia Penitenziaria virus if you know some specific details listed below.
HOW CAN I GET INFECTED WITH Polizia Penitenziaria virus?
Polizia Penitenziaria virus gets inside the PC with a help of trojan horse. Next, this virus downloads infected files and blocks the whole system. As a result, user becomes capable to look only at the fake Polizia Penitenziaria's notification, which seeks to steal his money. Be aware that scammers keep updating the looks of these viruses and you may also see a webcam, which shows your room or other view. If you are infected with this sneaky virus, here's what should see:
Polizia Penitenziaria
POLIZIA DI STATO
Attenzione! Il Suo computer è bloccato a causa di uno o più motivi di cui sotto.
Ha violato la legge "Sul diritto d'autore e sui diritti di protezione affini>> (Video, Musica, Software) e ha usato illecitamente e/o ha distribuito il content protetto dai diritti d'autore, quindi, ha violato l'art. 128 del Codice Penale dell'Italia.
(…)
Dal Suo computer è stato effettuato l'accesso illecito alla Sua insaputa, forse, il Suo computer è contaminato con il software dannoso, quindi, ha violato la legge sul "Uso sprezzante del computer". L'art. 210 del Codice Penale prevede una sanzione penale da €2.000,00 – €8.000,00.Dal Suo computer è stata effettuata la distribuzione di spam o un'operazione pubblicitaria illecita a scopo di lucro, oppure alla Sua insaputa, forse, il Suo computer è contaminato con il software dannoso. L'art. 212 del Codice Penale prevede una sanzione penale fino a €250.000,00 e una reclusione fino a 6 anni. Se l'operazione di cui sopra è stata effettuata alla Sua insaputa, Lei è responsabile ai sensi del suddetto articolo 210 del Codice Penale dell'Italia.,
Al momento attuale viene identificata la Sua individualita residenza, nel corso di 72 ore sara promossa l'instaurazione di un procedimento penale a Suo carico riguardante uno o più articoli di cui sopra. A causa di modifica del Codice penale dell'Italia del 28 maggio 2012 la presente violazione della legge (se non è ripetuta – è avvenuta per la prima volta) potrebbe essere considerata convenzionale nel caso di pagamento di una sanzione penale a favore dello stato.
Please, ignore this fake warning because Italian Police has nothing to do with it. Additionally, we recommend removing this ransonware infection from the system because it won't leave your PC in other way. Here's waht you can do:
HOW CAN I REMOVE Polizia Penitenziaria virus?
In order to get rid of this dangerous cyber infection and remove Polizia Penitenziaria virus files, you should unlock your PC first. For that, follow these options:
* Flash drive method:
1. Take another machine and use it to download Malwarebytes Malwarebytes, Reimage or other reputable anti-malware program.
2. Update the program and put into the USB drive or simple CD.
3. In the meanwhile, reboot your infected machine to Safe Mode with command prompt and stick USB drive in it.
4. Reboot computer infected with Ukash virus once more and run a full system scan.
* Users infected with Ukash viruses are allowed to access other accounts on their Windows systems. If one of such accounts has administrator rights, you should be capable to launch anti-malware program.
* Try to deny the Flash to make your ransomware stop function as intended. In order to disable the Flash, go to Macromedia support and select 'Deny': http://www.macromedia.com/support/documentation/en/flashplayer/help/help09.html. After doing that, run a full system scan with anti-malware program.
* Manual Ukash virus removal:
Reboot you infected PC to 'Safe mode with command prompt' to disable Ukash virus (this should be working with all versions of this threat)
Run Regedit
Search for WinLogon Entries and write down all the files that are not explorer.exe or blank. Replace them with explorer.exe.
Search the registry for these files you have written down and delete the registry keys referencing the files.
Reboot and run a full system scan with updated Reimage to remove remaining virus files. You can also use Malwarebytes Malwarebytes or Plumbytes Anti-MalwareNorton Internet Security.
Alternate Software
We have tested Plumbytes Anti-Malware's efficiency in removing Polizia Penitenziaria virus (2013-09-24)
We have tested Malwarebytes's efficiency in removing Polizia Penitenziaria virus (2013-09-24)
We have tested Hitman Pro's efficiency in removing Polizia Penitenziaria virus (2013-09-24)
We have tested Malwarebytes's efficiency in removing Polizia Penitenziaria virus (2013-09-24)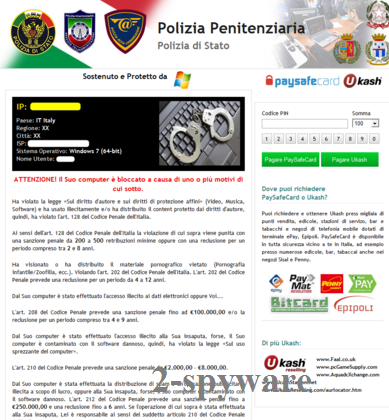 Polizia Penitenziaria virus manual removal:
Kill processes:
[random].exe
Delete files:
[random].exe
About the author
Removal guides in other languages