Polska Policja virus. How to remove? (Uninstall guide)
removal by Alice Woods
-
- Also known as
Polska Police wirus, Polish Police virus, Ukash virus
| Type:
Ransomware
Polska Policja virus (also called as Polska Police wirus or Polish Police virus) is a "drive-by" ransomware, which blocks the entire system down and shows a fake message, claiming that the user has violated some laws. For unblocking it, this threat requires paying a fine of 500 PLN or 100 euros. Under no circumstances you should pay this amount of money! There are hundreds of people all around the world that keep contacting governmental organizations and ask about system's lock down. The saddest thing is that they pay the money expecting that this will unlock their PC. In reality, they have been infected by one group of viruses, Ukash, which seeks to swindle the money. Polska Policja virus, similarly to Policja wirus, is designed for Poland and its region, so if you see its alert, you must ignore it and remove Polska Policja wirus immediately.
HOW CAN I GET INFECTED WITH Polska Policja virus?
According to security experts, Polska Policja virus is distributed by Trojan Horse, which becomes active when user opens the infected file or attachment. In most of the cases, you can download such dangerous file from any website, which has been compromised by Internet criminals. Another possible way to get infected with this threat is by opening a spam email and the attachment. Once inside the system, this virus immediately blocks the computer with its huge screen, which is filled with the logos of Polish police and misleading report about a law violation. Besides, virus shows victim's IP address, location and other details that may mislead people into thinking that they have a deal with the REAL Polska Policja. Be sure that this huge screen, which includes misleading information, has nothing to do with the Polska Policja virus. If you see it on your desktop, you must ignore this message and never pay the fine. If you have lots of money and think that paying will remove the lock from your computer, you should think again. Security experts claim that this hasn't been helpful with any version of this threat. In order to recover the connection to Internet connection and your files, you have to remove Polska Policja virus from your computer. In order to unblock the system, use one of these options:
HOW CAN I REMOVE POLSKA POLICJA VIRUS?
Firstly, follow these steps to unblock the system. You can also try restoring your computer's date to the previous time.
* Flash drive method:
1. Take another machine and use it to download Malwarebytes MalwarebytesCombo Cleaner, Reimage or other reputable anti-malware program.
2. Update the program and put into the USB drive or simple CD.
3. In the meanwhile, reboot your infected machine to Safe Mode with command prompt and stick USB drive in it.
4. Reboot computer infected with Ukash virus once more and run a full system scan.
* Users infected with Ukash viruses are allowed to access other accounts on their Windows systems. If one of such accounts has administrator rights, you should be capable to launch anti-malware program.
* Try to deny the Flash to make your ransomware stop function as intended. In order to disable the Flash, go to Macromedia support and select 'Deny': http://www.macromedia.com/support/documentation/en/flashplayer/help/help09.html. After doing that, run a full system scan with anti-malware program.
* Manual Ukash virus removal (special skills needed!):
Reboot you infected PC to 'Safe mode with command prompt' to disable Ukash virus (this should be working with all versions of this threat)
Run Regedit
Search for WinLogon Entries and write down all the files that are not explorer.exe or blank. Replace them with explorer.exe.
Search the registry for these files you have written down and delete the registry keys referencing the files.
Reboot and run a full system scan with updated Reimage to remove remaining virus files.
Alternative Software
Different security software includes different virus database. If you didn't succeed in finding malware with Reimage, try running alternative scan with Malwarebytes.
Alternative Software
Different security software includes different virus database. If you didn't succeed in finding malware with Reimage, try running alternative scan with Combo Cleaner.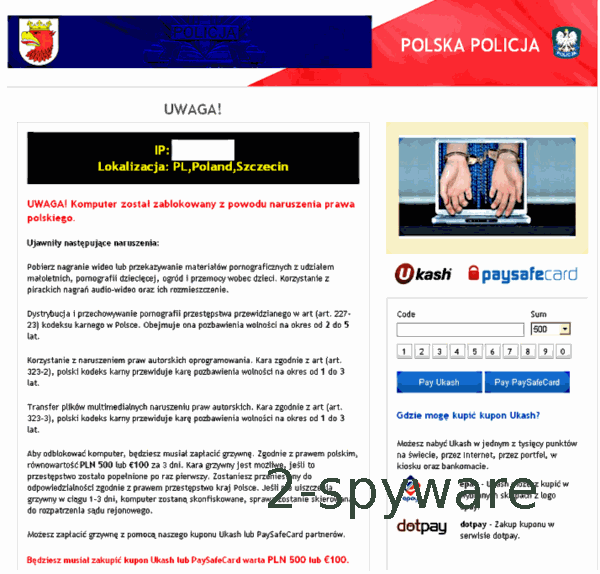 About the author
Removal guides in other languages