Product Key Update virus. How to remove? (Uninstall guide)
Information about Product Key Update virus
Product Key Update virus is a malicious program that you can accidentally install on your computer by visiting untrustworthy websites, clicking on shady web advertisements, opening deceitful email attachments or installing freeware carelessly. To avoid installing it unintentionally, avoid clicking on suspicious content online, do not open emails that come from unknown senders, and opt for Custom or Advanced installation method whenever you install software on your computer. These settings reveal optional components added to your software, and you can opt them out.
Once installed, Product Key Update malware autoruns itself after the user reboots the computer, and then it outputs a fake Windows Activation Pro window on the computer screen. It commands the user to find "product key on the box that Windows DVD came in or in the welcome email or on the certificate of authenticity sticker" and enter it in order to activate Windows. The entire message window looks entirely fake. This window provides Customer Support number, which users can dial and call for assistance if they cannot activate Windows.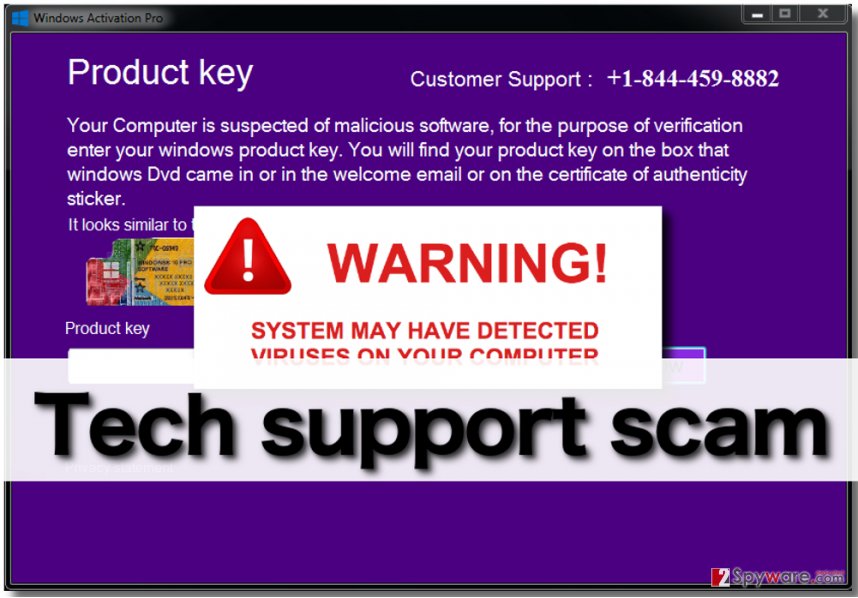 Questions about Product Key Update virus
If you see this window on you computer screen, it means your computer is infected with ProductKeyUpdate virus. It is definitely not a good software, so you should uninstall it from your PC without a delay. Although some computer experts say it is Product Key Update adware, we believe that this program deserves to be called malware, since it urges users to call a fake tech support number.
Why are tech support scammers dangerous?
Cyber criminals often try to intimidate inexperienced computer users and especially older generation in various ways. They usually command the user to complete a list of complicated tasks to make him/her confused; they also tend to call safe files "malicious." They seek to make the victim believe that he/she is not educated enough to fix these "problems" manually. Therefore, they commonly urge the victim to give them access to the computer, for example, via TeamViewer.
If the computer user refuses to give access to the computer, cyber criminals try various other techniques to deceive the user to swindle money from him/her. They might ask you to install a never-heard "security software," obviously, not for free. Be careful, because tech support scammers often attempt to convince the computer user to reveal personal information as well as credit card details.
If the user gives computer access to scammers, these frauds can immediately contaminate the computer system with real and really dangerous viruses, for example, trojans, worms, and of course – ransomware. What is more, it was noticed that nowadays tech support scammers tend to lock the computer screen and ask victims to pay up, and this technique reminds us of ransomware viruses.
If your computer was infected with Product Key Update virus and Product Key Update ads show up on your screen, scan your computer with a powerful anti-malware software. Please go to page 2 to find a more detailed Product Key Update removal guide.
How to remove Product Key Update?
If your computer was infected with Product Key Update virus, removing it might be a really hard task. We definitely do not recommend you to do that manually, unless you are a computer expert. What is more, similar PC threats often block computer security programs; besides, they can hide their files deeply in the computer system so that computer users cannot find them. It goes without saying that this malicious software does everything to stop the user from removing it.
To entirely remove Product Key Update malware, reboot your computer in a Safe Mode with Networking and download a reliable anti-malware application. It is also important to keep your anti-malware software up-to-date so that it can identify and remove the latest computer threats.
About the author