ProtectDefender. How to remove? (Uninstall guide)
ProtectDefender is a fake anti-spyware application that claims to scan your PC for malware but in reality it only imitates system scan and reports premeditated infections or system security threats to scare you into thinking that your computer is infected with malicious software. This rogue program is from the WiniSoft family and a clone of ArmorDefender scareware. Basically, it will do all its best to make you pay for this bogus software. That includes not only false scan results but also fake security alerts and browser hijacking. Once installed it will report numerous infections and then will prompt you to buy it in order to remove the supposed infections. Don't buy it. ProtectDefender is a scam. Please use the removal guide stated below to remove this virus manually or download an automatic removal tool.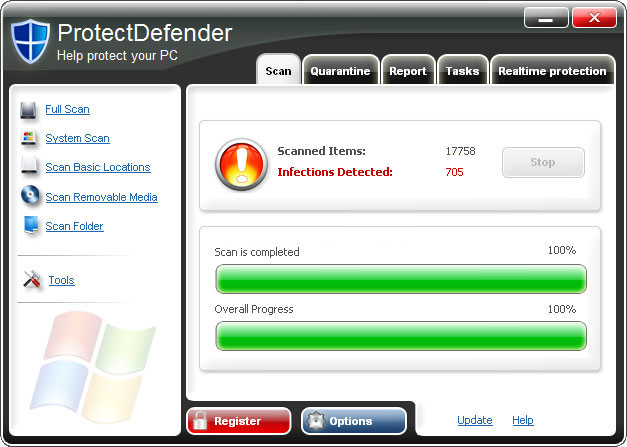 [Figure 1. ProtectDefender graphical user interface]
More technically speaking, ProtectDefender is a Trojan virus. Usually, such programs come from fake online scanners or fake websites that impersonates well known and reliable sites. For example, cyber criminals creates a websites that is very similar to Youtube. Usually there are several videos on such websites or just images that look like Youtube player. When a user click play button to view video it gets a fake pop-up stating that you must install the latest version of Flash player in other to play particular video. As a result, you get a Trojan virus which later displays ProtectDefender screen and many fake security alerts. Trojans even impersonate Widows Security Center to make the whole scam look more realistic.
If you find that your computer is infected with ProtectDefender, please read the below guide about how to remove this virus from your PC manually for free or just simply download an automatic removal tool. Remember, do not purchase it. Contact your credit card company as soon as possible if you have inadvertently purchased it.
ProtectDefender manual removal:
Kill processes:
ProtectDefender.exe
25911s9z34b.exe
Delete registry values:
HKEY_LOCAL_MACHINESOFTWAREMicrosoftWindowsCurrentVersionUninstallProtectDefender
HKEY_LOCAL_MACHINESOFTWAREProtectDefender
HKEY_CURRENT_USERSoftwareProtectDefender
HKEY_CURRENT_USERSoftwareProtectDefenderagents
HKEY_CURRENT_USERSoftwareProtectDefendergeneral
HKEY_CURRENT_USERSoftwareProtectDefenderrealtime
HKEY_CURRENT_USERSoftwareProtectDefenderscanner
HKEY_CURRENT_USERSoftwareProtectDefendertasks
HKEY_CURRENT_USERSoftwareProtectDefendertasks
HKEY_CURRENT_USERSoftwareProtectDefendertasks1
HKEY_CURRENT_USERSoftwareProtectDefenderupdates
HKEY_LOCAL_MACHINESOFTWAREMicrosoftWindowsCurrentVersionRun "ProtectDefender.exe" -min"
HKEY_CURRENT_USERSoftwareProtectDefendertasks1
HKEY_CURRENT_USERSoftwareProtectDefendertasks
HKEY_CURRENT_USERSoftwareProtectDefenderupdates
HKEY_CURRENT_USERSoftwareProtectDefenderscanner
HKEY_CURRENT_USERSoftwareProtectDefenderrealtime
HKEY_CURRENT_USERSoftwareProtectDefendergeneral
HKEY_CURRENT_USERSoftwareProtectDefenderagents
Unregister DLLs:
19530hacktoo569z.dll
45a8thz5at154259.dll
7975d9wzloader2321.dll
Delete files:
ProtectDefender.lnk
always_delete.xml
always_skip.xml
ProtectDefender.exe
25911s9z34b.exe
quarantine.xml
19530hacktoo569z.dll
242cbac59oor19z8.ocx
29577spyzb9.bin
45a8thz5at154259.dll
7975d9wzloader2321.dll
5565virz9099.bin
96048ziru5698.ocx
za915hief1227.cpl
Delete directories:
C:Program FilesProtectDefender Software
C:Program FilesProtectDefender SoftwareProtectDefender
C:Program FilesProtectDefender SoftwareProtectDefenderquarantine
About the author