Quick Heal Antivirus Plus 2009. How to remove? (Uninstall guide)
Quick Heal Antivirus Plus 2009 is a computer's protection program that may become unwanted as soon as it is installed on the system. Mostly, this program gets inside the system after being manually downloaded by the same user. However, many of them have been trying to find a way explaining how they can uninstall Quick Heal Antivirus Plus 2009.
Quick Heal Antivirus Plus 2009 is usually distributed as a package of 5 tools – AntiVirus, AntiSpyware, Firewall, AntiMalware and AntiRootkit. All these programs are said to work on computer's protection against various threats, like trojans, worms, rootkits, spyware and other. Besides, Quick Heal Antivirus Plus 2009 is promised to help user check email attachments and block malicious ones. However, when it comes a time to prevent identity thefts and check the registry for malicious entries, Quick Heal Antivirus Plus 2009 may fail to do that. Besides, it may report about invented viruses.
HOW CAN I REMOVE QUICK HEAL ANTIVIRUS PLUS 2009?
If you want to make sure you are effectively protected, we recommend trying newer versions of Quick Heal AntiVirus Plus or other anti-virus that will give you advanced malware protection. It seems like Quick Heal Antivirus Plus 2009 fails to work with sophisticated malware threats and may also report harmless files as viruses or fail to detect real threats.Here are the steps that can be used for removing Quick Heal Antivirus Plus 2009 manually (NOTE that they should be followed only if you have enough knowledge about computers and their system architecture):
1) Go to Program files and delete or rename the Quickheal Antivirus Plus folder.
2) Go to regedit and find: HKEY_LOCAL_MACHINE\SOFTWARE\Microsoft\Windows\CurrentVersion\App Paths2) Delete these entries: ACAPPAA.EXE, SCANNER.EXE & QUICKUP.EXE
3) Finally, restart the computer.
However, the much easier way to remove Quick Heal Antivirus Plus 2009 is to run a full system scan with Plumbytes Anti-MalwareWebroot SecureAnywhere AntiVirus or Reimage.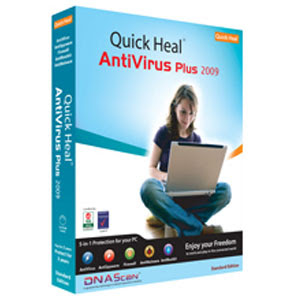 About the author