Rango Win 7 Antispyware 2014. How to remove? (Uninstall guide)
What is Rango Win 7 Antispyware 2014?
Rango Win 7 Antispyware 2014 is a fake security application that belongs to cyber criminals. Using this rogue, they make people believe that their computers are dangerously infected and that they need to purchase the 'licensed', 'full' or whatever it is called version. Of course, just like the trial version of Rango Win 7 Antispyware 2014, licensed its version is worth nothing, so you should never think about purchasing it. By the way, if you started seeing continuous system scanners and alerts reporting about tens of different viruses, you should be concerned because it means that your PC has already been infected. In order to get rid of Rango Win 7 Antispyware 2014 notifications, you should run a full system scan with the updated anti-spyware and remove what it detects. Otherwise, you can start noticing not only those annoying scanners and alerts about viruses. You can also discover that other threats were installed on your computer behind your back. In addition, such viruses as this rogue anti-spyware can also be used for recording keystrokes and collecting personally identifiable information about people. If you don't want to lose your logins, banking data and other personal information, you should remove Rango Win 7 Antispyware 2014 as soon as possible. The easiest way to do this is to run a full system scan with Reimage.
How can Rango Win 7 Antispyware 2014 infect my computer?
Just like many other rogues that belong to Braviax group of viruses (Rango Win 7 Antispyware 2014 belongs to this family of rogues as well), this program is spread using fake alerts and spam. Beware that alerts used for promoting this dangerous rogue anti-spyware are very misleading and tricky. In most of the cases, they claim that people should update their Java, Flash PLayer, FLV Player, the browser and other program but instead of giving what they offer they trick people into downloading Rango Win 7 Antispyware 2014's installer. As soon as it enters computer, this virus drops its own registry entries and modifies the system for getting ability to start its work as soon as victim reboots computer. After that, he/she starts seeing annoying ads that report about serious PC's situation. Of course, these ads will also offer getting a full version of Rango Win 7 Antispyware 2014 and fixing everything. Please, do NOT pay for this or other 'powerful anti-spywares' because you will lose your money! Before you fall into thinking that your PC is infected and that you have to purchase the license of unknown program, think: have you ever installed it on your computer? If you think that your computer has already been infected, you should waste no time and scan it with the reputable anti-spyware. Of course, such threats as Rango Win 7 Antispyware 2014 virus can easily disable anti-spyware or other legitimate security software. If that is the case you are dealing with, you should follow a guide down below:
How to remove Rango Win 7 Antispyware 2014 virus?
If you are suffering from Rango Win 7 Antispyware 2014 notifications and scanners, you should not wait longer. Select AUTOMATIC REMOVAL OPTION that requires downloading a reputable anti-spyware, updating it and running a full system scan. If you need a detailed guide explaining how to do that, read this guide. When trying to remove Rango Win 7 Antispyware 2014, our recommended programs are Reimage and Malwarebytes because they can easily detect every hidden component that belongs to this and other cyber threats.
ATTENTION! As we have already mentioned previously, Rango Win 7 Antispyware 2014 may try to block installation and activity of legitimate security programs, including SpyHunter and StopZilla. If you can't download or launch any them, try these options:
1. USING SYSTEM RESTORE TO DISABLE VIRUS:
Click Start -> All Programs -> Accessories -> System Tools -> System Restore.
As soon as Restore system files and settings window shows up, select Next.
Choose the restore point that you want and click Next .
Click Finish to confirm and wait until your PC reboots.
Now download Reimage and run a full system scan after updating it.
2. REBOOTING TO SAFE MODE WITH NETWORKING:
Restart your computer
As soon as your computer becomes active, start pressing the F8 key continuously until you see Advanced Boot Options screen.
Here, select Safe Mode with Networking (for that, use the arrow keys) and then hit Enter.
Login as the same user as you were in normal Windows mode
Now right click on IE or other browser's icon and select Run As or Run As administrator. Enter your Administrator account password (if needed).
Enter this link to your address bar: https://www.2-spyware.com/download/hunter.exe and download a program on your desktop. Launch it to remove malicious files.
3. CREATING GUEST ACCOUNT FOR SCANNING COMPUTER:
If you have another user (guest) account, you can try to run a full system scan from it. You just need to log into it and download Reimage for a full system scan. You can activate your guest account with a help of these steps:
Click Start -> Control Panel and select User Accounts and Family Safety.
After a new window shows up, click on Add or Remove User Accounts -> Guest Account.
Now click on Turn On button and restart your computer
Now wait until you see Windows log on screen and select Guest account for downloading recommended anti-spyware.
4. USING ANOTHER PC FOR DOWNLOADING ANTI-SPYWARE:
Take another computer that is not infected by this virus and download Reimage or Malwarebytes to it.
After completing the procedure, transfer this anti-malware to the CD/DVD, external drive, or USB flash drive.
In the meanwhile, kill malicious processes on your infected computer. For that you can use this tutorial.
Stick the device you used for transferring anti-spyware program to your infected PC and launch it.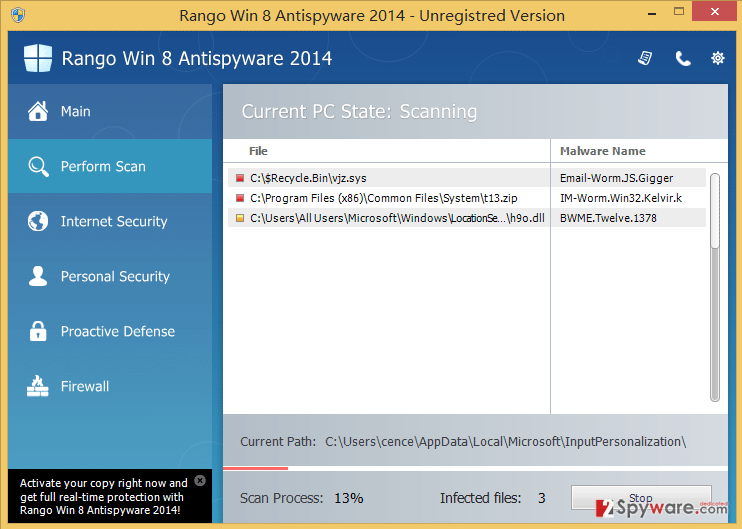 About the author
Removal guides in other languages