Rango Win 8 Protection 2014. How to remove? (Uninstall guide)
What is Rango Win 8 Protection 2014?
Rango Win 8 Protection 2014 is a misleading and very untrustworthy application, so you should never believe its alerts. We can say in advance that this program will inform you about tens of different viruses. In addition, it will claim that the only tool that can help you in this situation is its licensed version. It can also be presented as 'full'. However, no matter how you call it, you must realize that it's just a method used for stealing your money. We highly recommend ignoring Rango Win 8 Protection 2014 scanners and notifications because they are fake. In addition, you should remove this rogue from your PC system in order to prevent infiltration of other threats and also protect your personal information. We say so because Rango Win 8 Protection 2014 virus may also be used for recording victim's keystrokes and helping hackers to steal banking data, logins, passwords and other information. In addition, such viruses as rogue anti-spywares may also redirect people to malicious websites and trick them into downloading other cyber threats. To sum up, there is no reason why you should keep Rango Win 8 Protection 2014 virus on your computer. If you think that it may be hiding in it, you should waste no time and scan your machine with Reimage.
How can Rango Win 8 Protection 2014 infect my computer?
Just like other rogues that belong to Braviax group of viruses, Rango Win 8 Protection 2014 is spread using spam, fake alerts and other well-known distribution methods. If you want to prevent its infiltration, you should install reputable anti-spyware on your computer. In addition, we also recommend keeping it up-to-date. This will help you to prevent infiltration of this and other threats. Also, you should be very careful with alerts that offer updating such programs as Flash Player, FLV Player, Java, etc. because they have nothing to do with these programs. In reality, all what they spread is rogues, adwares, browser hijackers and similar applications. If you really need an update, you should visit the official website of the program. Finally, spam campaigns have also been used when spreading Rango Win 8 Protection 2014 and other rogues around, so be sure that you ignore all e-mail messages that look suspicious. If they are actively asking you to download the attachment, you should be very careful because you can easily install such threat as this rogue anti-spyware. Once it gets inside the system, it alters its settings and starts showing misleading notifications that report:
System Hijack!
System security threat was detected. Viruses and/or spyware may be damaging your system now. Prevent infection and data loss or stealing by running a free security scan.
In addition, it may start blocking your web browsers and display such alert within them:
Internet Explorer alert.

Visiting this site may pose a security threat to your system!
Possible reasons include:

Dangerous code found in this site's pages which installs unwanted software into your system.
Suspicious and potentially unwanted network activity detected.
Spyware infection in your system.
Complaints from other users about this site.
Port and system scans performed by the site being visited.

Things you can do:

Get a copy of "Rango Win 8 Protection 2014" to safeguard your PC while surfing the web (RECOMMENDED)
Run a spyware, virus and malware scan
Continue surfing without any security measures (DANGEROUS)
Please, ignore these messages because they are fake! If you are suffering from them when using your computer, you should follow a guide below.
How to remove Rango Win 8 Protection 2014 virus?
Rango Win 8 Protection 2014 is a serious cyber threat. In order to remove it, we recommend you to select AUTOMATIC REMOVAL OPTION and avoiding manual removal. When relying on this option, you should just download a reputable anti-spyware, update it and run a full system scan. If you need a detailed guide explaining how to do that, read this guide.
When trying to remove Rango Win 8 Protection 2014, our recommended programs are Reimage and Malwarebytes because they can easily detect every hidden component that belongs to this and other cyber threats.
ATTENTION! As we have already mentioned previously, Rango Win 8 Protection 2014 may try to block installation and activity of legitimate security programs, including SpyHunter and StopZilla. If you can't download or launch any them, try these options:
1. USING SYSTEM RESTORE TO DISABLE VIRUS:
Go to the Windows 8 Start Screen and type restore point in the Search section.
Now click on Settings -> Create a restore point.
When in System Protection tab, select System Restore.
Click Next button to see your restore points and left click on the entry you need.
Now select Scan for affected programs -> Close -> Next -> Finish.
Once your PC reboots, download Reimage and run a full system scan after updating it.
2. REBOOTING TO SAFE MODE WITH NETWORKING:
Click on Windows key and go to the bottom-right corner.
Select Settings -> Change PC Settings -> General.
Click theRestart Now buttonunder Advanced Startup.
Now selectTroubleshoot -> Advanced Options -> Startup Settings.
Now choose Restart and press F5.

Launch IE or other browser and enter this link to your address bar: https://www.2-spyware.com/download/hunter.exe
Download a program on your desktop and launch it to remove malicious files.
3. USING ANOTHER PC FOR DOWNLOADING ANTI-SPYWARE:
Take another computer that is not infected by this virus and download Reimage or Malwarebytes on it.
After completing the procedure, transfer this anti-malware to the CD/DVD, external drive, or USB flash drive.
In the meanwhile, kill malicious processes on your infected computer. For that you can use this tutorial.
Stick the device you used for transferring anti-spyware program to your infected PC and launch it.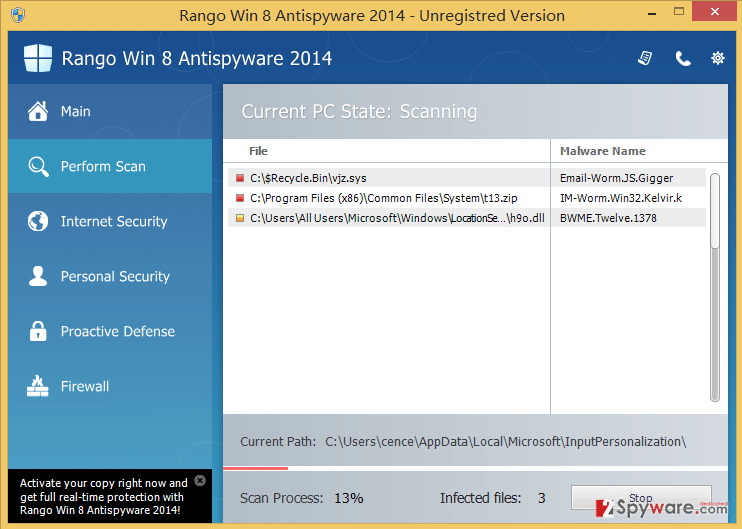 About the author
Removal guides in other languages