'Recommended for you' virus. How to remove? (Uninstall guide)
'Recommended for you' is a potentially unwanted application, adware, which causes continuous pop-up ads that interrupt every search session of the user once it enters Facebook, Amazon, Google and other websites . As soon as it gets inside the system, this program starts showing its notifications in the bottom right or left of the browser's window, so it's almost impossible to miss them. In most of the cases, they don't include malicious code but they are always filled with sponsored links that redirect people to unknown websites. By doing that, the owners of these websites increase the number of the visitors and generate revenue. However, such adware programs are designed for money in the first place, so you can't be sure that you won't be rerouted to malicious website, which hosts malware.
HOW CAN I GET INFECTED WITH 'Recommended for you'?
'Recommended for you' virus is distributed via freeware and shareware in the first place. However, you can also start noticing its alerts after visiting a hacked website or opening spam. As soon as it gets inside the PC, adware modifies Hosts file and affects each of the browsers that are installed on the system by installing its own extension. As a result, 'Recommended for you' virus starts showing its forged alerts that are designed for making the money as soon as you open Mozilla Firefox, Google Chrome or Internet Explorer. Please, avoid these pop-up ads because they may reroute your browser to malicious site that promotes serious viruses. We highly recommend eliminating 'Recommended for you' virus from the system if you haven't installed it manually.
HOW TO REMOVE 'Recommended for you' virus?
When suffering from annoying pop-up ads that belong to 'Recommended for you' adware, you should check your PC with updated anti-spyware and remove malicious entries from the PC. For that, try using Reimage In addition, uninstall this adware manually and fix your browsers:
Click 'Start menu' -> 'Control Panel' -> 'Uninstall a Program' or 'Add/Remove Programs' and choose 'Uninstall' button if you see 'Recommended for you' in the list.
Internet Explorer:
Open Internet Explorer, go 'Tools' -> "Manage Add-ons' -> 'Toolbars and Extensions'. Here, look for 'Recommended for you' and click 'uninstall'. Now open IE once again and click Tools -> Internet Option -> General tab. Enter Google or other address to make it the default start page.
Mozilla Firefox:
Open Mozilla Firefox, go 'Tools' -> 'Add-ons' -> 'Extensions'. Find 'Recommended for you' and click 'Uninstall'. Now open Mozilla Firefox once more, go to Tools -> Options -> General -> Startup and select 'Show a blank page' when Firefox Starts or set a certain website, like Google or similar.
Google Chrome:
Open Google Chrome, click on wench icon, go to settings and choose 'Manage search engines'. Change search engine to google or other and delete 'Recommended for you' from the list. Then Go to section "On start" and make sure you get blank page while creating new tab.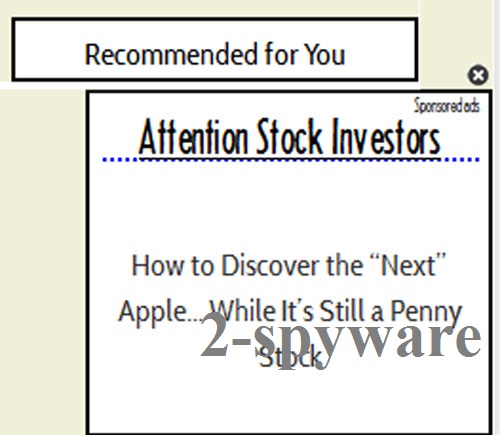 About the author