Rikspolisstyrelsen virus. How to remove? (Uninstall guide)
Rikspolisstyrelsen virus is a dangerous ransomware, which hails from Ukash group of viruses. These scams tend to lock computers down and then display fake notifications asking to pay the fine through Ukash prepayment system. Don't think that everything is designed very poorly and you won't fall for Rikspolisstyrelsen virus! In order to trick its victims, this Norwegian ransomware displays skillfully designed alert, which includes various logos, your IP address, location and similar details. Of course, it uses victim's local language when listing various invented crimes, such as the use of copyrighted content, distribution of pornographic material and similar. Additionally, it asks to pay the fine and unblock the system in this way. However, you should never do that. Please, remove Rikspolisstyrelsen virus immediately after detection.
HOW CAN I GET INFECTED WITH Rikspolisstyrelsen virus?
This virus is distributed just like Politiet Kongeriget Danmark virus, Suomen Poliisi virus and other ransomwares: it attacks computers with a help of Trojan, which exploits security vulnerabilities and then downloads malicious files onto its target PC. This virus also blocks the entire system and replaces desktop with misleading notification. If you want to avoid Rikspolisstyrelsen ransomware virus infiltration, you should always avoid illegal sites, pay attention to email attachments you tend to open and similat things. Once inside the system, Rikspolisstyrelsen virus blocks the system with such alert:
OBS! VARNING! Datorn har blockerats. Din dator är blockerad på grund av minst ett av de skäl som anges nedan.
Du bryter mot lagen om <> (Video, Music, Programvara)
Du granskar eller distribuerar förbjudna pornografiska material (Barn Pornografi, Zoofili etc.)
(…)
Böternas belopp är SEK 1000 eller €100.
Du kan betala böter via Ukash eller PaySafeCard.
Needless to say, you have to ignore this scam message that belongs to Rikspolisstyrelsen virus. It seeks only to swindle your money , so stay away from it. Besides, remove Rikspolisstyrelsen virus to recover your internet connection and ability to use your computer as always.
HOW to remove Rikspolisstyrelsen virus?
In order to remove Rikspolisstyrelsen virus, you have to unlock your computer. For that, follow these instructions:
Take another computer and download Reimage or other reputable anti-malware program with it.
Update the program and put it into your USB drive or simply burn a CD disk.
While the CD burns or USB drive get's the information, reboot your infected machine to Safe Mode with Command Prompt (by pressing F8 on boot) and then stick the prepared USB drive or put the CD disk in it.
Reboot the infected computer once more and run a full system scan with the program you downloaded.
* Users infected with Ukash Virus are allowed to access other accounts on their Windows systems. If one of such accounts has administrator rights, you should be capable to launch anti-malware program.
* Try to deny the Flash to make your ransomware stop function as intended. In order to disable the Flash, go to Macromedia support and select 'Deny': http://www.macromedia.com/support/documentation/en/flashplayer/help/help09.html. After doing that, run a full system scan with anti-malware program.
* Manual Rikspolisstyrelsen virus removal:
Reboot you infected PC to 'Safe mode with command prompt' to disable the virus (this should be working with all versions of this threat)
Run Regedit
Search for WinLogon Entries and write down all the files that are not explorer.exe or blank. Replace them with explorer.exe.
Search the registry for these files you have written down and delete the registry keys referencing the files.
Reboot and run a full system scan with updated Reimage to remove remaining virus files.
Alternative Software
Different security software includes different virus database. If you didn't succeed in finding malware with Reimage, try running alternative scan with Malwarebytes.
Alternative Software
Different security software includes different virus database. If you didn't succeed in finding malware with Reimage, try running alternative scan with Combo Cleaner.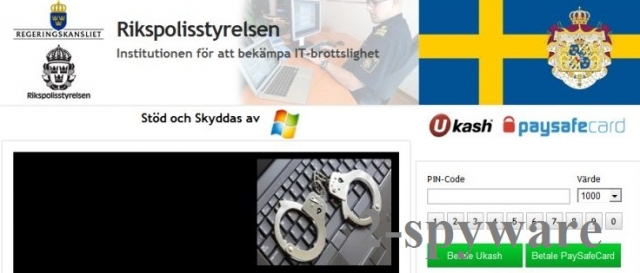 About the author