Sabam virus. How to remove? (Uninstall guide)
Sabam virus is a dangerous ransomware infection that has been clearly released to trick PC users into spending their money away. Similarly to KLPD virus, this Ukash threat seems to be designed for several countries, like Netherlands, France, Belgium and other, so you also should be aware that it may attack your computer. The main thing, which can easily reveal that your PC is infected with Sabam virus, is a huge alert with its name on the top left corner. This warning is displayed instead of user's typical desktop and set to show various details about the victim, like user's IP address, location and others. Basically, you can't do anything on your computer when it's infected with Sabam virus. You see only this warning, which tries to create an image that local governmental authority (Belgian Society of Authors, Composers and Publishers in this case) has noticed you violating various laws, and now you have to pay the fine of 50 euros for doing that. Of course, we highly recommend staying away from Sabam virus and never spend your money on this fine. You have to remove this ransomware from your computer.
HOW CAN I GET INFECTED WITH SABAM VIRUS?
Sabam virus is distributed just like any other ransomware infection. In most of the cases, it can be downloaded together with fake updates, media codecs, freeware, shareware, spam emails and similar downloads. Of course, it gets inside without any permission asked. Once it does that, it locks the entire system down and reports about various law violations that can be forgotten only after receiving a fine from a user. In most of the cases, this threat asks to pay 50 euros through Paysafecard prepayment system. This deceptive message claims something like that: 'Uw computer is vergrendeld' or 'Votre ordinateur a ete verrouille'. If you see such words, you must keep in mind that they are misleading and should never be trusted. You must remove Sabam virus ASAP!
HOW CAN I REMOVE SABAM VIRUS?
When trying to remove Sabam virus, most of its victims can't connect to the Internet because they are brocled. In order to download anti-malware program and remove infected files from the system, use one of these options:
* Flash drive method:
1. Take another machine and use it to download Malwarebytes, Reimage or other reputable anti-malware program.
2. Update the program and put into the USB drive or simple CD.
3. In the meanwhile, reboot your infected machine to Safe Mode with command prompt and stick USB drive in it.
4. Reboot computer infected with Ukash virus once more and run a full system scan.
* Users infected with Ukash viruses are allowed to access other accounts on their Windows systems. If one of such accounts has administrator rights, you should be capable to launch anti-malware program.
* Try to deny the Flash to make your ransomware stop function as intended. In order to disable the Flash, go to Macromedia support and select 'Deny': http://www.macromedia.com/support/documentation/en/flashplayer/help/help09.html. After doing that, run a full system scan with anti-malware program.
* Manual Ukash virus removal (special skills needed!):
Reboot you infected PC to 'Safe mode with command prompt' to disable Ukash virus (this should be working with all versions of this threat)
Run Regedit
Search for WinLogon Entries and write down all the files that are not explorer.exe or blank. Replace them with explorer.exe.
Search the registry for these files you have written down and delete the registry keys referencing the files.
Reboot and run a full system scan with updated Malwarebytes, Reimage to remove remaining virus files.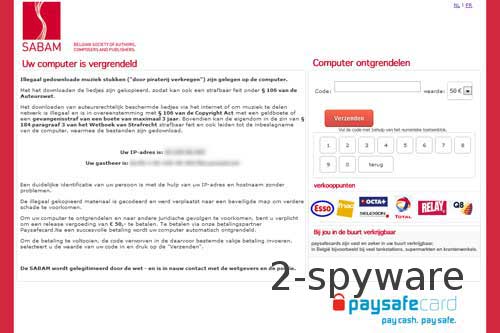 About the author