Scan Disk. How to remove? (Uninstall guide)
Scan Disk is a fake computer optimization tool which has been released just after Ultra Defragger, HDD Defragmenter or Quick Defragmenter. Related to this quite dangerous family of bogus system programs, this ScanDisk similarly starts analyzing computer's performance and stability just after it enters PC. Various changes important for its continuous launching after every PC's reboot are also done immediately after malware gets on board. Don't mix Scan Disk with some legitimate programs or solutions if you notice it on your machine! Being nothing else but dangerous application, Scan Disk MUST be removed as soon as it gets there.
Scan Disk may infect your machine quite stealthily with a help of Trojans. Being designed to apply this way of promotion, this fake optimization tool is also known to create various difficulties for going online, using the Task Manager, Add/Remove Programs and some other essential features. And that's just one of those problems created by Scan Disk. When running on your PC, this scamware floods the system with misleading pop-up ads telling about various problems detected or offering to launch faked "Safe Mode" option and also imitates checking computer for problems with its scanners that return false results too. They won't stop until Scan Disk is not deleted, so don't wait!
It mostly displays such alerts:
Safe Mode required
Boot into Windows Safe Mode required
Boot into Windows Safe Mode required to get into defragmentation module. The safe mode is needed for effective problems fixing. The process takes as little as 10 minutes. Once the process has been completed, the safe mode will be automatically turned off.
Critical Error
Hard Drive not found. Missing hard drive.
Critical Error
RAM memory usage is critically high. RAM memory failure.
Critical Error
Windows can't find hard disk space. Hard drive error
In addition to these alerts, people are mostly offered to purchase licensed version of Scan Disk. Being described as the only optimizer which will fix problems detected on the PC, this malware may also redirect you straight away to its purchase page. However, you should never pay your money for Scan Disk because it is fake computer optimizer! By applying all this trickery, its creators seek only to swindle your money. You definitely don't need purchasing this malware but you must remove Scan Disk after noticing its alerts. Since Scan Disk is a cyber threat to your system stability and your own privacy, you should start immediate actions to uninstall it.
Attention! Scan Disk may disconnect you from the Internet, so first of all you have to disable proxy server for LAN in Internet Explorer or use another browser, for example Firefox or Opera.
How to disable Proxy server for LAN in Internet Explorer:
1. Open Internet Explorer. Click on the Tools menu and then select Internet Options.
2. In the the Internet Options window click on the Connections tab. Then click on the LAN settings button.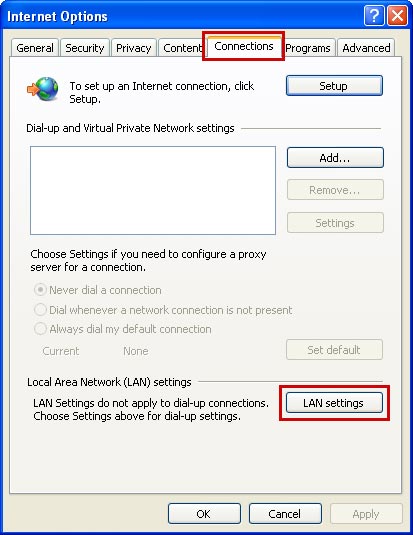 3. Now you will see Local Area Network (LAN) settings window. Uncheck the checkbox labeled Use a proxy server for your LAN under the Proxy Server section and press OK.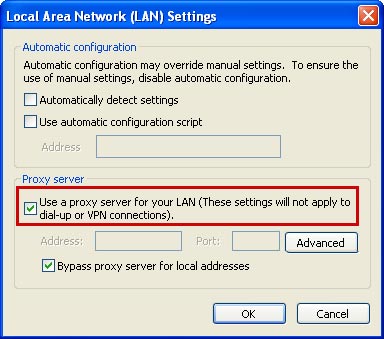 4. Now download renamed Process Explorer (explorer.com) and terminate Scan Disk processes (written below). Do not reboot your computer after using Process Explorer and terminating Scan Disk processes.
Now you should be able to download an automatic Scan Disk removal tool or another anti-spyware application.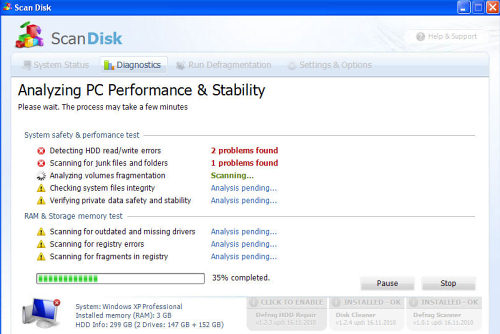 Scan Disk manual removal:
Kill processes:
[random characters].exe
winsp2up.exe
Unregister DLLs:
winsp2upd.dll
Delete files:
%Temp%[random characters]
%Temp%[random characters].bmp
%Temp%[random characters].exe
%Temp%winsp2up.exe
%Temp%winsp2upd.dll
%UserProfile%DesktopScan Disk.lnk
%UserProfile%Start MenuProgramsScan Disk
%UserProfile%Start MenuProgramsScan DiskScan Disk.lnk
%UserProfile%Start MenuProgramsScan DiskUninstall Scan Disk.lnk
About the author