Search.fr-recherche.com. How to remove? (Uninstall guide)
Search.fr-recherche.com or Fr-recherche.com is yet another questionable search engine that we do NOT recommend using. Program that is related to this dubious search site may hijack your browser and change your home page and default search engine to Search.fr-recherche.com. Although this search website is claiming that it is powered by Ask, we can'r guarantee that you will receive trustworthy search results. Also, this search site is full of advertisements and sponsored links that are promoting other sites. It seems that this questionable search engine was developed for french speaking internet users, however, users can get infected by Search.fr-recherche.com virus all over the world . Moreover, at the front page of this website, users may get a notification to install Free FLV Player. As far as we know, similar doubtful installations can carry additional attachments, such as potentially unwanted programs, adwares, viruses or trojans.
How can Search.fr-recherche.com appear on my computer?
Similar browser hijackers are often traveling with the help of free programs. This distribution method is called bundling and it is quite common these days. If your home page and default search engine is changed to Search.fr-recherche.com website, you noticed Search.fr-recherche.com redirects, it means that your browser was hijacked. We can give you a couple of useful advices how to protect your system from similar hijackers. Firstly, don't install doubtful programs from unknown sources, such as Free FLV Player that may be offered to you out of nowhere. Secondly, if you are installing unfamiliar program, don't click the next button all the time. Select advanced or custom installation method and closely follow the entire process step by step. Thirdly, check if this program that you are installing has any additional attachments. Op out of any extra accessories you have your doubts about. Sounds simple, right?
How to remove Search.fr-recherche.com?
Sometimes similar hijackers may slip unnoticed. If Search.fr-recherche.com hijacked your computer, follow these steps, submitted by our security experts, and remove it for good:
Remove recently installed freeware:
Click Start -> Control Panel -> Programs (or Add/Remove Programs) -> Uninstall a Program.
Here, look for unfamiliar extensions and similar entries.
Select 'Uninstall/Change' and click OK to save the changes
Internet Explorer:
Open Internet Explorer, click the Gear icon or 'Tools' -> 'Internet Options'.
Here, go to the 'Advanced' tab and click the 'Reset' button.
Go to the 'Reset Internet Explorer settings' -> 'Delete personal settings' and click on 'Reset' option.
Finally, click 'Close' and OK to save the changes.
Change your homepage.
Mozilla Firefox:
Open Mozilla Firefox, go to the 'Help' section -> 'Troubleshooting Information'.
Here, choose a 'Reset Firefox' for a couple of times and 'Finish'.
Finally, change your homepage.
Google Chrome:
Click the Chrome menu button on the Google Chrome browser, select Settings -> Show Advanced Settings.
Here, look for 'Reset browser settings' button.
Click 'Reset' to complete this task.
Alternate Software
We have tested Plumbytes Anti-Malware's efficiency in removing Search.fr-recherche.com (2014-04-09)
We have tested Malwarebytes's efficiency in removing Search.fr-recherche.com (2014-04-09)
We have tested Hitman Pro's efficiency in removing Search.fr-recherche.com (2014-04-09)
We have tested Malwarebytes's efficiency in removing Search.fr-recherche.com (2014-04-09)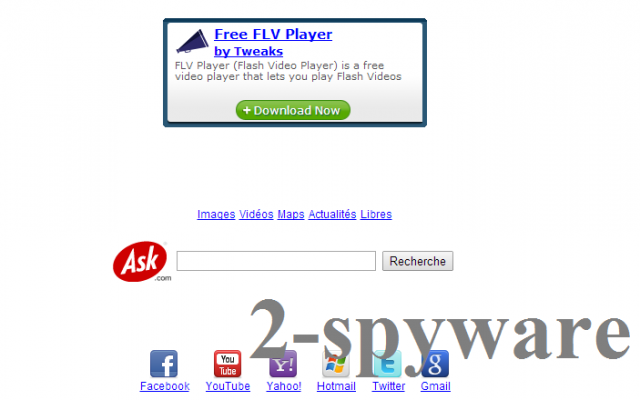 About the author