Search.ominent.com. How to remove? (Uninstall guide)
Search.ominent.com is an untrustworthy search engine, which can initiate continuous redirections to unknown websites and cause other problems that are related to browsing. As soon as this program enters computer, it occupies all web browsers that can be found on the system. That means that you will find Search.ominent.com on Internet Explorer, Google Chrome, Mozilla Firefox and Safari if you have these browsers on the system. The clearest sign that it managed to infiltrate your machine is constant redirections to Search.ominent.com. Please, don't fall into thinking that this is an ordinary search engine, which can be used in your daily life. In most of the cases, it returns altered search results, displays misleading pop-up advertisements and initiates other activities that could help make the money.
HOW CAN SEARCH.OMINENT.COM INFILTRATE MY PC?
We have already mentioned that Search.ominent.com shows up on computer out of nowhere. That's because it tends to infiltrate computers in a bundle with free downloads and shareware. If you want to avoid Search.ominent.com, you should pay more attention to freeware's installation process and find the decline button that could help you prevent installation of Search.ominent.com. Otherwise, you can expect to discover this untrustworthy search engine instead of the start page and default search engine. No matter that it looks trustworthy, we would recommend eliminating Search.ominent.com from the system. Here is a guide explaining how to can do that:
HOW TO REMOVE SEARCH.OMINENT?
If you noticed redirections to Search.ominent.com, you should waste no time and check your PC with a reputable anti-spyware. For that, we recommend using one of these programs: Plumbytes Anti-MalwareWebroot SecureAnywhere AntiVirus, Reimage, Malwarebytes Anti Malware.
Once you finish a scan and remove malicious files, follow these steps:
Remove Search.ominent.com from Add/Remove Programs. For that:
Click Start -> Control Panel -> Programs (or Add/Remove Programs) -> Uninstall a Program.
Here, look for Ominent Toolbar, Search.ominent.com and similar entries and select 'Uninstall/Change'.
Click OK to save the changes.
After that, fix each of your browsers with a help of these steps:
Internet Explorer:
Open Internet Explorer, go 'Tools' -> "Manage Add-ons' -> 'Toolbars and Extensions' and uninstall Ominent and any other unknown extension.
Click ''Tools' -> 'Manage addons' -> 'Search Providers' and choose the search engine you used before.
Mozilla Firefox:
Open Mozilla Firefox, go 'Tools' -> 'Add-ons' -> 'Extensions'; find Ominent and other entries that are unknown for you, and click 'Uninstall'.
Go 'Tools' -> 'Options' and reset the startup homepage to google.com, yahoo.com or similar search page.
Google Chrome:
Click the Chrome menu button, select 'Tools' -> 'Extensions', find Ominent and other unknown extensions, and remove them by clicking Recycle bin.
Now click 'Settings' -> 'Manage search engines' and change your default search engine.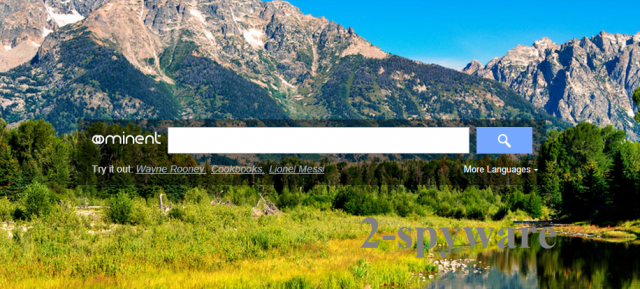 About the author