Searchpig.net. How to remove? (Uninstall guide)
Searchpig.net is a website, which is presented as a global search engine. However, it seems that it's far away from that because it redirects people to unwanted websites for increasing their traffic. Basically, you should check the system for browser hijacker if you suffer from searchpig.net redirects because this is the one that promotes such suspiciously-looking search pages. Besides, this virus can easily set Searchpig.net as your homepage, new tab and default search engine without any permission asked. Please, do NOT ignore these changes if you don't want to start suffering from additional inconveniences. You should scan your PC with updated anti-spyware right after you notice them.As we have mentioned, Searchpig.net starts appearing on Internet browsers when PC gets infected with the browser hijacker.
WHY DO I SUFFER FROM Searchpig.net REDIRECTS?
Typically, this virus comes on its target PC in a bundle with malware applications, spam, freeware and shareware. Once inside its target PC, virus modifies computer's parameters and drops Searchpig.net instead of the homepage and default search engine. Besides, it may also leave its extension on all Internet browsers that will cause unwanted pop-up advertisements. Be sure that Searchpig.net can't help to improve your browsing sessions on the Internet. If you have discovered this page out of nowhere, please follow the guide below:
HOW TO GET RID OF Searchpig.net REDIRECTS?
When suffering from browser's redirections to Searchpig.net, you should check your PC with updated anti-spyware and remove browser hijakcer from the PC. For that, we recommend using SpyHunter. In addition, uninstall this adware manually and fix your browsers:
Click 'Start menu' -> 'Control Panel' -> 'Uninstall a Program' or 'Add/Remove Programs' and choose 'Uninstall' button if you see SearchPig in the list.
Internet Explorer:
Open Internet Explorer, go 'Tools' -> "Manage Add-ons' -> 'Toolbars and Extensions'. Here, look for Searchpig.net and click 'uninstall'. Now open IE once again and click Tools -> Internet Option -> General tab. Enter Google or other address to make it the default start page.
Mozilla Firefox:
Open Mozilla Firefox, go 'Tools' -> 'Add-ons' -> 'Extensions'. Find Searchpig.net and click 'Uninstall'. Now open Mozilla Firefox once more, go to Tools -> Options -> General -> Startup and select 'Show a blank page' when Firefox Starts or set a certain website, like Google or similar.
Google Chrome:
Open Google Chrome, click on wench icon, go to settings and choose 'Manage search engines'. Change search engine to google or other and delete Searchpig.net from the list. Then Go to section "On start" and make sure you get blank page while creating new tab.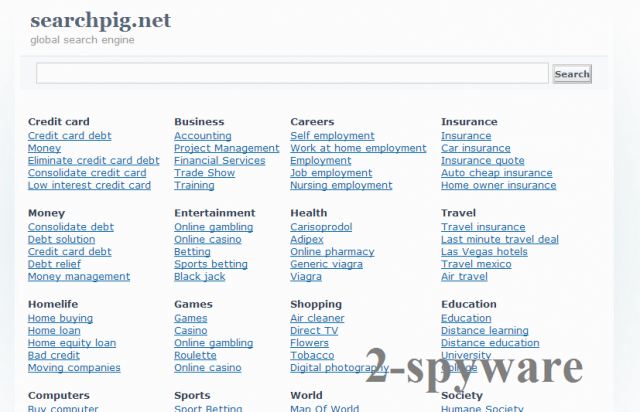 About the author