Searchreno.com. How to remove? (Uninstall guide)
Searchreno.com has already become 'famous' for its annoying redirections when searching the web. Security experts have started to call it as redirect virus or as a browser hijacker because most of its visitors are people who find themselves on this domain against their will. While this site hasn't been found to spread malware, it clearly relies on hijacker, which redirects users every time they start their browsing sessions. Just like any other redirect virus, Searchreno.com can affect all possible browsers, especially Internet Explorer, Google Chrome and Mozilla Firefox. If you try to search using Searchreno's search engine, we don't recommend believing its results given because most of them seem to be the paid ones. To sum up, we don't recommend using Searchreno.com for your search sessions and ignoring its redirections.
HOW CAN I GET INFECTED WITH Searchreno.com virus?
Searchreno.com virus is distributed through typical means that include freeware, shareware, spam emails, hacked websites and many more. Once it gets there, it is capable to alter DNS and browser settings and start initiating its redirections. If you are also among those people who have been affected by this threat, check your computer with reputable anti-malware program as soon as possible. Besides, ignore its misleading advertisements and do NOT click on its ads.
HOW CAN I REMOVE Searchreno.com virus?
It is very important to remove Searchreno.com virus as soon as possible because it has a great potential to start tracking your browsing habits and other personal information. In ordr to do that, run a full system scan with Plumbytes Anti-MalwareWebroot SecureAnywhere AntiVirus, Reimage or other reputable anti-malware program. Besides, don't forget to update the program before a scan!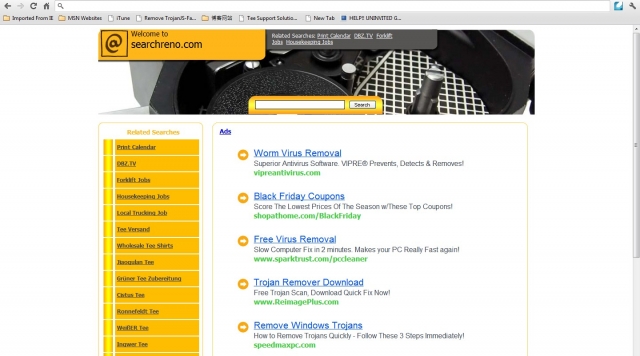 About the author