Securepaynet.net pop-up ads. How to remove? (Uninstall guide)
What is Securepaynet.net?
Securepaynet.net pop-up ads may flood your screen and display intrusive advertisements. In fact, if that happens, you should be worried. If you are constantly seeing these ads, it may only mean that an adware that is related to this domain may hide in your system. To be more precise, Securepaynet.net is recognized as an advertising platform that helps to transmit commercial content to targeted internet users. However, this platform may also work as an adware distributor. We have noticed that similar platforms may display various notifications, fake messages and annoying advertisements in order to draw your attention and to make you click such ads. Sometimes these ads may lead to an adware installation. As long as you avoid clicking Securepaynet.net ads, you should be safe. However, for your computer's sake, remove this pesky intruder as soon as possible.
How can Securepaynet.net hijack my computer?
Internet is filled with hundreds of similar adwares and advertising platforms that help these adwares to transmit advertisements. That is why you have to be very careful. In fact, Securepaynet.net virus may infiltrate your computer right after installing a doubtful freeware or a shareware. These intrusive programs only seek to enter your computer in every way possible. Therefore, you have to protect your computer by any means necessary. By the way, as we have mentioned before, Securepaynet.net virus may travel as an additional toolbar or an add-on together with free programs. So, in order to spot such intruder, you have to check every single program that you are willing to install. For that, read its end-user license agreement section and choose advanced installation option. Moreover, try to find as much information as possible about your desired program. Do not blindly trust what developers of such questionable programs as saying. If Securepaynet.net virus is already causing you troubles, follow removal instructions down below.
How to stop Securepaynet.net pop-up ads?
Check you Add/Remove Program folder and try to remove unfamiliar entries. These guidelines submitted below should help you.
Remove Securepaynet.net from your computer:
1. Click Start → Control Panel → Uninstall a Program.
2. When in the Add/Remove Programs/Uninstall a Program, look for recently installed/unfamiliar applications, such as Coinis Downloader, SaverAddon, SupTab, WebSaver, Shopping-Addon, ValueApps, Lollipop, PriceMeter, Supra Savings, weDownload Manager, Software Updated Version, DP1815, Video Player, Convert Files for Free, BetterSurf, PureLead, Search Assist, Re-Markable, Lollipop, HD-Total-Plus, Safe Saver, Trusted Web, PassShow, LyricsBuddy-1, PureLeads, Media Player 1.1, RRSavings or similar unfamiliar entries.
3. Click 'Uninstall' and then OK to save the changes.
Remove Securepaynet.net extension from your browsers (Internet Explorer, Mozilla Firefox, and Google Chrome):
Internet Explorer:
1. Open Internet Explorer, go 'Tools' → 'Manage Add-ons' → 'Toolbars and Extensions'.
2. Here, look for unfamiliar entries and click 'uninstall'.
3. Once you remove it, change your start page.
Reset your Internet Explorer (Optional):
1. Open Internet Explorer, click the Gear icon or 'Tools' → 'Internet Options'.
2. Here, go to the 'Advanced' tab and click the 'Reset' button.
3. Go to the 'Reset Internet Explorer settings' → 'Delete personal settings' and click on 'Reset' option.
4. Finally, click 'Close' and OK to save the changes.
Mozilla Firefox:
1. Open Mozilla Firefox, go 'Tools' → 'Add-ons' → 'Extensions'.
2. Find suspicious-looking entries and click 'Uninstall'.
3. After that, change the start page.
Reset your Mozilla Firefox (Optional):
1. Open Mozilla Firefox, go to the 'Help' section → 'Troubleshooting Information'.
2. Here, choose a 'Reset Firefox' for a couple of times and 'Finish'.
Google Chrome:
1. Click the Chrome menu button on the Google Chrome browser, select Tools → Extensions.
2. Here, look for unfamiliar extensions and get rid of them by clicking on the Recycle Bin.
3. Don't forget to change start page.
Alternate Software
We have tested Plumbytes Anti-Malware's efficiency in removing Securepaynet.net pop-up ads (2014-08-06)
We have tested Malwarebytes's efficiency in removing Securepaynet.net pop-up ads (2014-08-06)
We have tested Hitman Pro's efficiency in removing Securepaynet.net pop-up ads (2014-08-06)
We have tested Malwarebytes's efficiency in removing Securepaynet.net pop-up ads (2014-08-06)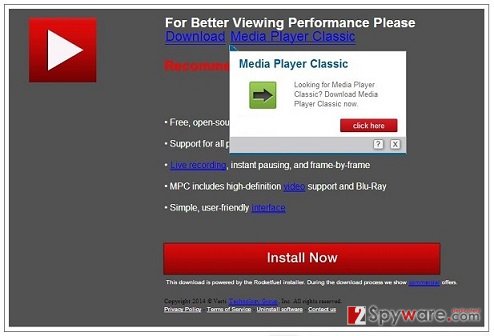 About the author