Security Monitor 2012. How to remove? (Uninstall guide)
Security Monitor 2012 is a newly launched rogue antvirus program. It is one of those applications that creates an illusion that your system is infected and then tries to push you into paying for it. Security Monitor 2012 is considered to be a clone of Security Solution 2011 and Antivirus Antispyware 2011. The program is installed to the system without users permission. Security Monitor 2012 is also configured to start automatically with each system reboot.
The program runs its scanner and later generates a list of infections that supposedly have been detected on your machine. The program claims that the best you can do is to purchase a license of Security Monitor 2012 and activate the program. The truth is that the files displayed after the scan are not harmful at all. They either do not exist on the system or they are files of your legitimate programs.
In addition, Security Monitor 2012 literarily flood the infected system with fake security notifications and pop up ads. Here is how some of them look like:
System Critical warning!
You have been infected by a proxy-relay Trojan server with new and danger 'SpamBots',
You have a computer with virus that sends spam.
This is a mass-mailing worm with backdoor thus allowing un-authorized access to the infected system.
It spreads by mass-mailing itself to e-mail addresses harvested from the local computer or by querying on-line search engines such as google.com.
The IP 10.0.2.15 address that YOU are getting from Internet Service Provider (ISP) for YOU personal computer is on the same major blacklist.
Your computer has been used to send a huge amount of junk e-mail messages during the last days.
You IP 10.0.2.15 will be marked by Police log file as mass-mailing spam assist.
Upgrading to the full version Security Monitor 2012 it will eliminate the majority of Spam attempts.

Click here to get license key now.
Security Center
Unauthorized remote connection!
Your system is making an unauthorized personal data transfer to a remote computer!
Warning! Unauthorized personal data transfer is detected! It may be your personal credit card details, logins and passwords, browsing habits or information about files you have downloaded.
To protect your private data, please click "Prevent Connection" button below.
Security Center Alert
To help protect your computer, Security Center has blocked some features of this program.
Name: Win64.BIT.Looker.exe
Risk: High
These messages badly disturbs your computer performance. Moreover, it hijacks your Internet Explorer and instead of opening the websites that you enter, it will display another message saying that due to insecure Internet browsing your PC can easily gat infected with viruses, worms and Trojans. Your legitimate programs will be shut down saying that this had to be done due to security reasons.
Please ignore any scan results and security messages by Security Monitor 2012. It's not a program worth your trust. Remove Security Monitor 2012 from your machine using a legitimate security tool.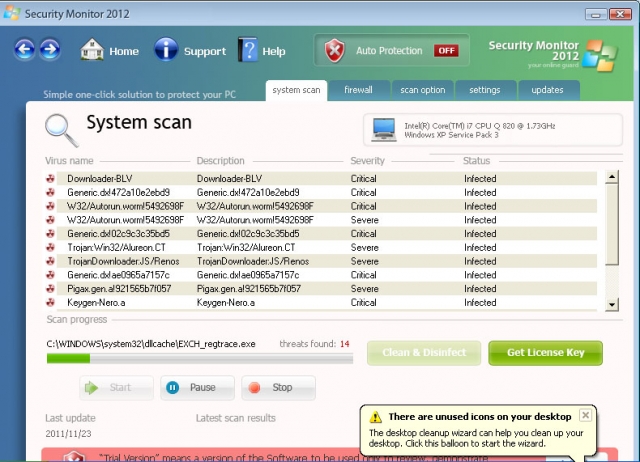 Security Monitor 2012 manual removal:
Kill processes:
[random].exe
%Temp%2c9c3c35bdx5.exe
%Temp%17dkf.exe
%Temp%1iowieoo.exe
%Temp%472a10e2ebxd9.exe
%Temp%56493.exe
%Temp%8gmsed-bd.exe
%Temp%ae0965a7157cd.exe
%Temp%al3erfa3.exe
%Temp%alerfa.exe
%Temp%alerfa2.exe
%Temp%altedf.exe
%Temp%bzqa43d.exe
%Temp%cocksucker.exe
%Temp%cosock.exe
%Temp%format.exe
%Temp%g_dx234.exe
%Temp%ggwwef9752.exe
%Temp%lkhgg_ea.exe
%Temp%lols.exe
%Temp%ploper.exe
%Temp%timem.exe
%Temp%tryh-blv.exe
%Temp%w32-reno-c.exe
%Temp%wrfwe_di.exe
%Temp%wwautrsd.exe
%Temp%wwwsssgen.exe
Delete registry values:
HKEY_CURRENT_USERSoftwareMicrosoftWindowsCurrentVersionUninstallSecurity Monitor
HKEY_CURRENT_USERSoftwareSecurity Monitor
HKEY_CURRENT_USERSoftwareMicrosoftWindowsCurrentVersionRun "Security Monitor"
HKEY_CURRENT_USERSoftwareMicrosoftWindowsCurrentVersionRun "Security Monitor 2012 Security"
Delete files:
%AppData%Security Monitor
%AppData%Security MonitorIcoActivate.ico
%AppData%Security MonitorIcoHelp.ico
%AppData%Security MonitorIcoUninstall.ico
%AppData%Security MonitorSecurity Monitor.exe
%AppData%Security Monitorsecurityhelper.exe
%AppData%Security Monitorsecuritymanager.exe
%Desktop%Security Monitor.lnk
%StartMenu%ProgramsSecurity Monitor.lnk
%StartMenu%ProgramsSecurity Monitor
%StartMenu%ProgramsSecurity MonitorActivate Security Monitor.lnk
%StartMenu%ProgramsSecurity MonitorHelp Security Monitor.lnk
%StartMenu%ProgramsSecurity MonitorHow to Activate Security Monitor.lnk
%StartMenu%ProgramsSecurity MonitorSecurity Monitor.lnk
%Temp%2c9c3c35bdx5.exe
%Temp%17dkf.exe
%Temp%1iowieoo.exe
%Temp%472a10e2ebxd9.exe
%Temp%56493.exe
%Temp%8gmsed-bd.exe
%Temp%ae0965a7157cd.exe
%Temp%al3erfa3.exe
%Temp%alerfa.exe
%Temp%alerfa2.exe
%Temp%altedf.exe
%Temp%bzqa43d.exe
%Temp%cocksucker.exe
%Temp%cosock.exe
%Temp%format.exe
%Temp%g_dx234.exe
%Temp%ggwwef9752.exe
%Temp%lkhgg_ea.exe
%Temp%lols.exe
%Temp%ploper.exe
%Temp%timem.exe
%Temp%tryh-blv.exe
%Temp%w32-reno-c.exe
%Temp%wrfwe_di.exe
%Temp%wwautrsd.exe
%Temp%wwwsssgen.exe
About the author