Security Shield. How to remove? (Uninstall guide)
Security Shield is a rogue anti-spyware program from the same family as System Tool and Security Tool. Once installed, it will supposedly scan your computer for spyware, adware, trojans and other malware. Of course, it will find numerous infections and then will prompt you to pay for a full version of Security Shield in order to remove non-existent infections. This fake security program will also display fake alerts and notifications stating that your computer in under attack or that your sensitive information can be stolen. This program is a scam. If your computer is infected with this malware then you should use our removal instructions below to remove Security Shield and any related malware either manually or with an automatic removal tool.
While SecurityShield is running, it will block certain programs and display a fake error message. The fake message reads:
Security Shield
"cmd.exe" is infected with "Worm.Win32.Autorun.bnb". Do you want to register your copy and remove all threats now?
Questions about Security Shield
Security Shield also hijacks Dekstop and Web browsers to further scare you into thinking that your computer is infected or has other problems, security issues. It may redirect you to misleading and malicious web sites and even display porn pop-ups on your screen. The fake alerts and notifications read:
Security Shield Warning
Spyware.IEMonster activity detected. This form of spyware attempts to steal passwords from Internet Explorer, Mozilla Firefox, Outlook and other commonly used programs. Click here to immediately remove it with Security Shield.
Security Shield Warning
Intercepting malicious software that may violate your privacy and harm your computer has been detected. Click here to remove now with Security Shield.
Security Shield Warning
Some of the important system files on your PC were modified by malicious software. It may cause system crashes and data losses.
Click here to prevent non-authorized changes and remove threats (Recommended)
Security Shield is a scareware that uses misleading methods to trick users into purchasing this absolutely useless program. If you have purchased it then contact tour credit card company and dispute the charges. Then use our removal instructions to remove Security Shield and related malware. We strongly recommend you to use an automatic removal because this rogue program can come bundled with other malware.
You can also use this code to register Security Shield: 64C665BE-4DE7-423B-A6B6-BC0172B25DF2
Security Shield 2012
There is a new version of security shield. It goes with the year tag: security shield 2011, security shield 2012. Basically it is the same rogue antispyware. The work principle is no different – security shield installs to the victims computer without explicit consent from the user. It can install through the fake video codex, trojans of fake software updates. After the install Security Shield 2012 disables your current antivirus or antispyware. After this step fake antispyware program will start his own scan process. All this scan process is fake, after the scan Security shield 2012 will find a lot of viruses on your computer and will ask you to pay money to remove them. You need to know that all this is fake, the viruses and infections it finds – do not exist.
Removal process of Security Shield 2012 is a hard task. We even do not recommend to use manual removal instructions below, as it regenerates again. Some anti-spyware vendors developed special rules to detect and remove security shield, but this virus knows how mutate, so it is really difficult task even for automated solutions. Anyway there are some programs which dedicates their time to detect and renove security shield. We recommend using Malwarebytes MalwarebytesCombo Cleaner, Reimage or Plumbytes Anti-MalwareMalwarebytes Malwarebytes.
Alternative Software
Different security software includes different virus database. If you didn't succeed in finding malware with Reimage, try running alternative scan with Malwarebytes.
Alternative Software
Different security software includes different virus database. If you didn't succeed in finding malware with Reimage, try running alternative scan with Combo Cleaner.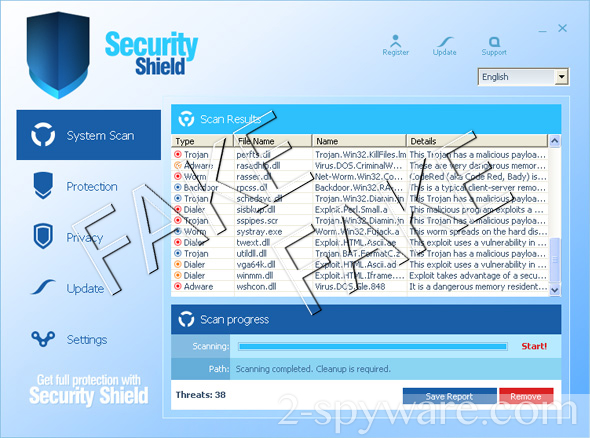 About the author
Removal guides in other languages