ShieldSoldier. How to remove? (Uninstall guide)
ShieldSoldier is a rogue anti-spyware program from the same family as IronProtector. It's installed through the use of Trojans and fake online anti-malware scanners. The rogue program has to be manually installed but in some cases Trojans may download and install ShieldSoldier onto your computer without your knowledge and permission. Trojans drop many harmless files onto your computer that later will be detected as malware by ShieldSoldier. Then it will state that you have to purchase the program in order to remove found infections from your computer. This fake program is nothing more but a scam. It won't remove any infections and it will give you a false sense of security if you choose to purchase. That's why you should remove ShieldSoldier from your computer as soon as possible. If your computer is infected please use the removal instructions below to remove this malware either manually or with an automatic removal tool.
Shield Soldier comes bundled with RegistryClever which is also a rogue program. While the rogue program is running you will also see a fake Windows Security Center window appear on your desktop. It will also display fake security alerts and warnings on your computer that state that you are sending sensitive data to a remote location or that an active malware infections has been found. Here's an example of the fake alert that this rogue will display:
Spyware Alert!
Your computer is infected with spyware. It could damage your critical files or expose your private data on the Internet. Click here to register your copy of ShieldSoldier and remove spyware threats from your PC.
Last, but not least, ShieldSoldier will hijack Internet Explorer so that it displays warning messages when you browse the web. This message will claim that your computer can easily get infected with viruses due to insecure Internet browsing. The warning message that you will see is:
Reported Insecure Browsing: Navigation blocked
Insecure Internet activity. Thread of virus attack
Due to insecure Internet browsing your PC can easily get infected with viruses, worms and trojans without your knowledge, and that can lead to system slowdown, freezes, and crashes. Also insecure Internet activity can result in revealing your personal information. To get full advanced real-time protection for PC and Internet activity, register ShieldSoldier. We recommend you to protect your PC now continue safe Internet Browsing.
As you can see, ShieldSoldier was created for one purpose; to trick you into thinking your computer is infected so that you then purchase the program. Don't purchase this program. If you have already bought it then contact your credit card company and dispute the charges. Then please use the removal instructions below to remove ShieldSoldier from your computer manually for free or using an automatic removal tool.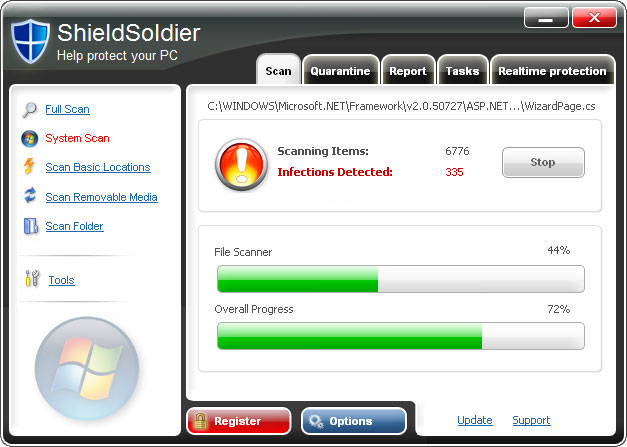 ShieldSoldier manual removal:
Kill processes:
F0E84.exe
Uninstall.exe
RegistryClever.exe
RegistryCleverTray.exe
Delete registry values:
HKEY_CURRENT_USERSoftwareRegistryClever
HKEY_CURRENT_USERSoftwareShieldSoldier
HKEY_LOCAL_MACHINESOFTWAREMicrosoftWindowsCurrentVersionUninstallRegistryClever
HKEY_LOCAL_MACHINESOFTWAREMicrosoftWindowsCurrentVersionUninstallShieldSoldier
HKEY_LOCAL_MACHINESOFTWARERegistryClever
HKEY_LOCAL_MACHINESOFTWAREShieldSoldier
HKEY_CURRENT_USERSoftwareMicrosoftWindowsCurrentVersionRun "[random].exe"
HKEY_CURRENT_USERSoftwareMicrosoftWindowsCurrentVersionRun "TrayScan"
HKEY_LOCAL_MACHINESOFTWAREMicrosoftWindowsCurrentVersionRun "F0E84.exe"
Delete files:
RegistryClever.lnk
ShieldSoldier.lnk
Homepage.lnk
Uninstall.lnk
F0E84.exe
Uninstall.exe
license.txt
RegistryClever.exe
RegistryCleverTray.exe
[random].dll
[random].bin
[random].cp
Delete directories:
C:Program FilesRegistryClever SoftwareRegistryClever
C:Program FilesRegistryClever Software
C:Program FilesFDFCA
C:Documents and SettingsAll UsersStart MenuProgramsRegistryClever
About the author