ShopBrain adware. How to remove? (Uninstall guide)
ShopBrain is a program that is promoted as a tool prepared to help people save the money. However, instead of doing what promised, it may start displaying tons of annoying ads during your browsing and track your browsing habits, including mostly visited sites, data that is entered on them, etc. By the way, hundreds of people have reported about ShopBrain redirects to unfamiliar websites and slow downs on each of web browsers. The most of these sites seek to increase their page rank or sales. However, no one can guarantee that you won't be tricked into visiting insecure website that is filled with questionable programs. For avoiding that, you should remove ShopBrain from the system. Note that it can easily appear on your PC out of nowhere, without an appropriate permission asked. That's why it has been labeled as 'potentially unwanted program'.
How can ShopBrain hijack my computer?
As we have already said, this program can easily appear on each of your web browsers without asking your permission. In fact, it notifies its victims about it. However, it does that really unnoticeably. For avoiding ShopBrain virus, you should firstly start paying more attention to programs' respectability and read end-user license agreement. In addition to that, we also recommend choosing Custom or Advanced installation of the freeware and uncheck checkboxes that agree to let this program in. If you have already been tricked into downloading this adware-type program on the system, you should remember that it may start tracking you and your browsing habits. This is dangerous because you may lose your personally identifiable information, such as loggins, passwords, etc.
How to remove ShopBrain adware?
Technically, ShopBrain is not a virus. However, it may start displaying ads that are supposed to redirect you to unknown sites. For avoiding that, you should remove this PUP. For that follow these steps:
Remove the freeware, which is related to ShopBrain:
1. Click Start → Control Panel → Uninstall a Program.
2. When in the Add/Remove Programs/Uninstall a Program, look for recently installed/unfamiliar applications, such as ShopBrain, Discount Cow, V-bates, PriceMeter, Supra Savings, weDownload Manager, PureLead, Search Assist, Re-Markable, Zombie Alert, Wajam, Coupon Server, Lollipop, HD-Total-Plus, BlockAndSurf, Safe Saver, SupTab, Search Protect, Lollipop, Software Updated Version, DP1815, Video Player, Convert Files for Free, Plus-HD 1.3,BetterSurf, Trusted Web, PassShow, LyricsBuddy-1, PureLeads, Media Player 1.1,RRSavings, Feven Pro 1.2, Websteroids, Savings Bull, TidyNetwork, Search Snacks,MyPC Backup, Re-markit or similar unfamiliar entries.
3. Click 'Uninstall' and then OK to save the changes.
Reset your browsers (Internet Explorer, Mozilla Firefox and Google Chrome):
Internet Explorer:
1. Open Internet Explorer, click the Gear icon or 'Tools' → 'Internet Options'.
2. Here, go to the 'Advanced' tab and click the 'Reset' button.
3. Go to the 'Reset Internet Explorer settings' → 'Delete personal settings' and click on 'Reset' option.
4. Finally, click 'Close' and OK to save the changes.
Mozilla Firefox:
1. Open Mozilla Firefox, go to the 'Help' section → 'Troubleshooting Information'.
2. Here, choose a 'Reset Firefox' for a couple of times and 'Finish'.
Google Chrome:
1. Click the Chrome menu button on the Google Chrome browser, select 'Tools' → 'Extensions'.
2. Here, look for unfamiliar entries.
3. Select each of them and choose Trash can icon to delete them.
Alternate Software
We have tested Malwarebytes's efficiency in removing ShopBrain adware (2014-06-24)
We have tested Malwarebytes's efficiency in removing ShopBrain adware (2014-06-24)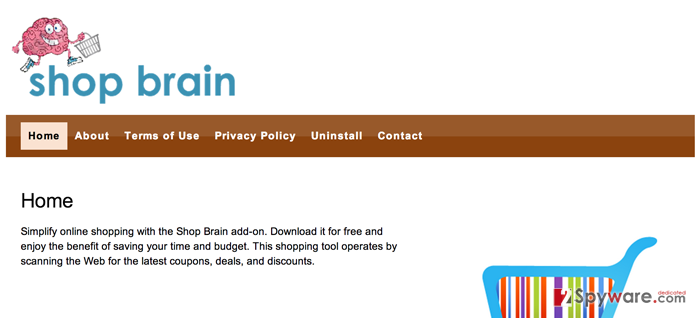 About the author