Shopndrop adware. How to remove? (Uninstall guide)
Shopndrop is yet another useless plug-in, which may flood your screen with annoying advertisements and initiate other unwanted activities behind your back. In fact, internet is filled with similar programs that are promoted as shopping-helpers. It looks like this adware is related to such programs as ShopnCompare, ClearSavings, DragonCoupon, Free4Web and much more. If you read Shopndrop end-user license agreement (EULA) part, you may notice a couple of odd-looking statements about private information, tracking cookies, third-party links and advertisements. To be more precise, this dubious adware is capable of generating intrusive ads no matter if you want to see them or not.
How can Shopndrop hijack my computer?
This questionable extension has a direct download page. What is more, it looks like Shopndrop virus may be distributed via various download websites. Unfortunately, that is not all. People often notice such unwanted intruders right after installing an unfamiliar freeware. Shopndrop virus may travel as an extra attachment together with free programs. If your computer is unprotected, your system is like a sitting duck for such cyber threats. That is why we always recommend having a reliable security tool in order to guard your computer against similar intruders. Shopndrop ads and redirects can be extremely annoying; therefore, it is better to be more cautious than to suffer from similar issues. That is why you need to check every single program that you are willing to install.
How to remove Shopndrop adware from my computer?
This manual removal instruction should help you to remove Shopndrop adware from your computer. Follow this guideline and eliminate this useless trespasser.
Remove Shopndrop from your computer:
1. Click Start → Control Panel → Uninstall a Program.
2. When in the Add/Remove Programs/Uninstall a Program, look for recently installed/unfamiliar applications, such as Shopndrop, Coinis Downloader, SaverAddon, SupTab, WebSaver, Shopping-Addon, ValueApps, Lollipop, PriceMeter, Supra Savings, weDownload Manager, Software Updated Version, DP1815, Video Player, Convert Files for Free, BetterSurf, PureLead, Search Assist, Re-Markable, Lollipop, HD-Total-Plus, Safe Saver, Trusted Web, PassShow, LyricsBuddy-1, PureLeads, Media Player 1.1, RRSavings or similar unfamiliar entries.
3. Click 'Uninstall' and then OK to save the changes.
Remove Shopndrop extension from your browsers (Internet Explorer, Mozilla Firefox, and Google Chrome):
Internet Explorer:
1. Open Internet Explorer, go 'Tools' → 'Manage Add-ons' → 'Toolbars and Extensions'.
2. Here, look for Shopndrop and similar entries, and click 'uninstall'.
3. Once you remove it, change your start page.
Reset your Internet Explorer (Optional):
1. Open Internet Explorer, click the Gear icon or 'Tools' → 'Internet Options'.
2. Here, go to the 'Advanced' tab and click the 'Reset' button.
3. Go to the 'Reset Internet Explorer settings' → 'Delete personal settings' and click on 'Reset' option.
4. Finally, click 'Close' and OK to save the changes.
Mozilla Firefox:
1. Open Mozilla Firefox, go 'Tools' → 'Add-ons' → 'Extensions'.
2. Find Shopndrop and similar entries, and click 'Uninstall'.
3. After that, change the start page.
Reset your Mozilla Firefox (Optional)
1. Open Mozilla Firefox, go to the 'Help' section → 'Troubleshooting Information'.
2. Here, choose a 'Reset Firefox' for a couple of times and 'Finish'.
Google Chrome:
1. Click the Chrome menu button on the Google Chrome browser, select Tools → Extensions.
2. Here, look for Shopndrop or similar unfamiliar extensions and get rid of them by clicking on the Recycle Bin.
3. Don't forget to change start page.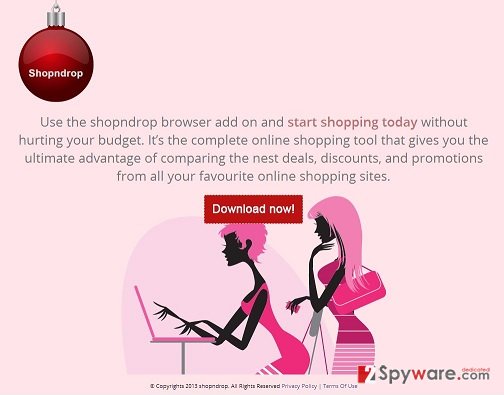 About the author
Removal guides in other languages