Smart Defragmenter. How to remove? (Uninstall guide)
Smart Defragmenter is a malicious application categorized as rogue anti-spyware, so if you notice it on your machine follow the removal instructions written below and remove this scam. Trying to mislead computer users and steal their money, this malware was noticed on the last days of October.
Smart Defragmenter and other roguewares called System Defragmenter and HDD Defragmenter all have almost identical GUI and rely on the same ways of distribution. Smart Defragmenter will try to get inside your system through Trojan-initiated techniques and that means that it may be found installed unknowingly through security vulnerabilities found. Besides, people infected by this scam report about misleading information about some updates or video codecs required for watching something online, so be aware about installing such updates because Smart Defragmenter may also be let inside.
When on board your computer system, Smart Defragmenter almost paralyzes infected PCs Operating System. Malware corrupts Windows registry and creates numerous harmful files on the system32 and other directories. Additionally, you will start facing all these popup warnings, system tray alerts and alleged security scanners that will make you doubt about your computer and its security. Smart Defragmenter will report some errors found on your machine, like:
Requested registry access is not allowed. Registry defragmentation required
Read time of hard drive clusters less than 500 ms
32% of HDD space is unreadable
Bad sectors on hard drive or damaged file allocation table
GPU RAM temperature is critically high. Urgent RAM memory optimization is required to prevent system crash
Drive C initializing error
Ram Temperature is 83 C. Optimization is required for normal operation.
Hard drive does not respond to system commands
Data Safety Problem. System integrity is at risk.
Registry Error – Critical Error
However, this information is fake and has nothing to do with a real state of your computer. Besides, Smart Defragmenter trends to display such alerts and notifications that also should not be taken serious:
Critical Error!
Damaged hard drive clusters detected. Private data is at risk.
Critical Error
Hard Drive not found. Missing hard drive.
Critical Error
RAM memory usage is critically high. RAM memory failure.
Critical Error
Windows can't find hard disk space. Hard drive error
Critical Error!
Windows was unable to save all the data for the file System32496A8300. The data has been lost. This error may be caused by a failure of your computer hardware.
Critical Error
A critical error has occurred while indexing data stored on hard drive. System restart required.
System Restore
The system has been restored after a critical error. Data integrity and hard drive integrity verification required.
In fact, Smart Defragmenter wants to sell its license by creating an impression that you have a real badly infected computer that needs urgent help. Getting rid of Smart Defragmenter is the only wise solution you should do after noticing this scam on your machine, so follow this removal guide written below and remove Smart Defragmenter.
Note!!This malware may disable you from the Internet, so first of all check proxy settings for LAN in Internet Explorer or use another browser, for example Firefox or Opera.
How to disable Proxy server for LAN in Internet Explorer:
1. Open Internet Explorer. Click on the Tools menu and then select Internet Options.
2. In the the Internet Options window click on the Connections tab. Then click on the LAN settings button.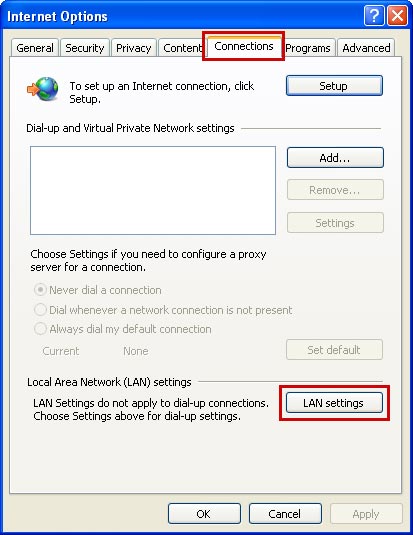 3. Now you will see Local Area Network (LAN) settings window. Uncheck the checkbox labeled Use a proxy server for your LAN under the Proxy Server section and press OK.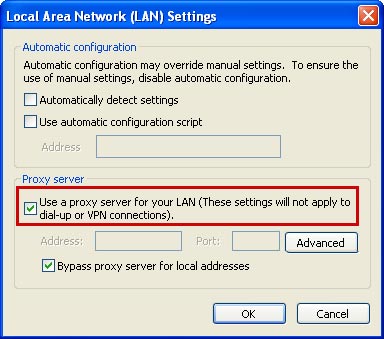 4. Now download renamed Process Explorer (explorer.com) and terminate Smart Defragmenter processes. Should be [random].exe and winsp2up.exe.
Do not reboot your computer after using Process Explorer and terminating Smart Defragmenter processes!
Now you should be able to download an automatic removal tool or another anti-spyware application. Most importantly, do not purchase it. If you have already done that, please contact your credit card company and dispute the charges.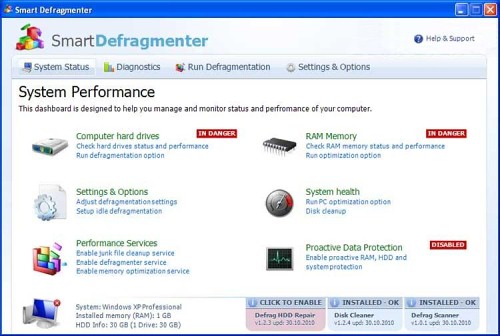 Smart Defragmenter manual removal:
Kill processes:
[random].exe
winsp2up.exe
Delete registry values:
HKEY_CURRENT_USERSoftwareMicrosoftWindowsCurrentVersionRun "[random]"
HKEY_CURRENT_USERSoftwareMicrosoftWindowsCurrentVersionRun "winsp2up.exe"
Unregister DLLs:
winsp2upd.dll
Delete files:
%UserProfile%Start MenuProgramsSmart Defragmenter
%UserProfile%DesktopSmart Defragmenter.lnk
%Temp%[random]
%Temp%[random].bmp
%Temp%[random].exe
%Temp%winsp2up.exe
%Temp%winsp2upd.dll
About the author