Smart HDD. How to remove? (Uninstall guide)
Smart HDD is a rogue optimization and defragmentation program. It reports false information about hard drive errors and system failures to make you think that your computer has numerous errors and problems. Then it will state that you can only fix found errors of you purchase S.M.A.R.T HDD. That's what a typical rogue program does, it uses misleading methods to trick users into paying for useless software. Smart HDD is promoted through the use of Trojans and misleading websites. If you find that your computer in infected with this malware, please use our removal instructions below to remove Smart HDD and other malware from your computer manually or with an automatic removal tool.
Once installed, S.M.A.R.T HDD will be configured to start automatically when you login to Windows. It will display fake error messages when you attempt to launch programs. The message that you will see when you attempt run a program is:
Windows detected a hard drive problem.
A hard drive error occurred while starting the application.
It will pretend to scan your computer for errors and then will state that there are a variety of errors that it cannot fix until you purchase the program. As this program is a scam do not be scared into purchasing the program when you see its alerts. The text of some of the alerts you may see include:
Critical Error!
Damaged hard drive clusters detected. Private data is at risk.
Critical Error
Hard Drive not found. Missing hard drive.
Critical Error
RAM memory usage is critically high. RAM memory failure.
As you can see, this program is absolutely useless. Do not purchase Smart HDD for any reason, and if you already have, please contact your credit card company and dispute the charge. To remove this infection and related malware, please follow the steps in the guide below. We strongly recommend you to use an automatic removal tool because Smart HDD may come bundled with rootkits and other malware.
to remove fake alerts please enter the registration code: 15801587234612645205224631045976. That might help to stop notifications but the infection will stay on the system and collect your personal information. Please use the reputable antispyware tool to remove Smart HDD. We recommend: Malwarebytes MalwarebytesCombo Cleaner, Reimage, Plumbytes Anti-MalwareMalwarebytes Malwarebytes that can easily handle with this infection.
A bit harder what to Fix the infection provided below.. You need to be an advanced windows user. In other case you might ruin the system.
Open c:\windows\system32 in explorer. Find cmd.exe and create a desktop link to it.
Launch it. Type: "runas /user:cceng cmd" without quotes and press enter . A second command window will launch.
In new window launch taskmgr
Kill Smart HDD processes (random letters/numbers, you will know when you see it )
In the same cmd, launch regedit
Go to HKCU\Software\Microsoft\Windows\CurrentVersion\run and delete all the registry values from the same location as processes
Delete any desktop + startmenu icons to it.
Download and run TDSS killer, STOPzilla, Spyhunter. Run a full system scan with each of them in that order. This is to detect remaining infections to Smart HDD
Virus hides files and folders, you can see them after changing folder view settings. To make them permanently visible, press Start->Run->Cmd, then cd to your document folder and run ATTRIB -h -s *.*.
The latest parasite names used by FakeHDD:
[newest id="fakehdd"]
Alternative Software
Different security software includes different virus database. If you didn't succeed in finding malware with Reimage, try running alternative scan with Malwarebytes.
Alternative Software
Different security software includes different virus database. If you didn't succeed in finding malware with Reimage, try running alternative scan with Combo Cleaner.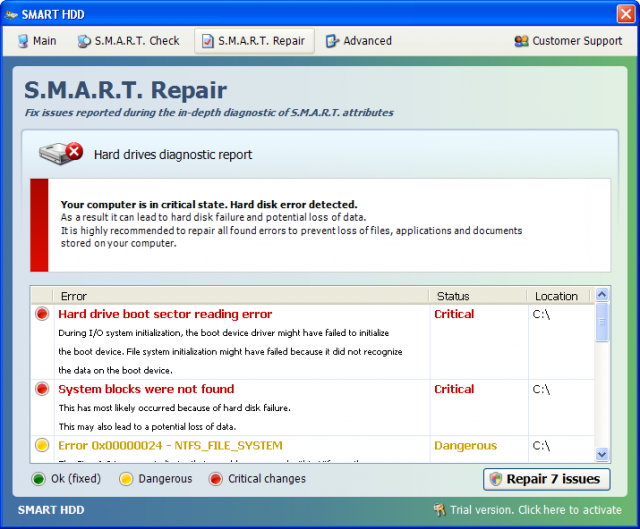 About the author
Removal guides in other languages