Smart PC Cleaner. How to remove? (Uninstall guide)
What is Smart PC Cleaner?
Smart PC Cleaner is a misleading PC optimization tool, which has been added to potentially unwanted program and malware categories. The main reason why security experts decided to do that is very simple – as soon as this program enters the system (it can do that either with or without your approval), it starts scanning it and then starts reporting about various issues. However, you shouldn't fall for its misleading presentation that claims that Smart PC Cleaner is a powerful program capable to improve computer's speed and make it run faster. In reality, it's hard to call this program legitimate and trustworthy because it mostly reports about invented problems. In addition, it can also inform you about typical issues of the hard drive that can be found almost on EVERY computer. Of course, right after convincing its victim that his/hers computer is full of issues, such as bad files and registry errors, it offers fixing these problems for the user. However, it reveals that it cannot do that for free. Please, do NOT pay for Smart PC Cleaner because you may lose your money, as well as your credit card details and similar personal information. This program has clearly been created for swindling users' money and that's why there are many security experts who have included Smart PC Cleaner to the list of potentially unwanted applications or malware programs. Please, do NOT purchase the licensed version of this program because it is NOT capable to eliminate any kind of issue which is related to your computer. Smart PC Cleaner is clearly set to swindle the money from unaware PC users. If you want to avoid that and prevent additional issues that can be caused by this fake optimizer, don't waste your time and scan your machine with updated anti-spyware. We recommend using Reimage or other reputable anti-spyware. Don't forget to update it before using it for a scan because it may miss some of Smart PC Cleaner's files!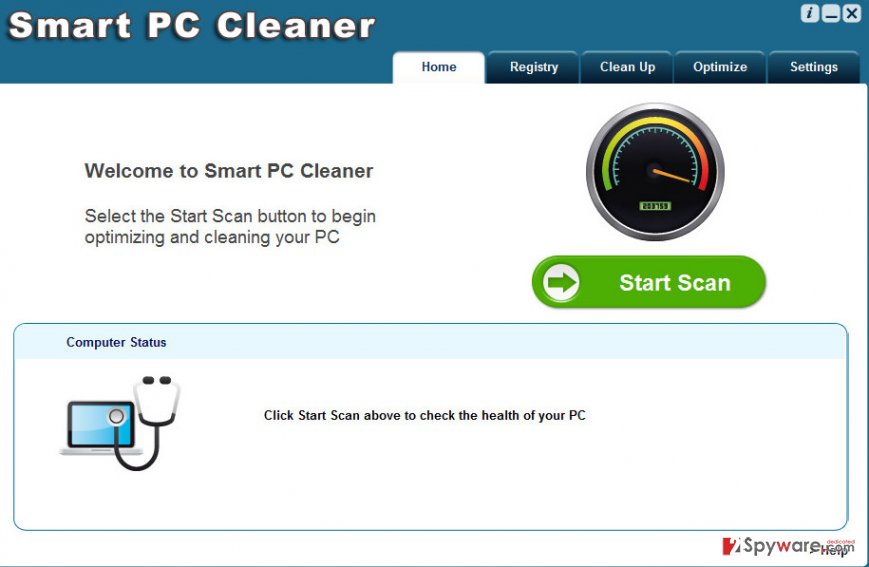 HOW CAN I GET Smart PC Cleaner on my computer?
Smart PC Cleaner can be downloaded from the Internet but it may also get inside the system without any permission asked. If you want to prevent its infiltration, stop visiting illegal websites, ignore spam and never download freeware without checking its 'components' list. According to some victims, it is especially related to GNU Image Manipulation Program. As soon as this program gets inside the system, it immediately alters some of computer's settings in order to start every time its target computer starts. In addition, Smart PC Cleaner starts showing its misleading alerts and notifications that all report about different kinds of issues. We highly recommend two things: ignore its ads and remove its files from your computer.
HOW to remove Smart PC Cleaner?
As soon as you start receiving alerts from Smart PC Cleaner, run a full system scan with updated anti-spyware. For that, we recommend using such reputable security applications as Malwarebytes or Reimage. Of course, don't forget to update these programs in order to have the latest versions.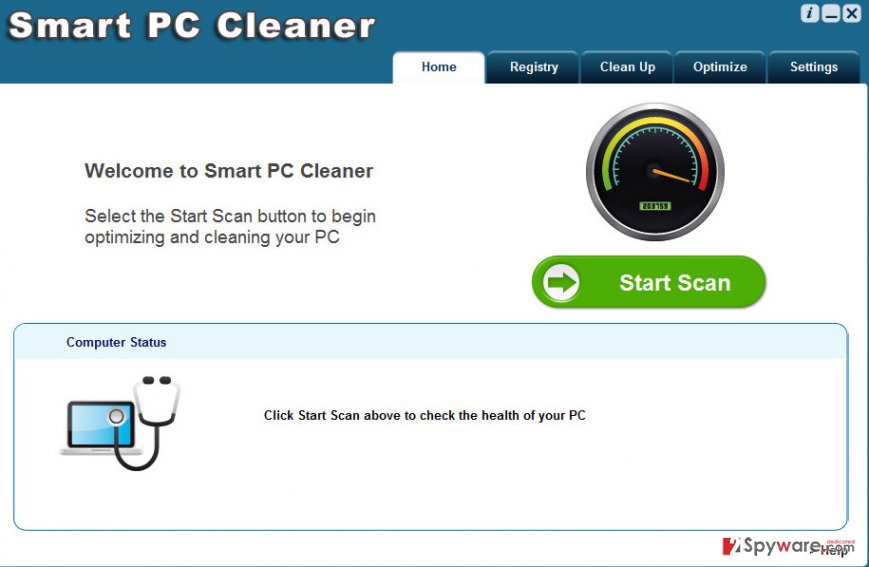 About the author