Smoother Web. How to remove? (Uninstall guide)
Smoother Web is a plug-in that should enhance your browser and help you to load desired websites much faster. Furthermore, this application is completely free. Sounds like a great application, does it? Unfortunately, that is too good to be true. It looks like Smoother Web is yet another program that is supported by advertising. Internet is filled with such extensions for your browser that are claiming to be very useful. However, the reality is quite different. Not to mention that Smoother Web may track your online activities and later use this information for unknown commercial reasons. That is the reason why many security vendors are labeling this questionable application as an adware. Therefore, if you are constantly seeing Smoother Web ads, check your computer and eliminate this potential threat.
How can Smoother Web hijack my computer?
This adware is presented as a useful tool and has its own official website. However, as we have stated before, this program may be supported by advertising; therefore, if you want to use it, you may have to endure tons of annoying ads. This program may end up on your computer right after installing a doubtful freeware, such as Download Manager, PDF File Converter, etc. That is how majority of adwares may travel. Now you know how you may get Smoother Web virus; therefore, it should be easier for you to protect your computer. If you are going to install an unfamiliar program, try to find as much information as possible. Don't believe what developers of such programs are telling you, make sure yourself whether your desired program is safe enough. If you want to avoid Smoother Web redirects, you need to check all programs that you want to install. Try to spot unwanted toolbars, add-ons, plug-ins and other attachments and opt out of them.
How to remove Smoother Web from my computer?
You should check your recently installed programs and try to find this ad-supported application there. Smoother Web adware can be extremely intrusive and completely ruin your browsing experience. That is why we strongly recommend removing it.
Remove Smoother Web from your computer:
1. Click Start → Control Panel → Uninstall a Program.
2. When in the Add/Remove Programs/Uninstall a Program, look for recently installed/unfamiliar applications, such as Smoother Web or similar unfamiliar entries.
3. Click 'Uninstall' and then OK to save the changes.
Reset your browsers (Internet Explorer, Mozilla Firefox and Google Chrome):
Internet Explorer:
1. Open Internet Explorer, click the Gear icon or 'Tools' → 'Internet Options'.
2. Here, go to the 'Advanced' tab and click the 'Reset' button.
3. Go to the 'Reset Internet Explorer settings' → 'Delete personal settings' and click on 'Reset' option.
4. Finally, click 'Close' and OK to save the changes.
Mozilla Firefox:
1. Open Mozilla Firefox, go to the 'Help' section → 'Troubleshooting Information'.
2. Here, choose a 'Reset Firefox' for a couple of times and 'Finish'.
Google Chrome:
1. Click the Chrome menu button on the Google Chrome browser, select 'Tools' → 'Extensions'.
2. Here, look for unfamiliar entries, such as Smoother Web.
3. Select each of them and choose Trash can icon to delete them.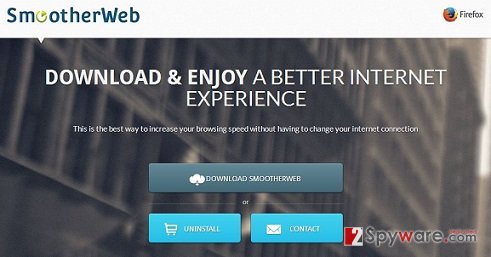 About the author