Spamhaus virus. How to remove? (Uninstall guide)
Spamhaus virus is dangerous ransomware virus, which blocks computers as soon as it gets inside them. Besides, it shows a huge notification, which tells about the Spamhaus project and asks to pay a fine within 48 hours for illegal activities detected. Typically, this sneaky infection infiltrates poorly protected systems. Once it does that, it initiates some illegal modifications there and starts showing an alert claiming that victim's PC has been included to the list of Internet's spam senders and malware distributors. Besides, it may also start showing what is happening in his/hers room because it has ability to access computer's webcam. When having Spamhaus virus on your computer, you can't do anything on it. All you can do is to look at this forged notification that tells that your PC has also been noticed initiating such activities. Please, don't think that paying the fine via GreenDot MoneyPak payment system will unblock the system. This can happen only after you remove Spamhaus virus from your PC.
HOW CAN I GET INFECTED WITH Spamhaus virus?
Spamhaus virus is distributed with a help of Trojan.LockScreen. This infection can get inside from illegal websites, hacked websites, spam or the freeware, which includes third party software. Once it manages to overcome computer's security barriers, it downloads Spamhaus virus files and takes over the whole system. Additionally, victim starts seeing this fake notification that claims:
SPAMHAUS
THE SPAMHAUS PROJECT
Working to protect Internet Networks Worldwide
Spamhaus tracks the Internet's spam senders and spam services, provides dependable real-time anti-spam protection for Internet networks, and works with Law Enforcement to identify and pursue spammers worldwide.
GreenDot MoneyPak is very unique payment system in the United States. You will not be required to enter any of your personal information (not even your first or last name) or any information which can compromise you.
Pin number is located on the back of the MoneyPak card. You have to carefully scratch of the protection layer.
You have 48 hours left to enter your payment.
You have lost control over your computer. Your system and all your files has been blocked and encrypted because you were spreading the Malware (viruses, Trojans, worms). You are breaking numerous International and USA laws.
(…..)
Please, ignore this alert no do NOT pay $300 because it's only a hoax. If you want to remove the lock from your computer and get rid of Spamhaus virus, follow this guide:
HOW TO REMOVE SPAMHAUS VIRUS?
When trying to remove Spamhaus virus from your computer,you need to unblock your computer first. For that, follow these tips:
* Flash drive method:
1. Take another machine and use it to download Reimage, SpyHunterCombo Cleaner or Malwarebytes Malwarebytes.
2. Update the program and put into the USB drive or simple CD.
3. In the meanwhile, reboot your infected machine to Safe Mode with command prompt and stick USB drive in it.
4. Reboot computer infected with Spamhaus virus once more and run a full system scan.
* Users infected with ransomware viruses are allowed to access other accounts on their Windows systems. If one of such accounts has administrator rights, you should be capable to launch anti-malware program.
* Try to deny the Flash to make your ransomware stop function as intended. In order to disable the Flash, go to Macromedia support and select 'Deny': http://www.macromedia.com/support/documentation/en/flashplayer/help/help09.html. After doing that, run a full system scan with anti-malware program.
* Manual Spamhaus virus removal:
Reboot you infected PC to 'Safe mode with command prompt' to disable Ukash virus (this should be working with all versions of this threat)
Run Regedit
Search for WinLogon Entries and write down all the files that are not explorer.exe or blank. Replace them with explorer.exe.
Search the registry for these files you have written down and delete the registry keys referencing the files.
Reboot and run a full system scan with updated Reimage to remove remaining virus files. We also recommend trying SpyHunterCombo Cleaner and Malwarebytes Malwarebytes.
Alternative Software
Different security software includes different virus database. If you didn't succeed in finding malware with Reimage, try running alternative scan with SpyHunter.
Alternative Software
Different security software includes different virus database. If you didn't succeed in finding malware with Reimage, try running alternative scan with Combo Cleaner.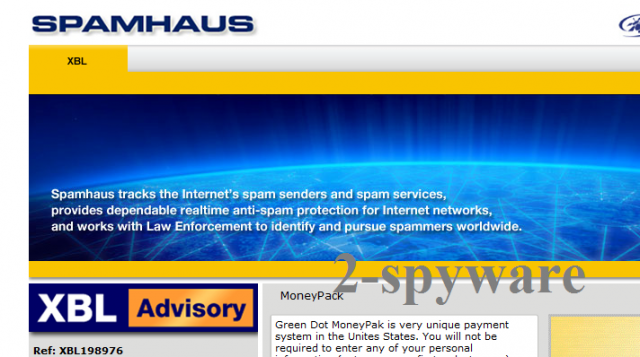 About the author
Removal guides in other languages