Spy Doc Pro. How to remove? (Uninstall guide)
Spy Doc Pro is a rogue anti-spyware application that reports false or exaggerated system security threats and infections on the computer. It's not a legitimate application. SpyDocPro has an obvious intention to mislead users into thinking that it's somehow related with STOPzilla from PC Tools. As you may know, STOPzilla is a legitimate anti-spyware application whereas Spy Doc Pro is a fake one. Don't be confused. Spy Doc Pro has to be manually installed, but the problem is that it comes from various bogus websites and pretends to be legitimate software. It might be hard to determine if it's fake or not, especially for those people who don't know much about computers. You should always review software before installing it. If you are not sure, then just search for it on the Internet and very likely you will find a web page like this one with detailed information about particular software.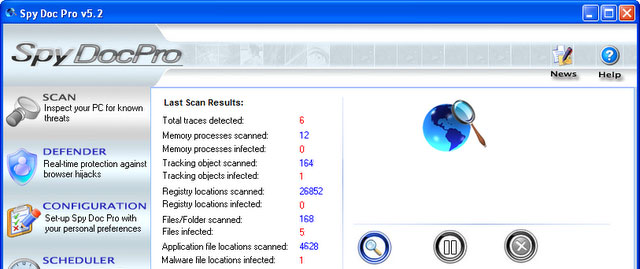 [Figure 1. Spy Doc Pro graphical user interface]
Once installed, Spy Doc Pro v5.2 will be automatically configured to run each time you login into Windows. It will pop up on your screen and imitate a system scan. Then, it will display a list of infections or computer threats to make you think that your computer is infected with malware when the only real infection is the program itself. There shouldn't be any doubts about whether it's scam or not, especially when it detects infections on a clean Windows installation. What is more, SpyDoc Pro will display many fake alerts and pop-ups claiming that your computer has many security problems and privacy issues. Just like the false scan results, these fake alerts are just a part of whole scam campaign. Ignore scan results and fake pop-ups. Then please read the Spy Doc Pro removal guide below. Read the removal instructions carefully and get rid of this bogus software as soon as possible. If you have purchased it, then contact your credit card company and dispute the charges.
Spy Doc Pro manual removal:
Kill processes:
Spy Doc Pro.exe
Delete files:
Spy Doc Pro.exe
Delete directories:
C:Program FilesSpy Doc Pro
About the author