Spyware Guard 2008. How to remove? (Uninstall guide)
removal by Jake Doevan
-
- Also known as
SpywareGuard 2008, SpywareGuard2008, Spy Guard 2008, SpyGuard 2008
| Type:
Malware
Spyware Guard 2008 is another scam trying to gain money by manipulating people who are worried about cyber safety. SpywareGuard 2008 (also known as SpywareGuard2008 or Spy Guard 2008) is presented by Pandora-Software, the company that created SpyMaxx, Perfect Cleaner, SpyAway and several other rogue security tools. Pandora Software is known for making fraudulent applications; do not trust anything that comes from this company!
Spyware Guard 2008 uses the same tactics employed by other recent malwares: it offers online scan, reports many spywares on board a computer and generously suggests downloading Spyware Guard 2008 to remove the infections. Do not trust threat reports displayed by Spyware Guard 2008 and do not download this program! If installed, SpywareGuard2008 is extremely difficult to delete. Every single malware report loaded by SpywareGuard 2008 is falsified in order to gain your attention and your money.
Spywareguard2008.com may seem to be legitimate website distributing anti-spyware software, but it only looks genuine at the first glance. If you'll take a closer look, you will find neither a way to contact the company nor some information about creators of Spyware Guard 2008. Spywareguard2008.com offers purchasing SpywareGuard2008 licenses for $49.95, $69.95 and $89.95. Even if Spyware Guard 2008 cost $1, it would be way too much for non-functional program.
Spyware Guard 2008 is a malware. It generates fake system alerts and commercial pop-ups. It may also hijack web browser and redirect you to spywareguard2008.com. Do not pay money for this scam and remove it as soon as possible.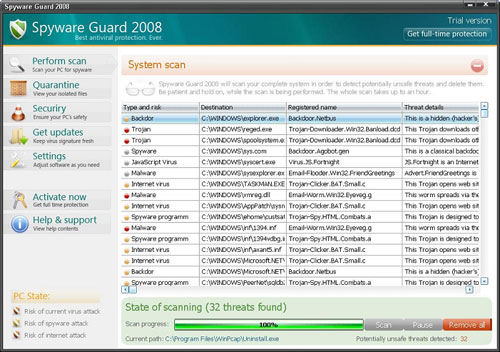 Spyware Guard 2008 manual removal:
Kill processes:
SpywareGuard.exe
syscert.exe
spoolsystem.exe
reged.exe
sysexplorer.exe
uninstall.exe
spoolsystem.exe
syscert.exe
Delete registry values:
HKEY_CURRENT_USERSoftwareSpyware Guard
HKEY_LOCAL_MACHINESOFTWAREMicrosoftWindowsCurrentVersionUninstallSpyware Guard 2008
HKEY_CURRENT_USERSoftwareMicrosoftWindowsCurrentVersionRun "spywareguard"
Unregister DLLs:
olesys.dll
vmreg.dll
Delete files:
%program_files%\spyware guard 2008\conf.cfg
%program_files%\spyware guard 2008\mbase.vdb
%program_files%\spyware guard 2008\quarantine.vdb
%program_files%\spyware guard 2008\queue.vdb
%program_files%\spyware guard 2008\uninstall.exe
%program_files%\spyware guard 2008\vbase.vdb
%program_files%\spyware guard 2008\spywareguard.exe
%program_files%\spyware guard 2008\uninstall.exe
%program_files%\spyware guard 2008\spywareguard.exe
Delete directories:
%program_files%spyware guard 2008
%programs%spyware guard 2008
About the author