Spyware Protector. How to remove? (Uninstall guide)
Spyware Protector is yet another corrupt anti-spyware. It is almost identical to some other fake security tools (Privacy Protector and SpyProtector), but it is far more convincing, therefore more dangerous.
Spyware Protector is named like anti-spyware, it presents itself as anti-spyware, but it's actually a computer parasite. Its main goal is to scare people into thinking that a computer is infected and SpywareProtector is the only one that can remove the threats. Reality is quite different; Spyware Protector reports fabricated infections and the paid version of this tool is useless.
Spyware Protector imitates system scan, infection warnings and system tray alerts. This infection is easy to recognize as it loads screensaver which looks like bugs that creep all over the screen. The screensaver also reports virus 'detected' on the machine and demands purchasing Spyware Protector.
Spyware-protector.com is the main website that distributes this malware. The website is incomplete; some parts of it don't function at all and there's no useful information provided.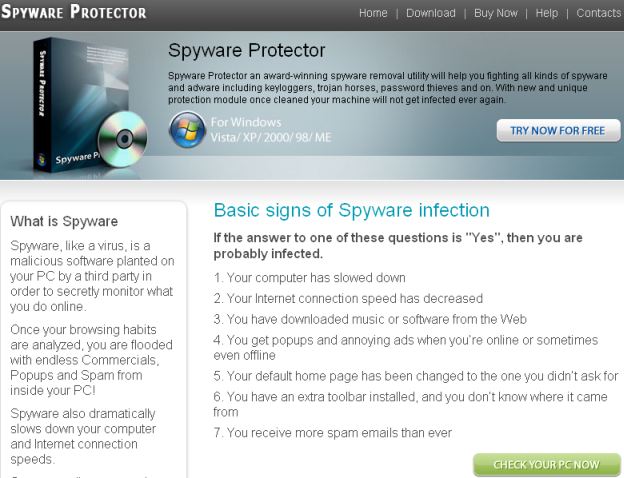 Spyware Protector manual removal:
Kill processes:
spywareprotector.exe
Unregister DLLs:
msvcp71.dll
msvcr71.dll
Delete files:
c:\Program Files\SpywareProtector\SpywareProtector.exe
c:\Program Files\SpywareProtector\uninst.exe
c:\Program Files\SpywareProtector\Lang\English.ini
%UserProfile%\My Documents\SpywareProtector\SDBHO.dll
%UserProfile%\My Documents\SpywareProtector\sdcfg.dat
c:\Program Files\SpywareProtector\blacklist.txt
c:\Program Files\SpywareProtector\msvcp71.dll
c:\Program Files\SpywareProtector\msvcr71.dll
c:\Program Files\SpywareProtector\sdev.sgn
Delete directories:
c:Program FilesSpywareProtector
%UserProfile%Start MenuProgramsSpywareProtector
%UserProfile%My DocumentsSpywareProtector
About the author