Remove Startsear.info virus
Startsear.info is often classified as a doubtful search engine, which may appear on your computer right after it hijacks the browser. Once Startsear.info hijacks it, it may start initiating dangerous activities, such as manipulating the browser in order to redirect people to affiliate websites. This search provider can barely display search results without flooding them with tons of random advertisements. The main page of Startsear.info search website is also filled with annoying and distracting visual advertisements. This search engine claims to be powered by Google but you should still be very careful when using it during your search sessions. It's always better to use well known search engines, such as Google, Yahoo, Bing, etc. because that's the only way to be sure that you receive true and legitimate search results. In order to avoid Startsear.info redirects to unsafe websites, you should remove this search site from your computer.
How can Startsear.info hijack my computer?
Startsear.info is mostly traveling around with freewares, sharewares, and other third-party programs as an extra attachment. This distribution method is very popular these days, because many people fail to check what programs they are installing and if these programs are carrying any unwanted extensions. Unfortunately, Startsear.info virus is one of these unwanted extensions that may infiltrate ypur system unnoticed. If you want to avoid it, you should be very careful when browsing the web and avoid unfamiliar free programs without checking them first. When installing unfamiliar freeware, you should read reviews and comments from people who have already downloaded the program on their computers. Read end-user license agreement policy section as well and then choose only Custom or Advanced installation. By doing so, you will have a better understanding what program you are installing and if this program is carrying any unwanted attachments.
How to remove Startsear.info from my computer?
In order to restore your browsers to previous condition, you should remove Startsear.info redirect virus. Follow these guidelines, submitted by our security experts, and safely remove Startsear.info virus:
Uninstall freeware, which is related to Security-surf.com:
Click Start -> Control Panel -> Uninstall a Program.
When in the Add/Remove Programs/Uninstall a Program, look for recently installed/unfamiliar applications, such as BrowserDefender, Startsear, WebCake and similar.
Click 'Uninstall' and then OK to save the changes.
Reset your browsers (Google Chrome, Mozilla Firefox and Internet Explorer):
Internet Explorer:
Open Internet Explorer, click the Gear icon or 'Tools' -> 'Internet Options'.
Here, go to the 'Advanced' tab and click the 'Reset' button.
Go to the 'Reset Internet Explorer settings' -> 'Delete personal settings' and click on 'Reset' option.
Finally, click 'Close' and OK to save the changes.
Change your homepage.
Mozilla Firefox:
Open Mozilla Firefox, go to the 'Help' section -> 'Troubleshooting Information'.
Here, choose a 'Reset Firefox' for a couple of times and 'Finish'.
Finally, change your homepage.
Google Chrome:
Click the Chrome menu button on the Google Chrome browser, select Settings -> Show Advanced Settings.
Here, look for 'Reset browser settings' button.
Click 'Reset' to complete this task.
Alternative Software
Different security software includes different virus database. If you didn't succeed in finding malware with Reimage, try running alternative scan with SpyHunter.
Alternative Software
Different security software includes different virus database. If you didn't succeed in finding malware with Reimage, try running alternative scan with Combo Cleaner.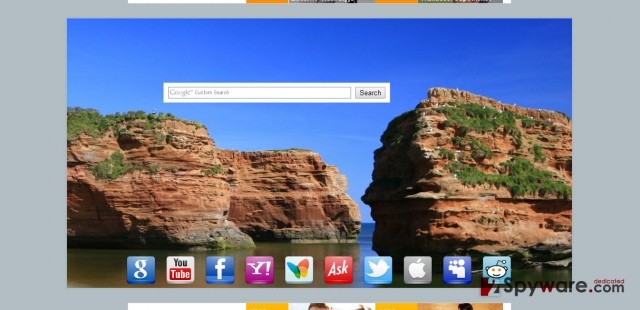 About the author