State-dangerousalert-us-01.in virus. How to remove? (Uninstall guide)
removal by Jake Doevan
-
- Also known as
State-dangerousalert-us-01.in hijack, State-dangerousalert-us-01.in redirect
| Type:
Viruses
What is State-dangerousalert-us-01.in?
State-dangerousalert-us-01.in is a malicious website, which is used for tricking people into paying fines for such crimes as the use of copyrighted content, distribution of pornographic material, malware, etc. As soon as victim enters this website, he/she the web browser is blocked and is covered with a huge warning message that tries to trick users into thinking that they are dealing with governmental authorities. You may be informed that you were blocked by FBI, Police Central e-crime Unit, Europol, Interpol and similar authorities. Please, do NOT fall for this because it's just a scam that is used by hackers for collecting their income. In fact, this website is clearly filled with some javascript that helps it to lock the browser and display its fake warning message. Before it tricks you into thinking that you are dealing with a serious organization that discovered you by checking your activity on the Internet and found that you are initiating illegal activities, you should stop the executable file of your web browser and scan your computer with the reputable anti-spyware. We recommend you using Reimage or other trustworthy program. Of course, you should never visit State-dangerousalert-us-01.in because there is no guarantee that this website is not used for spreading malware.
How can State-dangerousalert-us-01.in hijack my web browser?
There are lots of techniques that are used for promoting such malicious websites like this one. They can easily be promoted via misleading emails that report about seriously-looking things, such as important purchases, payments, money transfers and similar things. Pleas, be very careful with such mails, especially if you have no idea what the sender is. In addition, stay away from links that are included to such mails and never download the attachment. In addition, there is another thing that should be avoided – misleading ads telling people that they have to update such programs as Flash player, Flv player, Download Manager and similar applications. If you really think that you need to update something, you should go straight to program's official website and download what you really need. Otherwise, you may end up with the browser hijacker on your computer that may start causing redirects to State-dangerousalert-us-01.in or similar websites that are malicious. Please, do NOT visit this website voluntarily because you may find out that your web browser is locked and you can't switch from one website to another one. Instead of that, you may start seeing this alert:
Are you sure you want to leave this page?
Message from webpage:
YOUR BROWSER HAS BEEN BLOCKED UP FOR SAFETY REASONS.
ALL PC DATA WILL BE DETAINED.
ALL YOUR FILES ARE ENCRYPTED.

YOUR BROWSER HAS BEEN BLOCKED UP. Leave this page or Stay on this page.
Please, ignore this message and do NOT pay the fine because it is a straight path to the loss of malware. If you have just been tricked into paying the fine, you should take this as a lesson. Nevertheless, you should waste no time and fix your computer. For that you should follow a guide below.
How to remove State-dangerousalert-us-01.in virus?
If you have just been tricked by a fake police alert that is located at State-dangerousalert-us-01.in, you should kill your browser and scan your computer with a reputable anti-spyware. For that we highly recommend using Reimage, Malwarebytes Malwarebytes or Plumbytes Anti-MalwareNorton Internet Security. In order to kill your Google Chrome, Mozilla Firefox, Internet Explorer or other browser, follow this guide:
Click Ctrl+Alt+Del at the same time.
Here, look for a process of your blocked web browser (chrome.exe, iexplore.exe, safari.exe, firefox.exe, opera.exe).
Click End process to save these changes.
Alternate Software
We have tested Malwarebytes's efficiency in removing State-dangerousalert-us-01.in virus (2015-02-09)
We have tested Malwarebytes's efficiency in removing State-dangerousalert-us-01.in virus (2015-02-09)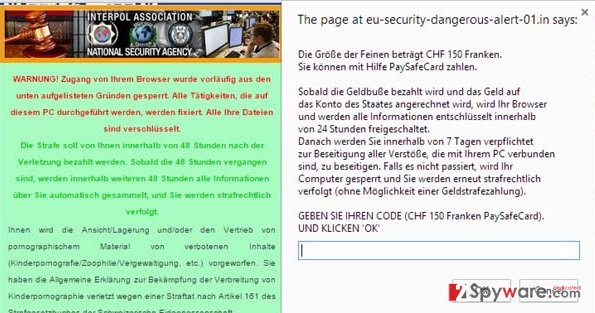 About the author
Removal guides in other languages