Super AV. How to remove? (Uninstall guide)
Super AV is a dangerous cyber threat that should be uninstalled from the system without any delay. This kind of software is usually denominated as rogue anti-spyware what means that it will also try to swindle the money from its victims by offering fake virus removal services. SuperAV is clearly attached to the Win32/FakeXPA family of malwares which is linked to such scams as Antivirus 7, AntivirusBest, Personal Security and many others. All these rogue anti-spywares have managed to make much harm for PC users, so make sure you don't fall for Super AV. As soon as you notice its misleading alerts announcing about malware detected, remove Super AV from your computer. When doing this, you will have to reinstall your anti-virus and anti-spyware programs to overcome this virus and make them successfully working again.
In the beginning, Super AV is designed to create the best impression that it's the only one which is needed in trying to protect your PC. It starts displaying trustworthy-looking scanners that pretend to be checking the system for viruses. However, all those continuous system scanners and alerts actually do nothing but display identical alerts like earlier versions of Super AV and report only invented viruses or legitimate files 'found' on your computer. So, to make you scared about your computer, Super AV simply displays such and similar alerts:
Super AV – Malware detected
Threats have been detected!
Warning! Some Serious threats have been detected to your computer, that need to be removed instantly or they may cause critical damage to your computer!
Super AV can remove these viruses easily, and prevent damage to your personal computer.
If you click "Remove viruses", you can protect your computer from destruction, however, if you click "Continue unprotected, your identity may be compromised and you may lose all of your important files and experience system slowdown.
As you can see, Super AV simply pretends to find some parasites on your computer. It does that with the help of misleading security warnings that pop up as soon as PC is rebooted. They will start appearing on your PC just after some minor modifications will be made on the infected PC. When talking about the way of Super AV distribution, you should know that this malware relies on trojans that come inside through security vulnerabilities found. You can be tricked into installing its trial version for free or simply downloading fake Flash updates or other stuff. That's why security experts always recommend having the licensed versions of anti-virus and anti-spyware installed.
By making you believe that your computer is dangerously infected, Super AV promotes its full version. Of course, this commercial software is not free because scammers need to find the way how to get your money. Please, avoid this scam at all costs. As soon as you notice Super AV alerts and scanners, remove it from your computer. As it was mentioned above, to get rid of Super AV, you will have to reinstall your anti-spyware or simply download the new one.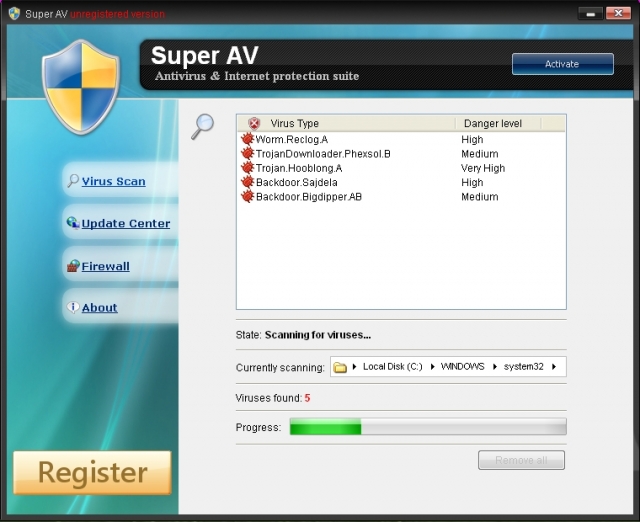 Super AV manual removal:
Kill processes:
%windir%[random].exe
Delete files:
%windir%[random].exe
About the author