SysDefenders. How to remove? (Uninstall guide)
SysDefenders is a fake security application that was released by Winisoft (also called as WiniGuard) in the middle of January. Similarly to its initials InSysSecure and APc Defender, SysDefenders has not only English variant and also spreads itself in the German, French and Italian languages. However, just like its English counterparts, this scam imitates scanning the system for malware and reports a bunch of harmless files as infections. Sys Defenders also produces annoying security notifications that all are expected to scare PC users into purchasing its commercial version. Do NOT follow SysDefender's suggestions! Save your money and get rid of this rogue anti-spyware without any hesitation!
SysDefenders is distributed with a help of Trojans. PC users are usually convinced to install video codecs when they want to watch something online but instead of these programs they download hidden Trojan. Additionally, this parasite installs Sys Defenders in the targeted machine and also creates fake malware files that drops in the system. There is no permission asked! Later, these files are detected by SysDefenders as malicious ones and the program returns that only its "full" version will remove everything. Moreover, the same Trojan that should be blamed for letting this malware enter displays fake security alerts and messages that are expected to make users choose the "licensed" version of SysDefenders. For example:
English Alert:
Spyware Alert!
Your computer is infected with spyware. It could damage your critical files or expose your private data on the Internet. Click here to register your copy of BlockProtector and remove spyware threats from your PC.
German Alert:
Spzprogramm Warnzeichen!
Ihr Computer ist mit Spionprogramm infektioniert. Das kann Ihren Dateien und die im Internet zugänglich machen. Klicken bitte hier, um Ihre Kopie von SysDefenders zu registrieren und Ihr PC von Spyprogramm frei zu machen.
French Alert:
Spyware Alerte!
Votre ordinateur est infecté de spyware. Il pourrait endommager vos fichiers critiques ou exposer vos données prives sur 'Internet. Cliquez ici pour enregistrer votre copie de SysDefenders et enléver des menaces spyware de votre OP.
Italian Alert:
Spyware miniaccia!
Il suo computer è infetto di spyware. Puo dannegiare i suoi files criticali rivelare i suoi dati personali nell'Internet. Clicca qui per registrare la sua coppia di SysDefenders e rimouvere le minacce di spyware dal suo computer.
It must be clear that SysDefenders is a fake anti-spyware that reports nonexistent threats. This malware is not able to detected any kind of legitimate infection and avoiding is highly recommended. Remove SysDefenders as soon as it is detected before it damages essential system files on your computer!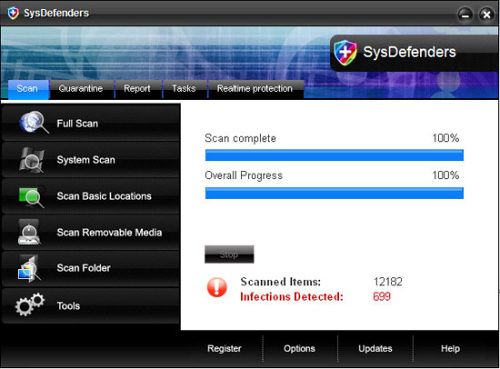 SysDefenders manual removal:
Kill processes:
qgyjbdxw.exe
SysDefenders.exe
uninstall.exe
[random characters].exe
Delete registry values:
HKEY_CURRENT_USERSoftwareSysDefenders
HKEY_LOCAL_MACHINESOFTWAREMicrosoftWindowsCurrentVersionUninstallSysDefenders
HKEY_LOCAL_MACHINESOFTWARESysDefenders
HKEY_CURRENT_USERSoftwareMicrosoftWindowsCurrentVersionRun "
.exe"

HKEY_LOCAL_MACHINESOFTWAREMicrosoftWindowsCurrentVersionRun "SysDefenders"



Delete files:


SysDefenders.lnk

1 SysDefenders.lnk

2 Homepage.lnk

3 Uninstall.lnk

qgyjbdxw.exe

main_config.xml

SysDefenders.exe

uninstall.exe

1036thrzat52459.ocx

104z95acktool7e89.ocx

107zvi59576.bin

Temp\[random].exe

system32\[random].exe

30946zp5377.cpl

3104ha59toolz09.bin

31530virz9173.cpl


About the author