SysProtector. How to remove? (Uninstall guide)
SysProtector (or Sys Protector) is just another rogue anti-spyware application which belongs to the category of malwares that promise to remove any kind of cyber infection. For a current fee SysProtector offers to increase computer's protection but in reality will never provide any of these services. Contrary, if it happens for you to confront with SysProtector, remove it and do not expect any kind of protection after paying for its so called "licensed" version. The program belongs to Winisoft family of rogues, which has released numbers of infections until now, including PcsProtector, PCprotectar and many others.
The trial version of SysProtector is installed through fake video codecs and flash updates that in reality are Trojans. Being downloaded from malicious websites, these Trojans do not let the user watch videos, but let this scam enter a machine.
It is very unlikely that Sys Protector additionally would not load fake alerts and pop-up ads when browsing the Web. It is designed to start automatically, so immediately fake system scanners are displayed. SysProtector misleadingly reports about hundreds of infections detected and informs about a critical level of PC security. As a solution, the victim is offered to purchase Sys Protector but the best advice would be to remove this scam. SysProtector uses warnings only with a reason to frighten PC users into purchasing its "full" version, so none of them can be trusted. Use a reputable anti-spyware program and delete SysProtector immediately after detection.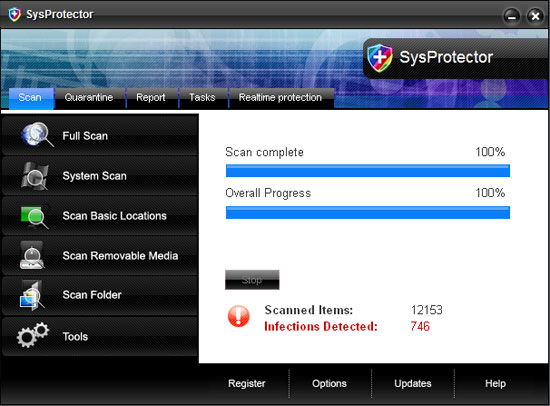 SysProtector manual removal:
Kill processes:
SysProtector.exe
uninstall.exe
Unregister DLLs:
10555hacktoo9309z.dll
2dz4th95at18116.dll
Delete files:
SysProtector.exe
SysProtector.lnk
1 SysProtector.lnk
2 Homepage.lnk
3 Uninstall.lnk
uninstall.exe
10327s5ambzt98b.cpl
10390wzrmac5.cpl
10555hacktoo9309z.dll
2dz4th95at18116.dll
2e6aadd9arz2815.ocx
About the author