System Adware Scanner 2010. How to remove? (Uninstall guide)
System Adware Scanner 2010 is a fake anti-spyware program. Read the latest information about this malware and how to remove it from your computer. This misleading application is a clone of Windows Smart Security malware. It deliberately reports various false system security threats to make you think that your PC is infected with spyware, adware, Trojans and other malicious software. It also displays fake security alerts/notifications and use quite effective self-defense methods. Once installed, it will imitate a system scan and list numerous infections, but won't remove them unless you pay for a full version of the program. The truth is that this parasite reports legitimate or non-existing Windows files as infections. In other words, this is simply a scam. Do not purchase it and get rid of System Adware Scanner 2010 virus as soon as possible.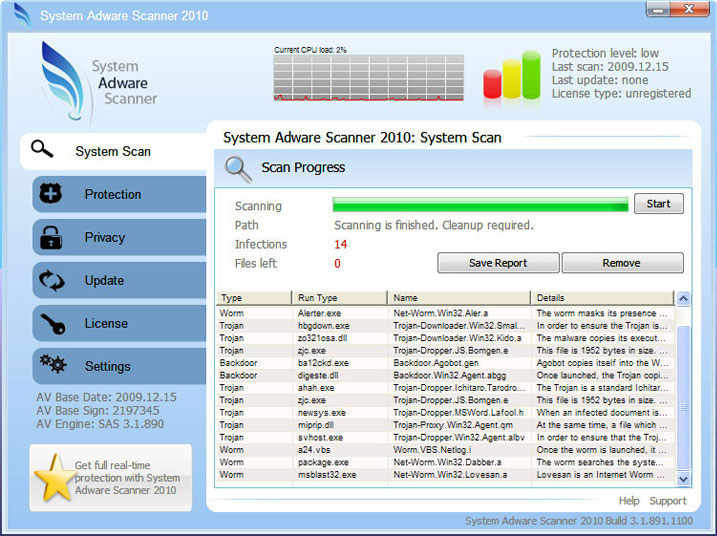 [Figure 1. System Adware Scanner 2010 graphical user interface]
The biggest problem is that System Adware Scanner 2010 protects itself and blocks anti-virus/spyware software. SystemAdwareScanner2010 creates a driver called noterminate. This malicious file displays fake warnings and terminates practically all programs, especially security-related software. In order to make the situation even more complicated, SystemAdware Scanner 2010 will hijack Internet Explorer (likely other web browser too) and state that particular website or files id infected. For example, it may state that STOPzilla installer is infected or potentially harmful. Some other warnings state:
System Adware Scanner 2010 Warning
Intercepting programs that may compromise your privacy and harm your system have been detected on your PC. Click here to remove them immediately with System Adware Scanner 2010
Warning: Your computer is infected
Windows has detected infection!
Click this message to install the last update of Windows Security Software!
It will also display System Adware Scanner 2010 Firewall Alert. This warning states that System AdwareScanner 2010 has blocked a program from accessing the internet and that Internet Explorer is infected with worm Lsas.Blaster.Keyloger.
[Figure 2. System Adware Scanner 2010 Firewall Alert]
In order to download an automatic System Adware Scanner 2010 removal toot you have to end malicious processes first. System AdwareScanner2010 process will be randomly generated,[RANDOM CHARACTERS].exe. The name of the main directory of this malware is also generated randomly to make the removal process more complicated. If you can't open Windows Task Manager then use Process Explorer (explorer.com).
The home page of System Adware Scanner 2010 is sysadscanner.com. All the information in "About Us" section of that page is copied from AVG website. How rude! This website is classified as dangerous, so you shouldn't visit it.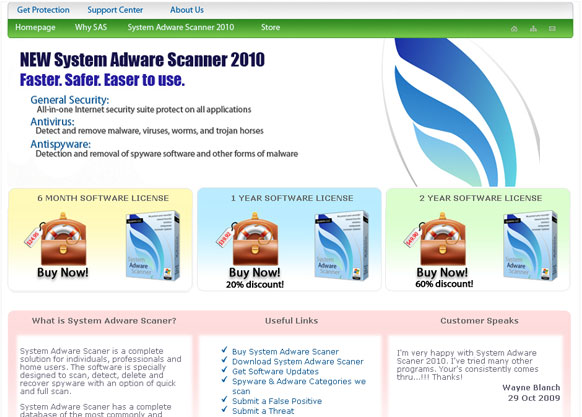 [Figure 3. System Adware Scanner 2010 home page – sysadscanner.com]
As you can see, this program is absolutely useless and even dangerous. Please remove System Adware Scanner 2010 from your computer upon detection using the removal guide below. If you have inadvertently purchased it, contact your credit card company and dispute the charges. Also note that removal delay will only worsen the situation because the rogue program is able to download additional malware onto your computer.
System Adware Scanner 2010 manual removal:
Kill processes:
[RANDOM CHARACTERS].exe
Delete registry values:
HKEY_LOCAL_MACHINESOFTWAREMicrosoftWindowsCurrentVersionUninstallSystemAdwareScanner2010
HKEY_LOCAL_MACHINESOFTWARE[RANDOM CHARACTERS]
HKEY_LOCAL_MACHINESYSTEMCurrentControlSetServicesnoterminate
HKEY_CURRENT_USERSoftwareMicrosoftWindowsCurrentVersionRun "[RANDOM CHARACTERS]"
HKEY_LOCAL_MACHINESOFTWAREMicrosoftWindowsCurrentVersionRun "[RANDOM CHARACTERS]"
Delete files:
[RANDOM CHARACTERS].exe
[RANDOM CHARACTERS].i
System Adware Scanner 2010.lnk
C:\WINDOWS\system32\drivers\[RANDOM CHARACTERS].sys
Delete directories:
C:Documents and SettingsAll UsersApplication Data[RANDOM CHARACTERS]
C:Documents and SettingsAll UsersApplication Data[RANDOM CHARACTERS][RANDOM CHARACTERS]
%UserProfile%Start MenuProgramsSystem Adware Scanner
About the author