Remove System Progressive Protection
System Progressive Protection is a rogue anti-spyware that tries to create an image that your PC is full of dangerous items and that you must purchase its license to remove them. According to experts, it belongs to WinWebSec family and uses the same Graphical User Interface that makes people think they have a deal with reputable anti-spyware. However, after a closer look it can be said that nothing is real about System Progressive Protection – it gets inside the PC without a permission asked, it reports the same viruses on different computers, its 'support' or 'update' buttons do not function and the only thing it seeks it to sell its licensed version. Instead of doing that, you should simply make an experiment and run alternative, legitimate anti-malware program to make sure that System Progressive Protection is virus. Do not waste your time and remove this virus as soon as you can. We recommend using automated removal tools for that.
HOW CAN I GET INFECTED WITH System Progressive Protection?
Questions about System Progressive Protection
Just like its earlier versions,Live Security Platinum or Live Security Platinum 3.6.1, System Progressive Protection is spread with a help of trojans that can get inside undetected. You can download one together with fake updates, video/audio codecs or simply with freeware and shareware. Pay attention to the fact that you must keep your PC protected if you want to avoid such scams as System Progressive Protection. Once there, it settles down in c:\Documents and Settings\All Users\Application Data\ folder in XP, or C:\ProgramData folder in Windows Vista and Windows 7 and simply presents itself for the victim through its fake alerts and scanners reporting about dangerous viruses detected. Here are the alerts we have received from our example:
System Progressive Protection Warning
Your PC is still infected with dangerous viruses. Activate antivirus protection to prevent data loss and avoid the theft of your credit card details.
System Progressive Protection warning
Spyware.IEMonster activity detected. This is spyware that attempts to steal passwords from Internet Explorer, Mozila Firefox, Outlook and other programs.Click here to remove it immediately with System Progressive Protection
Warning: Your computer is infected
Detected spyware infection!
Click this message to install the last update of security software…
As you should have already understood, these alerts are fake and should never be taken as serious. This infection will also show you scam window to trick you into believing that you are dangerously infected. However, System Progressive Protection means only the fact that you are infected with one of WinWebSec members and that you should run a full system scan with updated anti-spyware to remove System Progressive Protection from your PC.
HOW CAN I REMOVE System Progressive Protection?
To get rid of System Progressive Protection, you should use updated anti-malware programs, such as SpyHunter 5Combo Cleaner or Reimage Reimage Cleaner . They will kill all malware processes and will remove infected files from the system. You may find it difficult to launch these programs, so reboot to safe mode or use invented email and this code for a 'registration' of this scamware: AA39754E-715219CE. This code will make your malware think that you have purchased its license and will disable it. Of course, it won't remove infected files from your computer, so you should run a full system scan immediately after that.
Alternative Software
Different software has a different purpose. If you didn't succeed in fixing corrupted files with Reimage, try running SpyHunter 5.
Alternative Software
Different software has a different purpose. If you didn't succeed in fixing corrupted files with Reimage Cleaner, try running Combo Cleaner.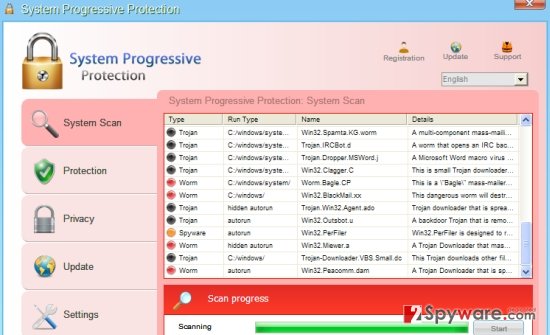 About the author
Removal guides in other languages

October 13th, 2012 at 8:30 pm

Thank you so much, once I used the activation code, i quickly turned on my avg and malwarebytes programs to do scans. I owe you one dude!


October 30th, 2012 at 10:57 am

Followed instructions, used activation code, updated malwarebytes and removed virus. Best post Ive seen in a long time regarding simple virus removal. How long before they realise the activation key is out there I wonder.


October 31st, 2012 at 10:27 am

Thank you very much! You saved me! I thought I wont be able to use my PC anymore… Godbless!


November 1st, 2012 at 12:25 pm

Thanks the registration worked and allowed me to do a restore without loosing anything. The scary bit is that MS Security Essentials did not prevent this?


November 1st, 2012 at 10:29 pm

Invalid User Data. What do I do?


November 2nd, 2012 at 11:50 am

Awesome, worked like a charm!
Fn scammers


November 7th, 2012 at 5:22 pm

My Internet explorer stopped working. It wont open a window. What do I do now?


November 11th, 2012 at 10:15 am

my system is affect in this virus. after few days the virus is automatically removed & my system properly worked. how it is possible?


November 12th, 2012 at 7:43 am

This company "Smart Support" if it exists should be CRUSHED and the owners locked-up. This is extortion any way you look at it. Aren't there laws against extortion these days????


November 12th, 2012 at 5:27 pm

I owe you a beer my friend!!!


November 12th, 2012 at 6:48 pm

Wait a second. I downloaded the Spyware thing but is the activation code for the System progressive scam or for the spyware? Thanks.


November 14th, 2012 at 9:56 pm

pls give me the manual


November 25th, 2012 at 2:22 am

i had 38 to like the picture :/


November 29th, 2012 at 4:46 am

You are cool dude! Thanks! Im gonna try it now!


November 29th, 2012 at 9:07 am

Thank you so much. I used the Lisence number you gave me and it was accepted. I was able to start a complete scan with my Mcafee. I believe I picked up the crud from an advertisement from Overstock. Thanks again.


December 4th, 2012 at 11:20 pm

System progressive protection had block all my lunches,how can i do .i must to install a new window?


December 6th, 2012 at 2:34 pm

Cant "the Govt" or some authority hunt down the creators of this bogus software and prosecute them? I mean, they are holding the victims pcs at bay, basically rending the PC useless untill the victim pays them "a ransom"….. This type of malware should be totally illegal! Interpol should take a case like this on and get those responsible. Once their caught, they should be fines till their broke, and put away for 30+ years, then banned from even looking at a PC, in my opinion. They are the low of the low, scum of the earth…..

BTW, My bro in law had his laptop infected with this crap yesterday (Win XP), I managed to re-boot in safemode, and load a copy of MalwareBytes Anti-Malware in it, update the definitions, and scan it out of the laptop. It worked. This type of malware totally infuriates me! If I were to ever meet the creators of this stuff, well lets just say they wouldnt ever be able to use a keyboard, or even view a monitor ever again. plain and simple!


December 11th, 2012 at 10:38 pm

omg! IT WORKED. I TOOK IT TO THE COMPUTER REPAIR SHOP AND THEY WANTED TO CHARGE ME $95. goSH AM GLAD I BROUGHT IT HOME AND GOOGLED IT TO SEE HOW I COULD HELP MYSELF. THIS JUST STARTED TO HAPPEN YESTERDAY ON MY COMPUTER. am SO GLAD THIS WORKED. THANK YOU GUYS SOOOOOOOOOOOOO MUCH!!!!!!!!!!!!!!!!!!!!


December 28th, 2012 at 7:54 am

what is invertd email


January 7th, 2013 at 3:51 pm

In my case at least I believe the site responsible for this virus was one called " Daily Bible Quotes ". This was actually an App I got from Facebook back in August 2012. I installed a browser add-on from them. When I was doing the scan this name came up as the "Vendor" and the browser add-on bar was removed. This Vendor was the same name as the ones with the virus.

Maybe someone with the really good computer skills could investigate the site and if they are responsible take them down!!!


January 11th, 2013 at 9:22 pm

Was able to do the same by disconnecting my internet connection, deleting the source files, reconnecting to the internet, then running AVG.