System Security 2012. How to remove? (Uninstall guide)
System Security 2012 is a sneaky application that will do its best in trying to create an impression that your PC is infected. However, in reality it belongs to fakeScanti family with System Security 2011 and Guard Online malware among its members. Earlier released clones have not yet been active for some long but have already done plenty of destruction for unaware PC users. Continuously trying to rip users off, System Security 2012 is set to use security vulnerabilities for its secret infiltration, so as soon as Trojans find security holes in computer, they download all malware files and also modify the system. These modifications in computer's registry help System Security 2012 to launch once PC is rebooted and continue its campaign.
Being too stealthy to notice when it is getting inside, System Security 2012 won't fail to show up additionally: it starts displaying numerous alerts and scanners that all 'detect' tons of malware. It simply disables its victims and, instead of letting normally browse the internet, interrupts with false scanners and misleading malware infiltration alerts. These fake notifications will be appearing as soon as you reboot your PC, so make sure ignore them.
Of course they do not pop without the reason – System Security 2012 tries to scare its victims by reporting malware and additionally offers to purchase its license for fixing issues detected on board. In most of the cases, System Security 2012 displays such alerts:
Warning infection found
Unwanted software (malware) or tracking cookies have been found during last scan. It is highly recommended to remove it from your computer.
Keylogger Zeus
Keylogger Zeus is a very dangerous software used by criminals to steal personal data such as credit card information, access to banking accounts, passwords to social networks and e-mails.
Once users fall for these counterfeit pop-ups and click one of them, they get redirected to System Security 2012 purchase page which contain the 'Buy' button, of course. Keep in mind that you must only ignore such alerts and never purchase the program named System Security 2012. Though it may look completely legitimate, in reality it's just another malware released to swindle the money. So, don't wate the time and remove System Security 2012. If find problems with System Security 2012 manual removal, use automatic removal tool below to remove all randomly named processes of this virus.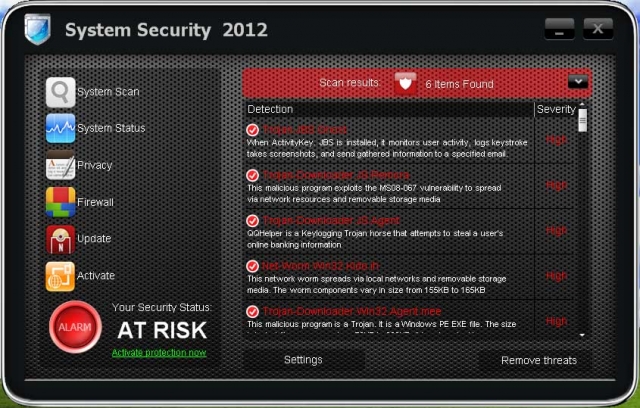 System Security 2012 manual removal:
Kill processes:
[random].exe, typically letter/numerical names launching from C:WindowsSystem32
Delete registry values:
HKCUSoftwareMicrosoftWindowsCurrentVersionInternet Settings,ProxyServer = http=127.0.0.1:59232
HKEY_LOCAL_MACHINESOFTWAREMicrosoftWindowsCurrentVersionRun "[random characters]"
HKEY_CURRENT_USERSoftwareSystem Security 2011
Delete files:
%UserProfile%DesktopSystem Security 2012.lnk
%Temp%svhostu.exe
[random].exe
About the author