Titan Antivirus 2013. How to remove? (Uninstall guide)
Titan Antivirus 2013 is a fake security application, which is set to start its work every time user reboots computer. It belongs to rogue anti-spywares because it pretends to have ability to detect and remove parasites from the system. In reality, it has an empty virus database and finds the same viruses on all computers. In most of occasions, Titan Antivirus 2013 starts displaying its fake pop-up ads out of nowhere. That's because it is capable to infiltrate computers via security vulnerabilities found. If you want to protect your computer from this or other virus, you have to make sure that you have both programs, anti-virus and anti-spyware, installed on your machine. In addition, remove Titan Antivirus 2013 without any delay if it starts showing up. Otherwise, it may download and install more viruses.
HOW CAN I GET INFECTED WITH Titan Antivirus 2013?
Just like PC Defender 360 or PC Defender Plus, Titan Antivirus 2013 is distributed by trojan horse, which exploits security vulnerabilities. You can get infected with this virus when visiting illegal websites or opening infected emails. The scariest part is that it may also hide inside legitimate websites. In order to prevent its infiltration, you should ignore all pop-up ads and banners. If trojan manages to enter computer, it downloads malicious files that belong to Titan Antivirus 2013. Besides, it also modifies several system's parameters in order to make this malware active every time user reboots his computer. After that, it starts showing such and similar notifications:
Security Alert
Unknown program is scanning your system registry right now! Identity theft detected!
Threat: Hoax.HTML.OdKlas.a
Attention: Danger!
System scan for spyware, adware, trojans and viruses was finished. PC Defender Plus detected 99 critical system objects. These security breaches may be exploited and lead to the following:
* Your system becomes a target for spam and bulky, intruding ads
* Browser crashes frequently and web access speed decreases
Please, ignore every alert that belongs to Titan Antivirus 2013! In addition, run a full system scan with updated anti-spyware and eliminate all malicious files.
HOW TO REMOVE TITAN ANTIVIRUS 2013?
In order to remove Titan Antivirus 2013, we recommend using automated anti-malware programs. In this case, you should use Reimage and get rid infected files from the system. Note that this virus can close installation of anti-malware software. In order to avoid that, reboot your PC to safe mode with networking first:
1. Restart your PC
2. Press the F8 key a few times.
3. Select Safe Mode with Networking and press Enter.
4. Now download Reimage and run a full system scan. Don't forget to repeat the scan when on normal mode as well.
We do not recommend using manual removal method if you don't have the full knowledge about viruses' removal. However, if you choose this way of virus elimination, look for your virus in %AllUsersProfile%\Application Data\pcdfdata folder.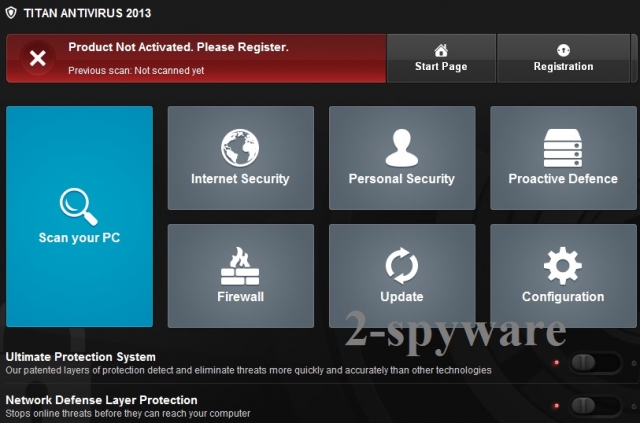 Titan Antivirus 2013 manual removal:
Kill processes:
[random].exe
Delete files:
[random].exe
About the author
Removal guides in other languages