ΤΜΗΜΑ ΑΣΦΑΛΕΙΑΣ Virus. How to remove? (Uninstall guide)
ΤΜΗΜΑ ΑΣΦΑΛΕΙΑΣ Virus is a dangerous ransomware, which pretends to belong to the Greek Police. However, those who live in other countries should also remember that there are many other versions of ransomwares that look similarly but have a different name and are spread in other world's countries. As soon as such virus gets inside the system, it blocks it down and covers computer's desktop with the forged notification showing victim's IP address and reporting about various law violations. Additionally, ΤΜΗΜΑ ΑΣΦΑΛΕΙΑΣ Virus asks to pay the fine via Ukash prepayment system and unblock the computer in this way. Before you start following it and pay this 100 euro fee, which is also usually asked on the fake notification, you have to remember that none of authorities or organizations around the world are using such methods for collecting their fines. Clearly, this program belongs for cyber criminals who seek to earn some easy money from those PC users who live in Greece. Ignore this virus and remove ΤΜΗΜΑ ΑΣΦΑΛΕΙΑΣ Virus from the system without any delay.
HOW CAN I GET INFECTED WITH ΤΜΗΜΑ ΑΣΦΑΛΕΙΑΣ Virus?
Cyber criminals, who are the owners of ΤΜΗΜΑ ΑΣΦΑΛΕΙΑΣ Virus, are using several ways for the distribution of it. Typically, you can get infected when using freeware, shareware and illegitimate software, or while visiting illegal sites filled with this or similar threats. As soon as it gets inside, this Greek Ukash virus blocks the whole computer down. Additionally, it takes over the desktop and shows a fake notification on it. Here's what it claims:
ΤΜΗΜΑ ΑΣΦΑΛΕΙΑΣ
ΠΡΟΣΟΧΗ! Ο υπολογιστής σας έχει μπλοκαριστει. Ο υπολογιστής σας έχει μπλοκάρει εξαιτίας τουλάχιστον ενός από τους λόγους που αναφέρονται παρακάτω. 'Εχετε παραβιάσει των κώδικα του «Νόμου Πνευματικής Ιδιοκτησίας και Συγγενικών Δικαιωμάτων·· (Βίντεο, μουσική, λογισμικό) και παράνομη χρήση ή πνευματικό δικαιώματα διανομής περιεχομένου, παραβιάζοντας τον άρθρα 126 του Ποινικού Κώδικα της Ελλαδας.
Το άρθρα 126 του Ποινικού Κώδικα προβλέπει πρόστιμα από 200 έως 500 ελάχιστες αμοιΒές ή φυλάκισα από 2 έως 8 χρόνια.
(…)
Τα πρόστιμα μπορεί να καταΒληθεί μόνο μέσα σε 72 ώρες μετά από την παράΒασπ• Μόλις περάσουν 72 ώρες, η δυνατότητα πληρωμής προστίμου λήγει, και μια ποινική υπόθεση κινείται εναντίον σας αυτόματα μέσα στις επόμενες 72 ώρες! Το ποσό του προστίμου είναι €100. Μπορείτε να πληρώσετε ένα πρόστιμο PaySafeCard ή Ukash.
'Οταν Να πληρώσετε το πρόστιμο, ο υπολογιστής σας θα ξεμπλοκάρει σε 1 έως 72 ώρες μετά από την καταΒολή των χρήματα στο Κρατικό λογαριασμό.
In order to make it appear more legitimate, ΤΜΗΜΑ ΑΣΦΑΛΕΙΑΣ notification shows victim's IP address, location, national flag of Greece and similar tricky details. However, you should never think it's legitimate and trustworthy. Please, don't fall for this alert and ay the fine of 100 euro. Instead of that, you have to remove ΤΜΗΜΑ ΑΣΦΑΛΕΙΑΣ Virus from the system as soon a you can.
HOW TO REMOVE ΤΜΗΜΑ ΑΣΦΑΛΕΙΑΣ Virus?
When trying to remove ΤΜΗΜΑ ΑΣΦΑΛΕΙΑΣ Virus from computer, most of its victims can't get on the Internet or launch their anti-malware software because they are blocked by this ransomware. If you have the Internet connection on your computer, download anti-malware program and run a full system scan with to remove the virus from the system. If you are blocked, follow these options:
* Flash drive method:
1. Take another machine and use it to download Reimage or other reputable anti-malware program.
2. Update the program and put into the USB drive or simple CD.
3. In the meanwhile, reboot your infected machine to Safe Mode with command prompt and stick USB drive in it.
4. Reboot computer infected with Ukash virus once more and run a full system scan.
* Users infected with Ukash viruses are allowed to access other accounts on their Windows systems. If one of such accounts has administrator rights, you should be capable to launch anti-malware program.
* Try to deny the Flash to make your ransomware stop function as intended. In order to disable the Flash, go to Macromedia support and select 'Deny': http://www.macromedia.com/support/documentation/en/flashplayer/help/help09.html. After doing that, run a full system scan with anti-malware program.
* Manual ΤΜΗΜΑ ΑΣΦΑΛΕΙΑΣ Virus removal:
Reboot you infected PC to 'Safe mode with command prompt' to disable Ukash virus (this should be working with all versions of this threat)
Run Regedit
Search for WinLogon Entries and write down all the files that are not explorer.exe or blank. Replace them with explorer.exe.
Search the registry for these files you have written down and delete the registry keys referencing the files.
Reboot and run a full system scan with updated Reimage to remove remaining virus files. You can also try Malwarebytes or Plumbytes Anti-MalwareNorton Internet Security.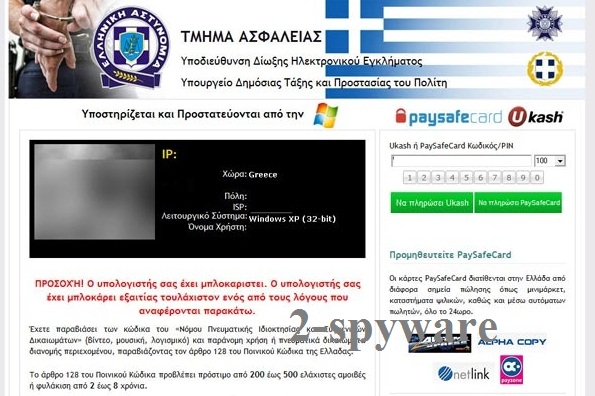 ΤΜΗΜΑ ΑΣΦΑΛΕΙΑΣ Virus manual removal:
Kill processes:
[random].exe
Delete files:
[random].exe
About the author
Removal guides in other languages