Total XP Security. How to remove? (Uninstall guide)
Total XP Security is a rogue anti-spyware program that pretends to be legitimate security software, but in reality this is yet another scam. It's a typical rogue program. TotalXPSecurity comes from misleading or infected websites or through software vulnerabilities. It's also distributed through the use of other malicious software and might be even promoted on popular social networks. But that doesn't change anything, one way or another, the main goal of Total XP Security is to trick you into purchasing the full version of this program.
Once installed, this fake program uses misleading methods to make you think that your computer is infected with malware when in reality the only real threat on your PC is Total XP Security itself. It will simulate a system scan and report numerous infections on your computer that can't be removed unless you first purchase the program. Obviously, you shouldn't purchase it because firstly it won't remove any infection simply because it's an infection itself and secondly, you will lose you money. So, if you already purchased this bogus program then you should contact your credit card company and dispute the charges as soon as possible.
What is even more annoying about Total XPSecurity infection is that it constantly display fake security alerts claiming that your computer has a bunch of threats that may steal you passwords or damage your data. Just ignore such false information. Furthermore, Total XP Security will block legitimate software and of course security software in the first place. It may also disable Task Manager and Registry Editor. And last, but not least, this infection will probably hijack Internet Explorer and redirect you to various malicious sites. As you can see, this fake program does all its best to scare you into thinking that your computer is infected. Don't trust it and remove Total XP Security from your PC as soon as possible. Please use the removal instructions below.
Total XP Security removal instructions:
1. Click Start->Run (or WinKey+R). Input: "command". Press Enter or click OK.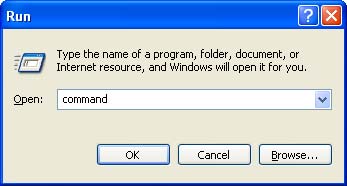 2. Type "notepad" as shown in the image below and press Enter. Notepad will open.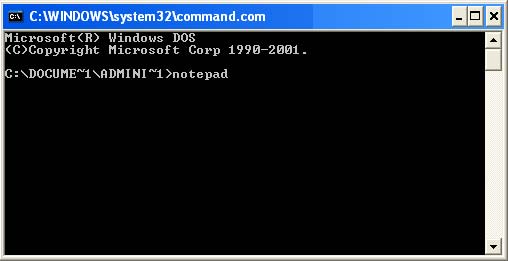 3. Copy and past the following text into Notepad:
Windows Registry Editor Version 5.00
[-HKEY_CURRENT_USERSoftwareClasses.exe]
[-HKEY_CURRENT_USERSoftwareClassessecfile]
[-HKEY_CLASSES_ROOTsecfile]
[-HKEY_CLASSES_ROOT.exeshellopencommand]
[HKEY_CLASSES_ROOTexefileshellopencommand]
@=""%1″ %*"
[HKEY_CLASSES_ROOT.exe]
@="exefile"
"Content Type"="application/x-msdownload"
4. Save file as "exefix.reg" (without quotation-marks) to your Desktop.
NOTE: choose Save as type: All files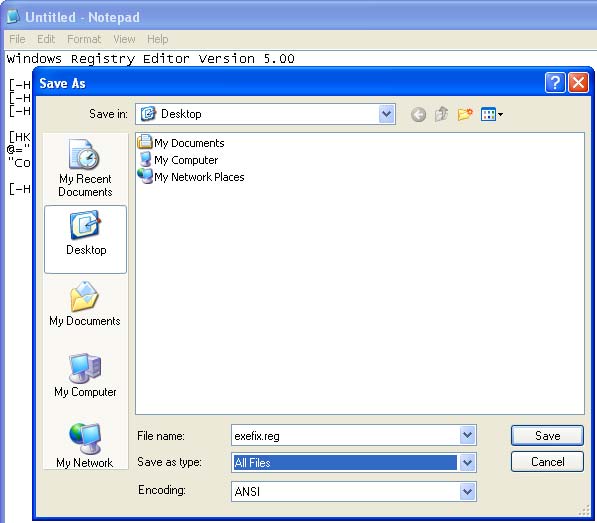 5. Double-click to open exefix.reg. Click "Yes" for Registry Editor prompt window.
6. Download STOPzilla or an automatic removal tool below. Update STOPzilla and run a full system scan.
If you can't complete the above steps then please use another PC to download an automatic removal tool and exefix.reg (Right Click (Save Target As)) to download file. Copy these files to USB flash drive or any other external media and transfer them to infected computer. Launch exefix.reg file first and then install STOPzilla.
Total XP Security manual removal:
Kill processes:
ave.exe
Delete files:
%UserProfile%Local SettingsApplication Dataave.exe
About the author