Trust Ninja. How to remove? (Uninstall guide)
Trust Ninja is a rogue anti-spyware application from the same family as SaveSoldier, SaveKeep, Wini Fighter, WiniBlueSoft and others. This misleading program uses false scan results and fake security alert to convince you that your computer is infected with spyware, adware and other malware. Do not purchase it and uninstall Trust Ninja from the system as soon as possible.
Trust Ninja is a typical bogus security program. It is promoted through the use of Trojans, fake online anti-malware scanners, browser hijackers, other malicious websites and malware. Once installed, a Trojan virus will display pesky and fake security alerts stating that your computer is compromised or under attack. Usually, Trojans claim that your personal information can be stolen or that various infections may delete important data.
Once active, TrustNinja will ostensibly scan your computer and report a variety of infections that can't be removed unless you purchase the program. The scan results are false, don't worry about too much about it. Furthermore, this parasite will constantly display legitimate looking security alerts and notification form Windows task bar. You should ignore those alerts too as they provide fictitious system security risks and privacy issues. Likely, Trust Ninja will cause even more problems. It may slow down you computer and hijack Internet browsers. You will then be redirected to misleading websites full of advertisements.
If you find that your computer is infected with this parasite, please use the removal guide below to remove Trust Ninja from your PC manually for free.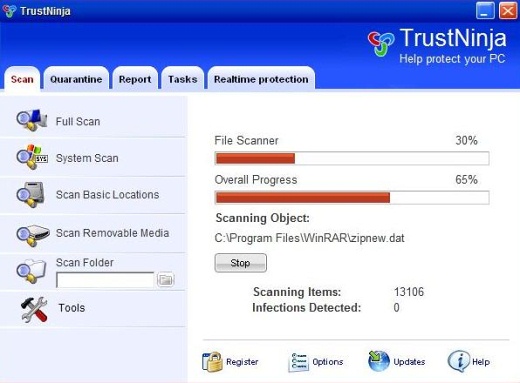 Trust Ninja manual removal:
Kill processes:
TrustNinja.exe
TrustNinjaSvc.exe
uninstall.exe
Delete registry values:
HKEY_LOCAL_MACHINESYSTEMCurrentControlSetEnumRootLEGACY_TRUSTNINJASVC
HKEY_LOCAL_MACHINESYSTEMControlSet001ServicesTrustNinjaSvcEnum
HKEY_LOCAL_MACHINESYSTEMControlSet001ServicesTrustNinjaSvcSecurity
HKEY_LOCAL_MACHINESYSTEMCurrentControlSetServicesTrustNinjaSvcEnum
HKEY_LOCAL_MACHINESYSTEMCurrentControlSetServicesTrustNinjaSvcSecurity
HKEY_LOCAL_MACHINESYSTEMControlSet001EnumRootLEGACY_TRUSTNINJASVC000Control
HKEY_LOCAL_MACHINESYSTEMControlSet001EnumRootLEGACY_TRUSTNINJASVC000
HKEY_LOCAL_MACHINESYSTEMCurrentControlSetEnumRootLEGACY_TRUSTNINJASVC000Control
HKEY_LOCAL_MACHINESYSTEMCurrentControlSetEnumRootLEGACY_TRUSTNINJASVC000
HKEY_LOCAL_MACHINESYSTEMControlSet001EnumRootLEGACY_TRUSTNINJASVC
HKEY_CURRENT_USERSoftwareMicrosoftWindowsCurrentVersionRun TrustNinja
HKEY_LOCAL_MACHINESYSTEMCurrentControlSetServicesTrustNinjaSvc
HKEY_LOCAL_MACHINESYSTEMControlSet001ServicesTrustNinjaSvc
HKEY_LOCAL_MACHINESOFTWARETrustNinja
HKEY_LOCAL_MACHINESOFTWAREMicrosoftWindowsCurrentVersionUninstallTrustNinja
HKEY_CURRENT_USERSoftwareTrustNinja
Unregister DLLs:
nsSCM.dll
nsProcess.dll
Delete files:
TrustNinja.exe
TrustNinjaSvc.exe
TrustNinja.lnk
nsSCM.dll
nsProcess.dll
3 Uninstall.lnk
2 Homepage.lnk
1 TrustNinja.lnk
license.txt
data.bin
Delete directories:
c:Program FilesTrustNinja Software
c:Program FilesTrustNinja SoftwareTrustNinja
c:Documents and SettingsAll UsersStart MenuProgramsTrustNinja
About the author