TubeSing virus. How to remove? (Uninstall guide)
TubeSing is a dubious application that often travels together with freewares. In fact, this program may infiltrate your computer behind your back and flood you with annoying and intrusive ads. It looks like this application has only one purpose, and that purpose is to make money from advertising. Therefore, you may see TubeSing ads everywhere you go. Besides, if this ad-supported application has already infiltrated your system, you should be concerned about your privacy. In order to display ads, TubeSing may track your online habits. So, if you see various ads that are labelled as 'TubeSing Ads', 'Powered by TubeSing', 'Brought by TubeSing', 'Ads by TubeSing', you should check your system and try to find this pesky intruder.
How can TubeSing hijack my computer?
This useless adware may be distributed together with freewares, sharewares and other free applications. That is because freeware developers often include such attachments as TubeSing virus in order to monetize from advertising. Unfortunately, many internet users fail to notice these unwanted additions. Therefore, if you do not want to be a victim of this trespasser, you need to be more careful and avoid installing unknown programs without making sure whether these programs are safe enough. Read end-user license agreement (EULA) part before installing a freeware. Look for doubtful statements about tracking cookies, ad-supported attachments and third-party advertisements. Don't hesitate and unmark such unwanted attachments as TubeSing because if you fail to do that, you may suffer from annoying advertisements.
How to remove TubeSing virus from my computer?
If you have a reliable anti-spyware program, it should help you to remove this intruder automatically. However, if your computer is unprotected, you need to remove TubeSing virus manually. These simple guidelines will help you.
Remove TubeSing from your computer:
1. Click Start → Control Panel → Uninstall a Program.
2. When in the Add/Remove Programs/Uninstall a Program, look for recently installed/unfamiliar applications, such as TubeSing, SaverAddon, SupTab, LyricsBuddy-1, PureLeads, LyricXeeker, GetLyrics, or similar unfamiliar entries.
3. Click 'Uninstall' and then OK to save the changes.
Reset your browsers (Internet Explorer, Mozilla Firefox and Google Chrome):
Internet Explorer:
1. Open Internet Explorer, click the Gear icon or 'Tools' → 'Internet Options'.
2. Here, go to the 'Advanced' tab and click the 'Reset' button.
3. Go to the 'Reset Internet Explorer settings' → 'Delete personal settings' and click on 'Reset' option.
4. Finally, click 'Close' and OK to save the changes.
Mozilla Firefox:
1. Open Mozilla Firefox, go to the 'Help' section → 'Troubleshooting Information'.
2. Here, choose a 'Reset Firefox' for a couple of times and 'Finish'.
Google Chrome:
1. Click the Chrome menu button on the Google Chrome browser, select 'Tools' → 'Extensions'.
2. Here, look for unfamiliar entries.
3. Select each of them and choose Trash can icon to delete them.
Alternate Software
We have tested Malwarebytes's efficiency in removing TubeSing virus (2014-06-30)
We have tested Malwarebytes's efficiency in removing TubeSing virus (2014-06-30)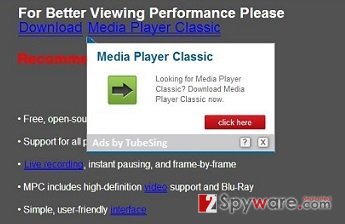 About the author