Turkish Police virus. How to remove? (Uninstall guide)
Turkish Police virus (also called as Türk Polisi) is a ransomware, which is set to attack Turkish PC users. It comes inside the system as an official email or other type of download. Once it gets there, it locks the whole desktop down and makes its victim look only at its fake alert claiming 'Turk Polisi. Bllgisayarinizin Bloke Edilmistir'. Please, do NOT believe that you have a deal with a real Turkish Police. This is a forged message, which seeks to make you pay 200 TRY (turkish lira) for invented law violations, such as downloading copyrighted content, watching pornography and similar. Once you start seeing Türk Polisi warning on your desktop, you must launch your anti-malware program and remove it from your computer. In reality, this alert is created by scammers that develop each alert according to victim's location.
HOW CAN I GET INFECTED WITH Turkish Police virus?
As we have already mentioned, Turkish Police virus is distributed as an official email from the local police. Besides, it can be downloaded together with other malware, fake flash updates and media codecs. Once it gets there, Turkish Police virus blocks the whole system and starts showing its fake alert. To make it look really trustworthy and legitimate, scammers have included the logo of Turkish Police and other details. Here's what this ransomware virus claims once it gets inside the system:
TÜRK POLISI SIBER SUÇ MüCADELE BÖLÜMÜ
Bilgisayarda yapılan tum işlemler, kaydedilmektedir. Web kamerasını kullandığınız halde video ve fotoğrafları tespit için kaydedilmektedir.
IP adresi ve ilişkili etki alanı adı ile kolayca belirlenebilirsiniz. Bilgisayannızı kilitlendi! Bilgisayarınızın çalışması izinsiz kiber faaliyet belirti nedeniyle durdurulmustur. 4sağiclaki tarahnızdan yapılan olası ihlalleri listelenrnektedir. Madde 274 – telif hakkı 4 yıla kadar hapis veya para cezası [Telıf hakkıyla korunan dosyalarının kullanımı veya dağıtım — filmler. yazılım) Madde 183 – pornografi 2 yıla kadar hapis veya para cezası (Pornografik dosyaları kullanım veya dağıtım) Madde 184 – çocuk içeren pornografi (18 yaşından küçük) 15 yıla kadar hapis (Pornografik dosyaları kullanım veya dağıtım) Madde 104 – Terörizm reşviki 25 yıla kadar hapis (Teröristtik kuruluşlarına ait sitelerinin ziyaren: Madde 297 – Ciddi sonuçlar doğuran ihmali bilgisayar kullanımı, 2 yıla kadar hapis veya para cezası (1311gisayarınızdan vırüs diğer bılgisayarlara karişmıştir) Madde 108 – Kumar 2 yıla kadar hapis veya para cezası [Ülke yasasına göre kumarın yasak olduğu halde kumar oynadınız) 22 Ağustostan Hükümet kararına bağıannıi olarak suçların verilen para cezası ödemesinde şartlı olarak kabul edilebilir. Ceza 200 TRY tutarındadır. ihlali keşfinden sonra ödeme 48 saat içinde yapılmalıdır. Cezanın ödenmemesi halinde, otomatik olarak ceza davası açılacaktır.
Pala cezası ödedikten sonra bilgisayarınız blokeden koldırdacoktm
Please, do NOT pay the fine and support cyber criminals. Türk Polisi virus is a huge scam, which locks the whole system seeking to scare users. In reality, there is no such authority, which locks computers in order to make users pay the fines. If your computer is blocked, you are infected with ransomware virus. You are highly recommended doing two things: you must ignore its alert and remove Türk Polisi virus or Turkish Police virus from your computer.
HOW CAN I REMOVE TURKISH POLICE VIRUS FROM COMPUTER?
In order to unblock your computer and remove infected files from the system, follow these steps:
* Flash drive method:
1. Take another machine and use it to download Reimage or other reputable anti-malware program.
2. Update the program and put into the USB drive or simple CD.
3. In the meanwhile, reboot your infected machine to Safe Mode with command prompt and stick USB drive in it.
4. Reboot computer infected with Ukash virus once more and run a full system scan.
* Users infected with Ukash viruses are allowed to access other accounts on their Windows systems. If one of such accounts has administrator rights, you should be capable to launch anti-malware program.
* Try to deny the Flash to make your ransomware stop function as intended. In order to disable the Flash, go to Macromedia support and select 'Deny': http://www.macromedia.com/support/documentation/en/flashplayer/help/help09.html. After doing that, run a full system scan with anti-malware program.
* Manual Ukash virus removal (special skills needed!):
Reboot you infected PC to 'Safe mode with command prompt' to disable Ukash virus (this should be working with all versions of this threat)
Run Regedit
Search for WinLogon Entries and write down all the files that are not explorer.exe or blank. Replace them with explorer.exe.
Search the registry for these files you have written down and delete the registry keys referencing the files.
Reboot and run a full system scan with updated Reimage to remove remaining virus files.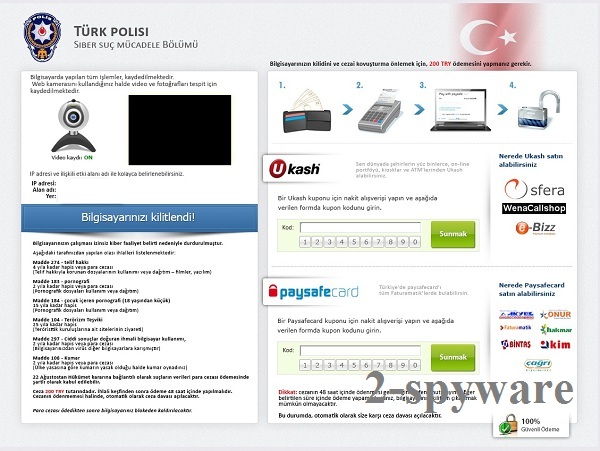 Turkish Police virus manual removal:
Kill processes:
[random].exe
Delete files:
[random].exe
About the author