Twofsoft.net. How to remove? (Uninstall guide)
Twofsoft.net is a malicious hijacker involved into dirty campaign of AntiVira AV malware. This program has been announced by security experts as one of the most dangerous rogue applications at the moment. Twofsoft.net is capable of tricking your system's authentication with a help of Trojans that use security holes found and get inside undetected. As soon as this browser hijacker finds itself inside, it will configure your web browser and may even change your homepage in order to start its annoying redirections to Twofsoft.net.
On Twofsoft.net you will be promoted nothing else but its affiliate AntiVira AV. This website is all about this program and its advantages which in reality is just another rogue anti-spyware. Once on Twofsoft.net, you will be persistently suggested to run a free online system scan and, undoubtedly, the scan will return information about numerous viruses found. The scan results window will mention a number of imaginary infections allegedly occupying your PC. This malicious plan is supposed to get you scared about your computer's functionality and lead you straight to installing the 'free' version of AntiVira AV. However, finally you will find bombarded yourself with more pop-up ads and alerts asking you to purchase this program if you want to remove all these detected viruses. Do not pay for AntiVira AV because it's just another rogue anti-spyware. To stop redirections you should remove both Twofsoft.net and Antivira AV malware as well because it's not a trusted utility. It is highly recommended running STOPzilla anti-spyware in order to clean the system completely.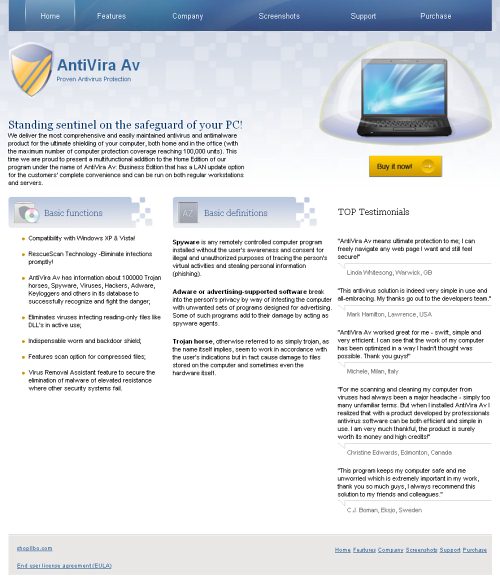 Twofsoft.net manual removal:
Kill processes:
[random].exe
Delete registry values:
HKEY_CURRENT_USERSoftware[random]
HKEY_CURRENT_USERSoftwareMicrosoftWindowsCurrent VersionRun "[random].exe"
Delete files:
[random].exe
About the author